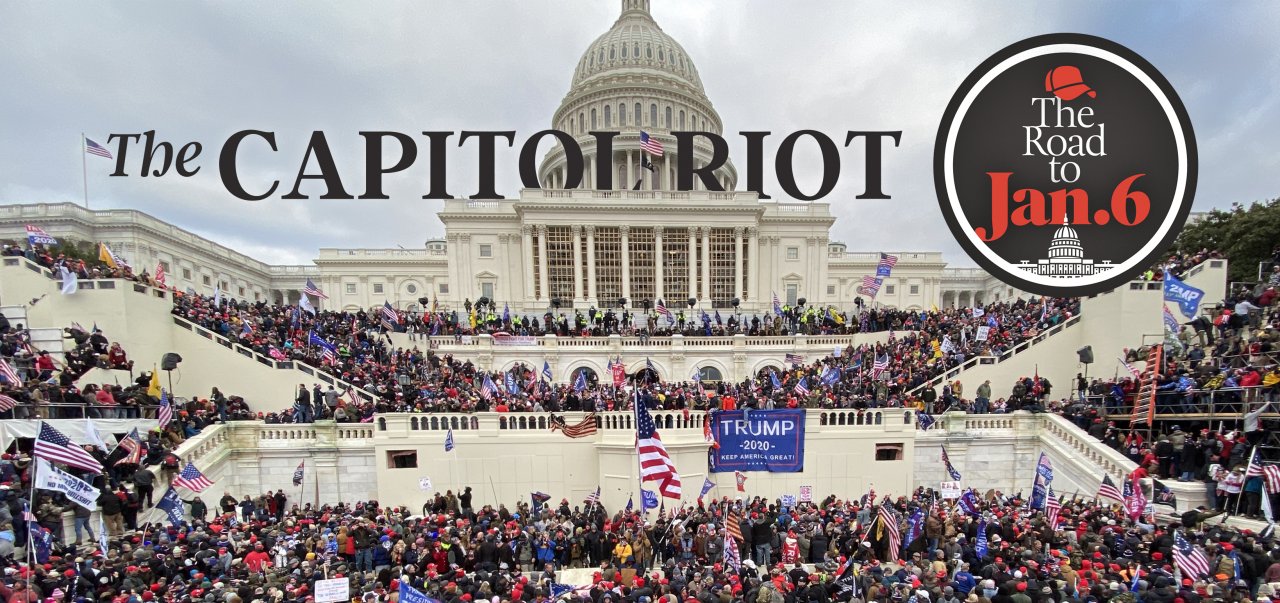 'Racist.' 'Terrorist.' 'Extremist.' Did the FBI Get the Proud Boys Wrong?
In this daily series, Newsweek explores the steps that led to the January 6 Capitol Riot.
Shawn Price of Rockaway, New Jersey, age 26, bragged on Facebook that he'd helped start the state's chapter of the Proud Boys. "North Jersey is my area," he posted on December 7, telling followers to meet him in Washington D.C.
He vetted a fellow New Jersey resident who claimed to have started another chapter in the state. "So you got permission from Enrique to start your own chapter?" he asked.
Enrique is Henry "Enrique" Tarrio, the chairman of the Proud Boys since 2018, a Cuban-American born in Miami, Florida. Once state director of Latinos for Trump and a Republican candidate for Congress, he attended the Unite the Right rally in Charlottesville, Virginia, in 2017, the year he became involved with the Proud Boys. Tarrio was arrested on January 5 by the Metropolitan Police Department in DC.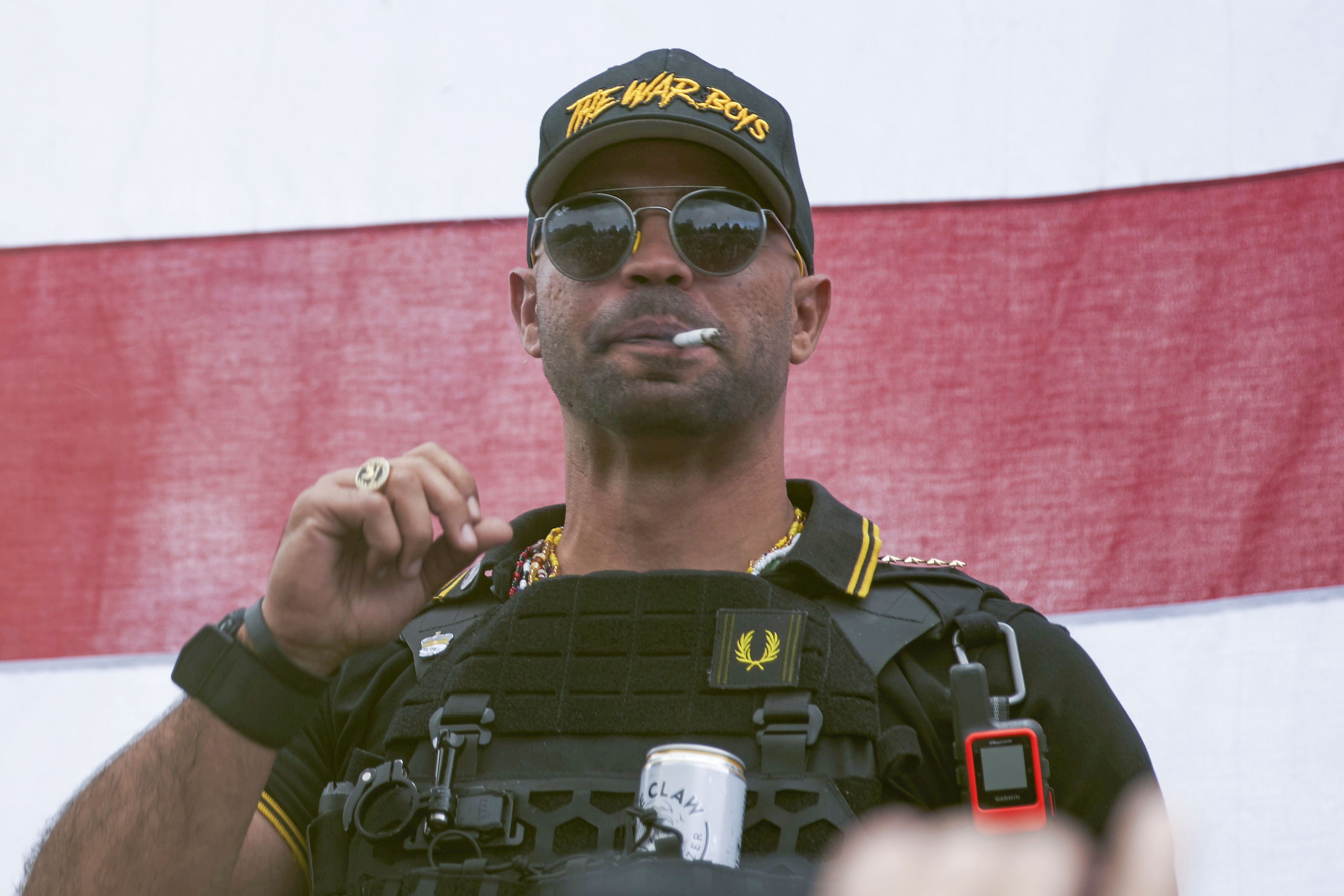 "No bitch. This is war," Proud Boys leader Ethan Nordean, posted on social media in response to a call for unity in embracing the results of the presidential election.
Joe Biggs, another Proud Boys member, posted on social media a few days after the election: "It's time for a fucking war if they steal this shit." Biggs says on the Proud Boys live-streamed show "War Boys" that government officials were "evil scum, and they all deserve a traitor's death."
"Day of the rope," Nordean responded to Biggs.
"When police officers or government officials are breaking the law, what are we supposed to do as the people? Discourse? What are we supposed to debate? No, you have to use force."
(After the Capitol Riot, Shawn Price allegedly messaged his mother, "I led the storm!" He, Nordean and Biggs have been indicted by the Justice Department.)
The Proud Boys attracted significant media attention but were also probably the most inscrutable of all the groups that gathered at the Capitol: no one, including the FBI and Homeland Security, seemed to actually understand them. Founded in the last year of the Obama administration, they are an anti-left, anti-big government organization: pro the continuation of "traditional" America and anti-anything that suggests a dissolution of western dominance.
"The left, the mainstream news media, the Democratic Party, the 'swamp', the United Nations, they're all working to destroy America," says Steve, a Carlsbad, California, member of the Proud Boys. "I don't mean some white supremacy shit and I'm not even a gun owner. I mean like just protecting what we have from Antifa and Black Lives Matter and the bleeding hearts, stopping the running down of everything, removal of our history with the statues and all, screwing with the elections."
Steve, who asked that his last name not be used, attended the rally in Washington on November 14 but couldn't afford to go to a second rally in December. He felt compelled to go on January 6, he told Newsweek, because he believed that the election was indeed rigged, and he planned to march on the Capitol. He says he was on the west Capitol steps during the afternoon, part of the crowd pushing forward. But, he says, he never entered the building nor did he confront any police directly. He thought that they could indeed disrupt the electoral certification because he thought that the declaration was premature. But mostly, he says, he wanted to lend his voice to the opposition.
"The FBI interviewed me," he says, "and were interested in the video I took." But other than that, he says, no action has been taken, and none of the twenty or so southern Californians he traveled with or met have been indicted or arrested.
"You know, I like the Proud Boys, the fellowship, and I'm proud to say I marched. But the questions the FBI asked me, like the PB is some terrorist group, they were just dumb. I think I read somewhere that about 200 PB members were there on the 6th. But to say we were trying to overthrow the country or provoke a civil war—200 guys—that's ridiculous."
Steve thinks the conventional label—far right, extremist, racist, even fascist "like all over Wikipedia"—is off-base. "Is Black Lives Matter racist? Are they under a microscope like we are? Where are the mass arrests from their rampage in 2020? All of that just makes me more suspicious of the powers that be."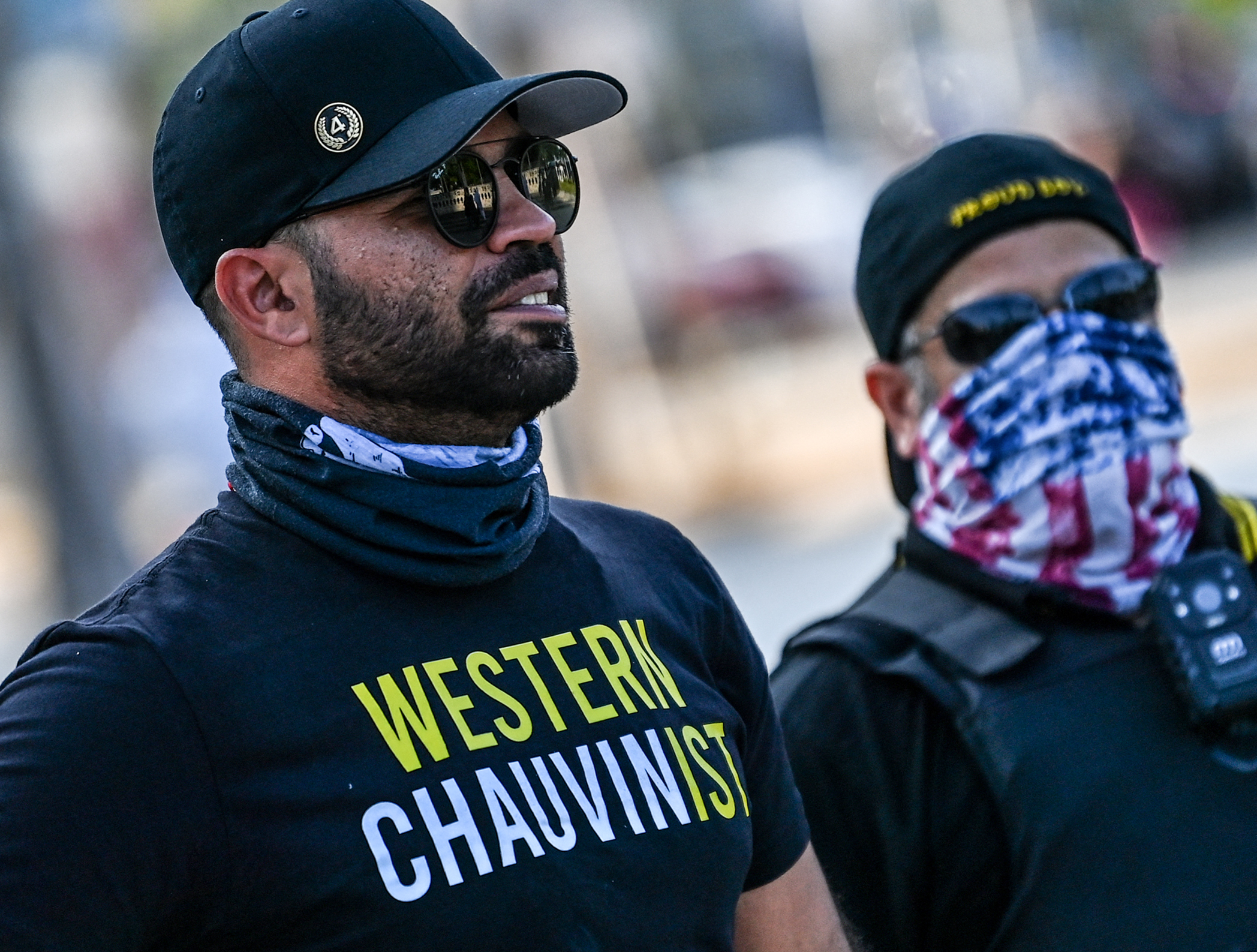 The Southern Poverty Law Center designates the Proud Boys a hate group; the Anti-Defamation League says it is violent, nationalistic, Islamophobic, transphobic and misogynist. Starting in 2018, Facebook started banning Proud Boys pages. But it is actually an odd combination of inclusiveness and right-wing action: its chairman is a Latino and the group has many African-American members.
A January 2021 Secret Service Protective Intelligence Brief issued just before January 6 described the organization as "a right-wing group founded in 2016 ... as a 'pro-Western fraternal organization.'" That's how it was described upon its founding, as a "fraternal organization" for young "Western chauvinist" men.
The FBI, according to a domestic intelligence analyst, says that there are about 24,000 members in more than 80 chapters, including overseas membership. He requested anonymity in order to discuss classified matters.
"Proud Boys leadership," the Anti-Defamation League (ADL) says, "has carefully crafted a public image of an inclusive club for men of all races, backgrounds and sexual orientations who subscribe to one mantra: The West (i.e. 'Western' culture) is best, and anyone who 'opposes' it ('leftists' of all stripes and feminists, among others) is the enemy."
Enrique Tarrio pushes an anti-racism slant. When Proud Boys announced that they would be marching in Charlottesville, the organization officially denounced the event and warned members that they would be banned from the group if they marched.
The Secret Service says that 2017 is the year when "demonstration activity" by the Proud Boys started entering their radar. The most prominent incident occurred in October 2018, when two members of the Proud Boys were convicted of disorderly conduct after assaulting masked protestors during a fight that broke out in New York City when Mayor Bill de Blasio announced the creation of a new unit within the New York Police Department's intelligence bureau, dedicated to investigating terror threats from "far-right" and neo-Nazi organizations, including Proud Boys.
After the New York clash, the Philadelphia Division of the FBI reported that "unidentified ANTIFA adherents" were organizing individuals—Stand Against the Proud Boys—from across the country to "execute violence against" Independence Hall in Philadelphia, Pennsylvania. ("Potential for Violence Near Independence Hall in Philadelphia, Pennsylvania, on 17 November 2018")
In a February 20, 2020, report ("Assembly of Improvised Explosive Device by Racially Motivated Violent Extremist Group 'Phalanx'"), the FBI Denver Division stated that a confidential human source said members of an organization called the Phalanx had created an improvised explosive device during an event where they were overrun by Antifa. The device was made out of a drinking glass, approximately two dozen two-inch-long nails, and an M-80 firecracker duct taped to the drinking glass.
"Phalanx members are known to participate in formation and riot drills at a local park in an effort to be better organized at protests and expressed having black clad individuals with shields protecting those members who were more vocal," the FBI report said.
"Phalanx membership consisted of individuals associated with the following groups: Black Shirts for Social Credit, American Identity Movement, Proud Boys, Patriot Front, Denver Anonymous, The Fourteeners, Goyim Defense League, and Blood and Honour Colorado. In addition to conducting riot drills at a local Denver park, members of the Phalanx were known to frequent a local Denver bar with the hopes of taking it over for meetings and recruit additional members."
On April 19, 2020, the leader of a Florida Proud Boys chapter posted a flyer with upcoming protests to reopen Florida's economy. He referenced a conspiracy theory that Democrats created the quarantine to destabilize the economy in an effort to remove President Trump from office.
All through 2020, the Proud Boys were active, according to a report of the Colorado Information Analysis Center (CIAC), in "spreading conspiracy theories regarding COVID-19 .. Their overall messaging has called the stay-at-home orders ineffective and unconstitutional, and suggests a faction of elites are weaponizing the virus, and a vaccine would likely be a tool for population control and mind control." (CIAC is the federal government-financed statewide fusion center that works closely with the FBI and the Department of Homeland Security.)
The New Jersey Office of Homeland Security and Preparedness reported in their "2020 Terrorism Threat Assessment" that on June 29, 2020, "anarchist extremists and Proud Boys members clashed at a rally in Portland, Oregon, forcing law enforcement to declare a civil disturbance and use riot control methods to disperse the crowds. Additionally, anarchist extremists assaulted a journalist videotaping the event, resulting in a head injury."
During a campaign debate on September 29, Donald Trump told the Proud Boys to "stand back and stand by." On September 30, Trump clarified his statement, stating that he "doesn't know what the Proud Boys are" and that "they should stand down. Let law enforcement do their work." On October 1, Trump said on Sean Hannity's FOX show: "I've said it many times, and let me be clear again: I condemn the KKK. I condemn all white supremacists. I condemn the Proud Boys. I don't know much about the Proud Boys, almost nothing. But I condemn that."
Trump's implication that the Proud Boys were a white supremacist organization did indeed show that he didn't know much about them.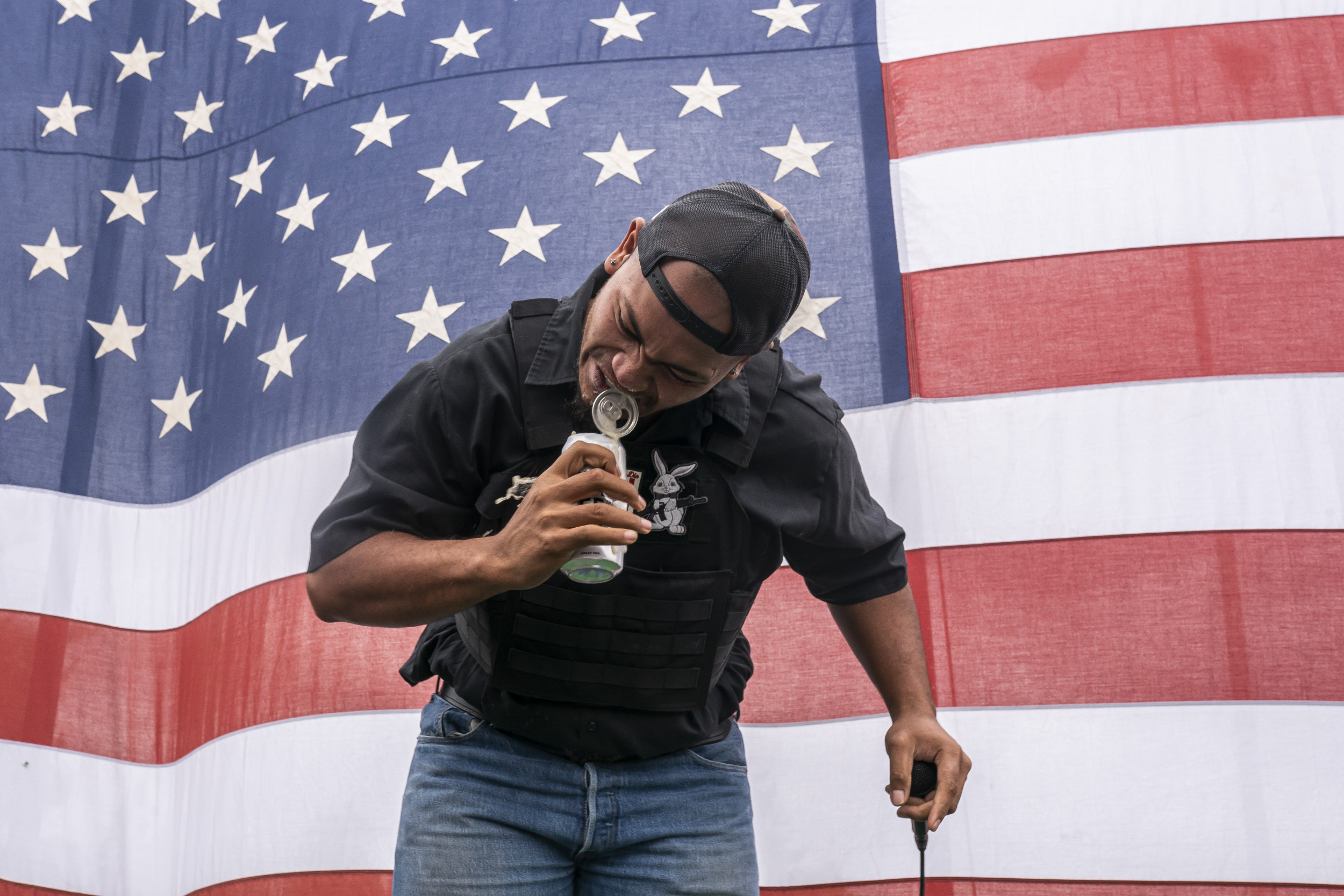 Asked about the social media statements promoting violence and war in America, Steve, the Proud Boys member, was unapologetic. "Sure, there are some who want violence," he told Newsweek, but he didn't see, beyond the local chapters, how anyone could think the organization is consequential or organized enough to provoke civil war.
"I hate to sound like a 'there's no one here but us chickens' kind of guy, but there were 120,000 people at the Capitol."
He was not far off. While there were a dozen or so individual Proud Boys investigations open in the FBI prior to January 6, the domestic intelligence analyst says there were none at the national level. Of the 1.1 million homeland security threat reports circulated in the years before January 6, just 32 mentioned the Proud Boys.