Racist Threats and Attacks that Rattled a California University Campus Were Faked, Police Say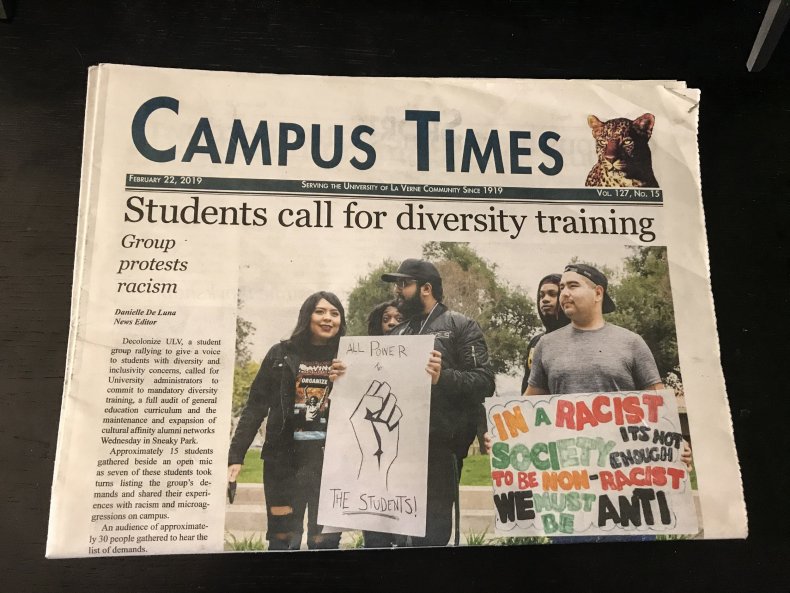 "Every single one in this photo will get what is coming to them," read the ominous Instagram message sent to several students of color at the University of La Verne, east of Los Angeles, in March 2019. The accompanying black-and-white photo was of a group of outspoken students who were well-known on campus for organizing anti-racism protests. Seen in the photo: Anayeli Dominguez Peña, a Mexican-American graduate student and vocal social-justice campaigner. She had been instrumental in organizing numerous protests in the Decolonize ULV group she co-led.
"That wet back bitch Anayeli and that n---r Jasmine need to SHUT THEIR DIRTY F---ING MOUTHS. WE KNOW WHERE THEY LIVE AND WHAT CARS THEY DRIVE," the threat continued. (Newsweek has redacted the explicit slurs that were spelled out in the messages.) "If one of them DIRTY BITCHES get it after night classes you know why. This ain't no f---ing colored AMERICA."
News of the racist threat quickly spread through social media, stoking fear on the campus of over 8,600 students. The university had already been marred by student accusations that the administration wasn't doing enough to combat racism and protect minority students. Those pictured in the threat were called to an emergency meeting where administrators detailed a safety plan for the victims. It included increasing security, making available escort walking buddies and providing rides as needed.
The following morning, Dominguez Peña, who was living in campus housing and named in the threat, found her parked car emitting smoke. Someone had tried to start a fire with a backpack inside the vehicle. The university cancelled all remaining classes that day and the La Verne Police Department and the Federal Bureau of Investigation stepped in to investigate.
The back-to-back incidents rattled the community, forcing the administration to hold town hall-style meetings and cancel more classes the following week. But no arrests were made. Some students blamed the university for allowing racism to fester and warned that it would only be a matter of time before another racist attack. Two months later, Dominguez Peña reported she was attacked by a masked individual who placed a bag and rope over her head, groped her and slammed her head against the railing in a dormitory stairwell.
All the cases remained unsolved—until March 9, 2020. After nearly a year of investigations involving multiple agencies, the LVPD said at a press conference that Dominguez Peña, 25, had faked the threats against herself and others in ten total separate "incidents." The same day, she was arrested on felony charges of making criminal threats and perjury, as well as seven misdemeanors related to electronic impersonation and filing false police reports.
"I appreciate you wanting to hear my side of the story. But for now I am unable to speak about anything, but maybe in the future," wrote Dominguez Peña in a message to Newsweek. She has pleaded not guilty to all charges. Her attorney, Michael Kilts, did not respond to inquiries for comment.
ULV also did not respond for comment, but a statement was posted in its website reaffirming its
commitment to diversity, inclusion and equity.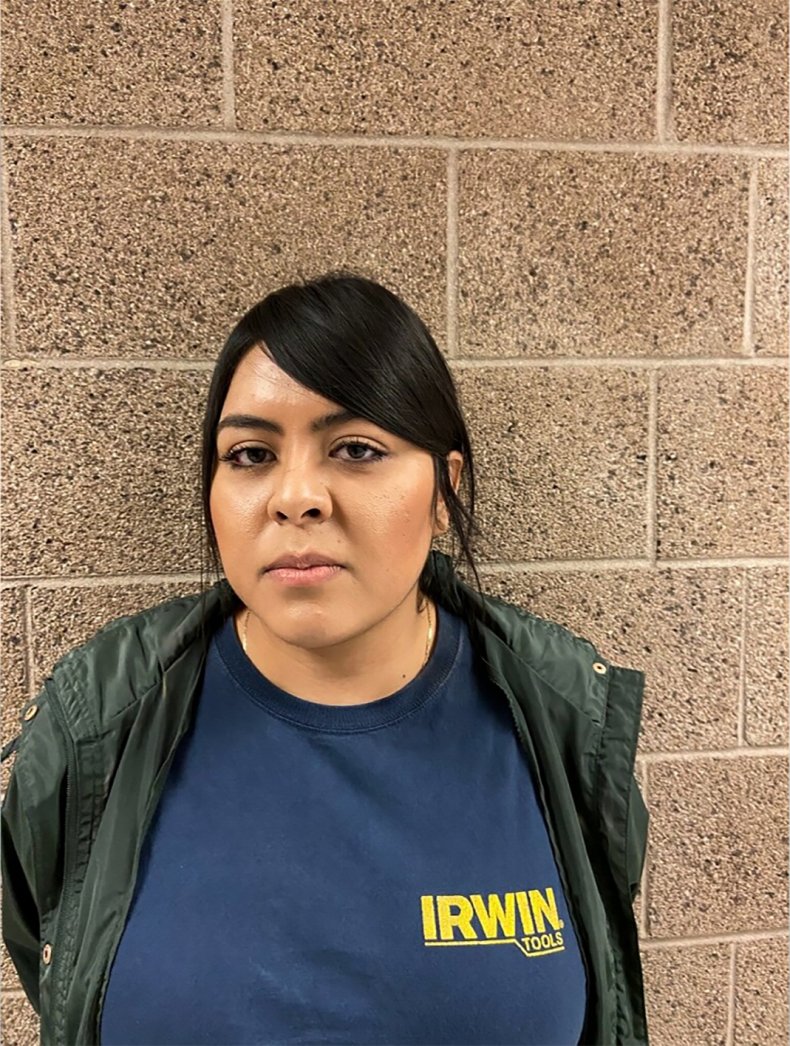 "This makes me feel betrayed," says Osaze Robertson-Stewart. The 22-year-old ULV alumnus worked closely with Dominguez Peña as a member in the Decolonize ULV group, and had comforted her after she was allegedly attacked and targeted throughout the year. His former peers in the group declined to comment on their experiences with Dominguez Peña, but Robertson-Stewart gave Newsweek his behind-the-scenes account of what happened as ULV was gripped by a spate of alleged hate crimes in 2019 that police now say were faked.
Robertson-Stewart, who is black, was introduced to Decolonize ULV in the fall semester of the 2018–19 academic year through Dominguez Peña and Jasmine Marchbank-Owens, two graduate teaching assistants in a sociology course he was taking. Both women were majoring in Social Justice in Higher Education Administration. The group appealed to Robertson-Stewart because of his own experience of racism on campus when he was a freshman. He said the university had systematically failed him after he made multiple reports of an alleged incident of racial verbal abuse by another student following a social dispute. "I was called a monkey and a n---r," he says.
Complaints of racism on campus were echoed by other students of color even though the university has a majority Latino student population at around 45 percent (whites are around 25 percent, blacks at six percent and Asians at five percent, according to 2017 records). The activists banded together through Decolonize ULV and made demands for change. Through open letters published in the student paper in the fall semester, Decolonize ULV accused the university of a "lack of awareness to the microaggressions students face on campus." The group called for a strategic plan to promote diversity and inclusion in all departments, a re-training of faculty and staff, and a change in the "Eurocentric" and "patriarchal" curriculum. To enforce the demands, the group said that "cultural competency" should be tested and tied to pay increases and tenure evaluation.
In addition, dozens of students linked to the group participated in numerous protests—many aimed at interrupting faculty and staff meetings—throughout the fall and spring semesters. Administrators offered support by inviting guest speakers to talk about social-justice issues and requiring diversity training for faculty and staff. But to the leaders of Decolonize ULV, these were crumbs that failed to satisfy their demands for real change.
On Feb. 28, 2019, one week after the group held a large rally and stormed a faculty planning meeting, Dominguez Peña allegedly sent herself and co-organizer Jasmine Marchbank-Owens the racist threat on Instagram. Roberston-Stewart says no one suspected fakery. Instead, they all feared it could happen to them. "People were worried. They were wondering how far this would go," he says.
La Verne police have stated that a "student leader," identified by Newsweek as Marchbank-Owens, "did not appear to have any knowledge of the suspect's actions." Marchbank-Owens, who graduated last year and is currently in the Peace Corps, declined to comment to Newsweek through a friend.
Additionally, the Instagram threat was signed with imagery of the Phi Delta Theta fraternity and a warning to "stay away from our president." Justin Parnell served as the fraternity's ULV chapter president at the time and he was also the student body vice president. He declined to comment for the story. The fall-out from the threat resulted in campus safety issuing a "no contact" order between Phi Delta Theta and Decolonize ULV. Police say Dominguez Peña tried to frame the fraternity, leading to her getting a misdemeanor charge of internet or electronic impersonation.
Police declined to say what may have motivated Dominguez Peña, but Roberston-Stewart says she had a personal grudge against students who were part of Greek life and served in the student government. He says she made it a goal to interrupt student government meetings, and on multiple occasions, had recorded video and showed them to other members in Decolonize ULV. "When we had our meetings, she would say it was this person or that person [that wrote the threat]," Robertson-Stewart recalls. He says he remembers her placing blame on Parnell at one point.
The Instagram threat reverberated throughout campus, but it was only the beginning of a series of claimed attacks. The morning after on March 1, 2019, Dominguez Peña's car was found clouded with smoke, and she and her boyfriend were seen standing nearby distraught and shouting. The alleged arson attack sparked a local media frenzy. Members of Decolonize ULV faulted the university, and in particular its president, Devorah Liberman, for not doing more to protect students of color.
The university remained on edge, and Dominguez Peña told friends she was so in fear of her life that she moved out of her dorm room to stay full-time with a friend on another part of campus. She was also outspoken online, where she ran the Twitter account of the Decolonize ULV group with co-leader Marchbank-Owens. (The account was deactivated the day police announced the findings of their investigation.)
By May 2019, Dominguez Peña outed herself as the alleged victim. "I'm tired of being quiet. I'm tired @ULaVerne is not doing anything to inform students of ongoing threats," she tweeted from her personal account, which has since been made private. "My car was set on fire, not a 'smoldering backpack' [but an] actual fire, no suspect has been found. After that, I have received a very threatening letter to my house with a picture of my face which my mother picked up. I have received 4 emails to my la Verne email. With very graphic, racist, and sexual violence context."
On May 30, 2019, she was found on the floor next to a stairwell inside a residence hall. She told responding police that she was attacked by a mask-wearing man who beat her. She declined medical assistance. In an emotional meeting later that day with friends and family, Dominguez Peña cried while recounting what allegedly happened to her. "She had bruising on her. She had scrapes on her arms, marks on her neck," Robertson-Stewart says, which seemed to validate her claim of an attack. Her reason for declining medical assistance? "She says she didn't trust anybody."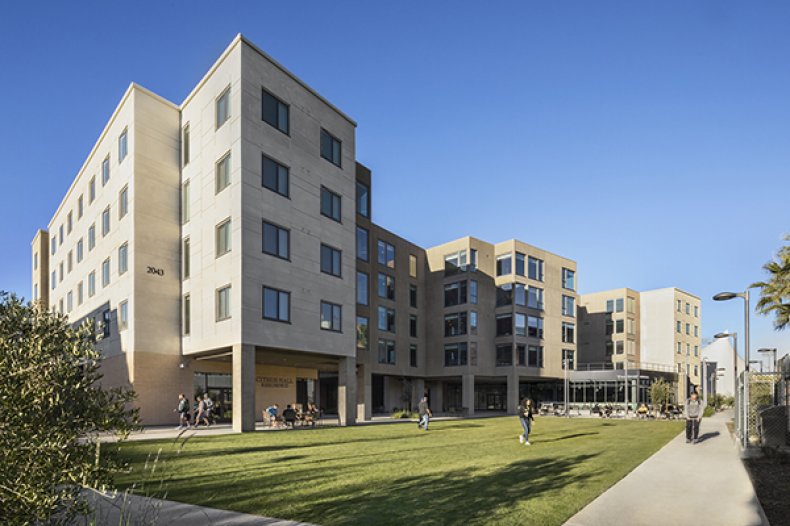 Again, the campus community rallied in support of a student they believed was the victim of escalating racially-motivated violence. By now, some were demanding the administration be fired and replaced for failing to stop the spate of hate crimes. The climate of fear and anger continued for the remainder of the academic year. Roberston-Stewart said the mood at the graduation ceremony was muted rather than celebratory: students believed a violent suspect was still at-large.
"One of the elements of every hate crime hoax is a cinematic story," says Wilfred Reilly, an assistant professor of criminal justice at Kentucky State University and author of the 2019 book, "Hate Crime Hoax." As part of his research, he compiles alleged hate incidents in the U.S. Last year, he categorized the incidents reported at ULV as having a high probability of being hoaxes. "When you have alleged victims who are part of activist subcultures, you should apply more suspicion, especially when you see GoFundMe efforts to raise money."
While Dominguez Peña did not benefit financially from crowdfunding, Robertson-Stewart says she told him and others at his graduation that the university granted her financial reprieve, though he does not know for how much. He says the university waived his own housing costs in the spring semester because he was a victim in the Instagram threat.
One of Dominguez Peña's charges include a felony count of perjury for allegedly filing a false claim to receive financial benefits from the California Victim Compensation Board. The state-funded program provides assistance of up to $70,000 per case to help crime victims with relocation, security and medical costs. It is unclear what amount of money she may have received, if any.
Looking back, Robertson-Stewart says he should have better scrutinized some details that appeared "off" about Dominguez Peña's claims. For example, after Jussie Smollett's alleged hate crime hoax scandal early last year, some media outlets wanted to interview her before they would bring wider coverage to the alleged racist incidents at ULV. He says she refused to speak with journalists even though she continued to remain outspoken on campus. He also wonders now how the brazen attack she described in May could have happened with no witnesses or suspect observed in such a busy stairwell of a large residence hall surrounded by cameras.
"An element of a hate crime hoax is the lack of actual evidence," Reilly, the professor, says. "Another is a refusal to cooperate in an investigation." The majority of reported hate incidents are real, he says, but poor data gathering also underestimates the number of incidents that are faked or misinterpreted as hate crimes. According to his research, university students are disproportionately overrepresented as perpetrators of fabricated hate incidents.
At the press conference in March announcing Dominguez Peña's arrest, LVPD police chief Nick Paz said she was "trying to instigate some racial issues within the university." He said the LVPD expended significant resources in an extensive investigation that required help from the Los Angeles District Attorney's Office, the FBI, the Santa Clara Police Department and Silicon Valley's High Technology Task Force. Detective Bob Nishimura declined to comment when asked if Dominguez Peña was also responsible for the vehicle fire and if she had fabricated the alleged groping incident.
Dominguez Peña's bail was set at $136,000, which she paid. Her next court date is scheduled for April 14 at the Los Angeles County Superior Court. If convicted on all charges, she faces a maximum sentence of eight years in state prison.
Robertson-Stewart says what he regrets most is how this incident will affect future victims of racism on campus. "Who's going to believe that racism actually happens there now?"