Video: Man Threatens To Call Police On Family For 'F*** Trump' Yard Sign, Screams N-Word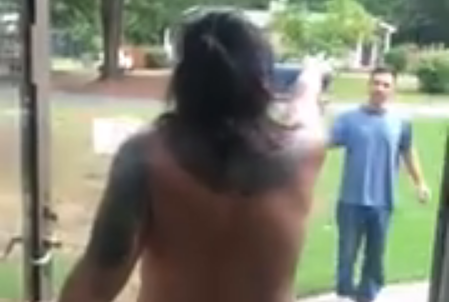 A white North Carolina man hurled the n-word and several profane threats at a family for having "F*** Trump" signs in their front yard. The man said his objection wasn't about President Donald Trump's politics, instead claiming he didn't want neighborhood children being exposed to profanity.
Video emerged on social media Sunday showing a man walking onto the front lawn of a Charlotte, North Carolina, family's home and demanding they take down a "F*** Trump" sign due to its vulgar language. When the couple recording the video tell him to leave their property, the white man responds by threatening to call the police to their home, "I'm going to get you," the man says before repeating the n-word several times and smacking his crotch.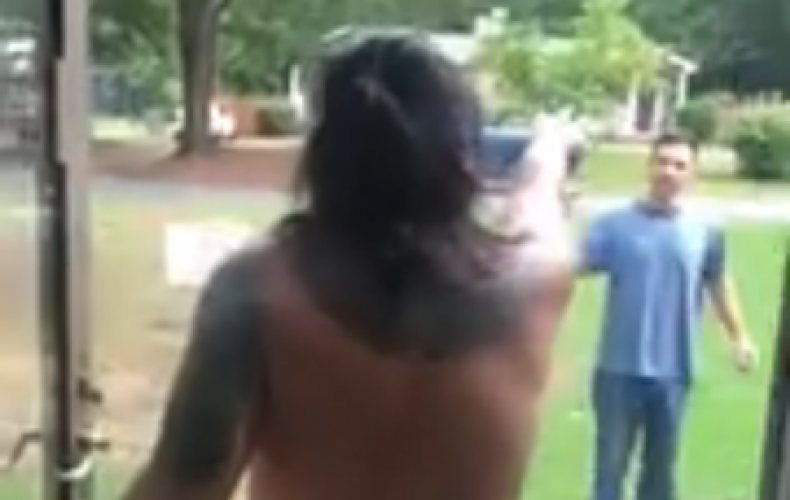 "Why you care about [the word] 'f***?'" the man inside the doorway asks, after demanding the angry man leave his property. The white man in his yard responds that he doesn't want children to see the f-word despite using the exact same curse word numerous times during the five-minute interaction recorded on a cell phone. Several yard signs appear next to the anti-Trump sign including one representing Black Lives Matter and another that says "Refugees Welcome Here."
In the video, the man threatened the couple who answered their door, saying he was going to call the police because he smelled marijuana coming from their house when he walked onto their property. When family members walked toward his truck to get a video of his license plate, the man continued ranting against them and claimed they were a disgrace to the neighborhood. The man's rant continued as he claimed to own two homes in the neighborhood and accuses the couple filming him that they "don't even own" the house he believes is hiding a marijuana stockpile. The incredulous homeowner emerged and called the white man a "cracker."
"Cracker? Cracker? I built this country!" the white man yelled at the family while standing in the door of his pickup truck. "And your house smells like f***ing weed! I smelled it when I was walking up here!"
The Twitter account which initially posted the video, Charlotte Uprising, identified the man as a 35-year-old with an extensive criminal background according to online court records, including assault on a female. According to North Carolina DMV records, the pickup truck is registered to the man's father.