Racist Yearbooks at Virginia Governor Northam's Medical School Under the Microscope
The 1984 yearbook at Eastern Virginia Medical School (EVMS) has dominated news the last four days and could cost the Virginia governor his elected position. A racist photo on Governor Ralph Northam's page in the memory book stirred outrage among both Democrats and Republicans, with both sides calling for him to resign.
One of the pictures on Northam's yearbook page from his senior year shows two people—one in blackface and another wearing a KKK hood and robe. The governor initially apologized for being one of the two people, then said he was neither of them.
The college is now being asked to answer questions regarding yearbook practices over the last quarter century or so. The school apparently had a fairly relaxed process when it came to students submitting photos for their pages in the yearbook, according to Richmond Times-Dispatch which spoke to a former student.
A former page designer who claimed to have worked on the 1984 yearbook told the Times-Dispatch that students were allowed to enclose three photos in a sealed envelope that would complement their senior photo. The picutres were numbered and a corresponding number was put on the page layout, before the photos were returned to the envelope and sent along to the printers for publishing.
"To the best of my remembrance—and anything is possible—but it's not probable that that was another student's picture. We didn't take the kind of security you do in the military with some things, but we did our best to make sure they were photos that people submitted," said Dr. WIlliam Elwood, who was a designer for the yearbook once called Harbour.
"In my experience, the most likely thing is he submitted that picture," Ellwood said. "Is it possible somebody could've switched the pictures after the fact? Yes. Is it probable? No." Ellwood told the Times-Dispatch that he had different political views to Northam.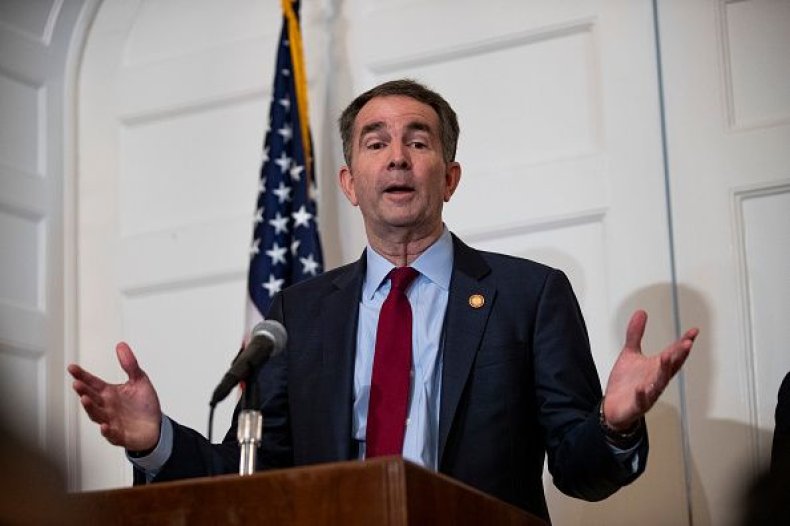 CNN reported that it scoured the same 1984 yearbook and found more photos that could land more doctors in hot water.
For instance, page 10 of that same yearbook showed a man in blackface and wearing a black wig, low-cut white dress and pearls. Next to the photo it says "'Baby Love', who ever thought Diana Ross would make it to medical school." A woman behind the faux Supremes lead singer is wearing a hat dressed up as a witch.
Also on page 10 is a man groping a mannequin with the caption, "I try never to divulge my true feelings while examining my patients." On page 34, there's a photo of a white man holding a coffee cup that reads, "We can't get fired! Slaves have to be sold."
Richard Homan became provost of EVMS in 2013, and he hired Mekbib Gemeda as vice president for diversity and inclusion. Soon after, Gemeda showed Homan a recent yearbook, which led to banning the book altogether.
Gemeda showed his boss a yearbook page displaying white students wearing Confederate uniforms and standing in front of the Confederate flag. "I was not aware we even had yearbooks," Homan told The Washington Post.
Homan said he told Gemeda at the time that the school was there to educate and train medical students to treat people of all races, and that such images could cause repercussions.
"We need to make sure they understand as physicians that this is offensive to me as well as to future patients and grossly offensive to minority students and African Americans," Homan said he told Gemeda. "They're going to be taking care of everybody. You can't be wearing incendiary symbols if you're going to be a young physician and a healer."
Homan went on to ban yearbooks from that point, despite some former medical students telling news outlets that all photos were under staff review before publication.
After an emergency meeting of the school's board of visitors on Monday, Homan told the Post: "In retrospect, that was my error. I thought because I stopped publication that would have been enough. I think in retrospect, I would have had an audit or review of those."