Daniel Radcliffe, Cherry Jones and Bobby Cannavale fact checking in the Era of Trump to Broadway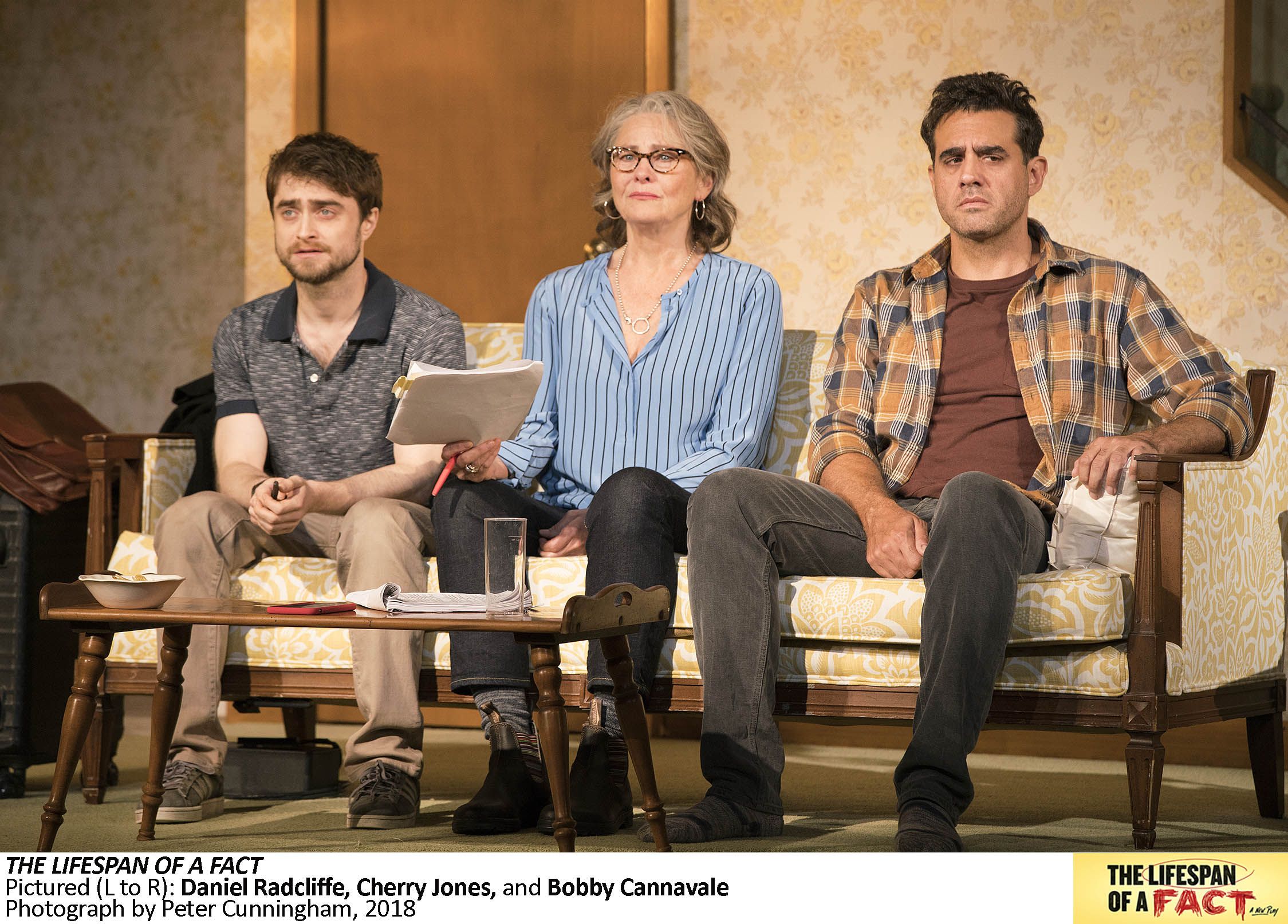 Facts and fact checkers—or the lack thereof—have come front and center in the news. In any serious story, the questions are asked: Are the facts correct and have they been checked? Probably not since Charles Dickens opened his novel Hard Times have facts had as much cachet as they do now. The first chapter of that book is a paean to facts and their importance in life. True, Dragnet's Joe Friday may have wanted just the facts (ma'am), but anyone who saw "The LSD Story" episode of that series—it's on YouTube, but don't watch it with anything in your mouth—knows that even he was willing to really stretch them to make a point.
Today, we are presented with facts, alternative facts, fuzzy numbers, lies, damned lies and tweets. So getting the facts straight is especially important, if only to stave off a gotcha moment.
As a fact checker, I can't remember how many times I have read or heard that Richard Nixon was impeached (nope), O.J. Simpson was a murderer (unh-uh) and Meredith Hunter was murdered at Altamont (technically no: a little matter of self-defense). Most people don't care. This is understandable: To an outsider, the nitpicking aspects of the job—verifying spelling, dates, numbers, etc.—can seem like pulling flysh*t out of pepper. But fact checkers (and the lawyers of the companies they work for) have to care: People get very testy when they think they have been libeled.
Related: Broadway's '1984' Depicts a Harrowing All-Too-Present Future
So it is a particularly opportune time for the play The Lifespan of a Fact, based on a book of the same name, to debut on Broadway. The play, which stars Daniel Radcliffe, Cherry Jones and Bobby Cannavale, turns fact checking into something just short of blood sport. Three driven and opinionated people argue over the importance of facts versus a good story.
Lifespan is a basically colloquy between writer John D'Agata and fact checker Jim Fingal as they hash out what is factually correct in an essay—don't call it "nonfiction" around D'Agata; that would be too limiting—"What Happens There," which was published in 2003 in The Believer magazine. Fingal comes off as exacting, some might say irritatingly so (having been a fact checker from time to time, I found him endearing and charming); D'Agata defends his writing, some might say irritatingly so (having done some writing from time to time, I found him endearing and charming).
In the book (but not on Broadway), their exchanges take place via email. It is rare in real life and in publishing, that fact checkers and writers work face to face. This is practical—as writers are often based far from their publishers. It is also just a good idea, as it limits the carnage and collateral damage that would certainly occur if the two parties met on a regular basis—especially the two parties in Lifespan.
In reading the book, I found the essay at the center of their argument almost incidental, which says a lot as it concerns the circumstances surrounding the suicide of a young man in Las Vegas.
The moral dilemma at the heart of Lifespan—getting every fact correct—takes on an added dimension as most things in the Donald Trump era. One little mistake—sometimes not even one—and a story can be branded "fake news."
In the center of the ring for much of this 90-minute bout are Radcliffe (Fingal) and Cannavale (D'Agata). While Radcliffe is best known as Harry Potter, he has built up an impressive theatrical résumé, having played on Broadway in Equus, How to Succeed in Business Without Really Trying and The Cripple of Inishmaan. Cannavale who starred on Third Watch and Vinyl has been nominated for Tony awards for his work in Mauritius and The Motherf*cker With the Hat.
Refereeing the two combatants is Jones as Emily, the magazine's editor. In the book, Emily backs out early on to let D'Agata and Fingal fight it out. (It's safe to assume this will not be the case at Studio 54. One doesn't go out and get an actress of Cherry Jones's stature to recite five more lines than Godot.)
There have been a few plays about fact checkers: Desk Set a 1955 comedy, Bright Lights, Big City, a 1999 musical version of the Jay McInerney novel, and CQ/CX, a 2012 drama about Jayson Blair. Of those, only CQ/CX, gets into the ethics of the job as Lifespan does. It seems as if Lifespan was always meant to be a play. It has colorful personalities, high stakes and a built-in dramatic structure: There is a deadline to make and a conflict that seems unresolvable.
One would assume that in a story about fact checking that facts would be an odds-on favorite to win over someone's subjective truth. But some facts are fugitive. The more specific the fact, the shorter its lifespan. Time and distance can alter and even negate some facts: the population of the United States, the coastline of England or even the age of a kitten. When the characters in The Lifespan of a Fact start to mull this over, it becomes a richer work—less a prizefight and more of a meditation on the value of information and how it is used to illuminate our lives.
The Lifespan of a Fact opens October 18 at Studio 54 in New York for a limited run of 16 weeks. For more information go to LifespanOfAFact.com.