Is a Radical Social Studies Revolution Underway in Our Public Schools?
It was a revealing speech Tina Lane Heafner gave at the National Council for the Social Studies' 2019 conference in Austin, Texas. And a disturbing one. American taxpayers don't know the NCSS—or Heafner—but they should. It's the nation's largest professional association devoted to social studies education, with 24,000 members. Heafner is its president. And it's conspiring to do more than insert critical race theory into our nation's schools. Its plan is bigger and bolder than that.
I know about the NCSS because my father was a high school history and social studies teacher, and a good one. His motto was simple: present all sides of an issue, then let the students discuss and debate the merits and come to their own conclusions. Indoctrinating students wasn't the goal. Teaching them to think for themselves was. He would become the superintendent of the school system in New Jersey where he taught for two decades, and when he retired he was worried about the sharp turn to the left of the nation's K-12 history, social studies and English teachers. And their increasing willingness to use their taxpayer-funded jobs—and the public trust those jobs represent—to shape the worldviews of their captive young audiences.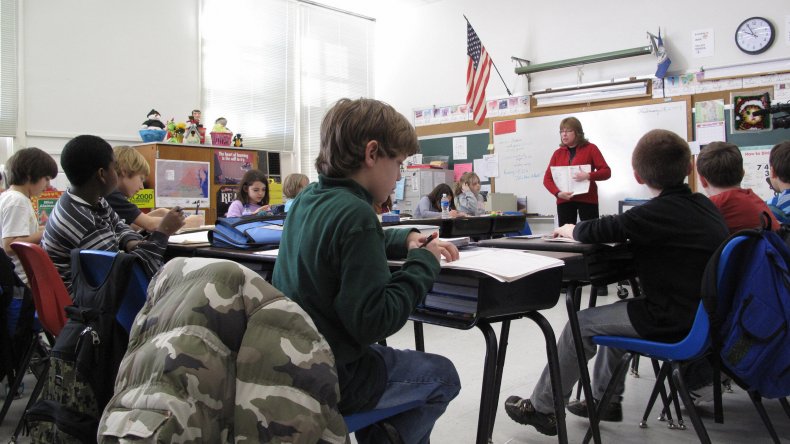 In Heafner's speech, which was turned into a longer article, she was open about the new role she envisioned the nation's 1.5 million social studies teachers undertaking. Judging from the audience's response, many were ahead of her. The title of her address was a giveaway: "Agency, Advocacy, Activism: Action for Social Studies."
"The ecology of social studies is changing in an era of activist voters," Heafner began. "We must recognize the critical role that social studies educators need to embrace in humanizing the curriculum, educating for empathy and action, and empowering children and youth agency, advocacy and activism."
Heafner wasted no time getting specific about how this mission might manifest itself. "For too long, social studies educators have been complicit with an educational system that has responded to the minority experience with either active suppression or chronic apathy," she said. "NCSS can lead in defining a new vision for social studies in American schooling."
What might that new vision look like? It didn't take long for Heafner to explain. "Educators must pay more attention to the ways colonization, racism and power matter in educational settings and work towards more effective and longer-term pre-service and in-service training that helps educators understand and strategize about their role as agents for social change and greater educational equity."
Training teachers as agents for change? Isn't that the work of community organizers and political activists? And what kind of change is NCSS after? More education freedom and school choice for disadvantaged kids? Lower taxes on minority-owned small businesses? More opportunity zones for neighborhoods in need? More police in dangerous minority neighborhoods? An increased focus on the importance of fatherhood and marriage when it comes to economic mobility? More talk about the positive role faith plays in the lives of so many Americans and how faith can transform lives, from addicts to inmates to CEOs?
Not likely. That's not the kind of change Heafner and her social justice cohorts are interested in.
But Heafner was just getting started. "Social studies, more than any other subject area, has the capacity to reveal structural racism, inequality and exclusion that endures in U.S. society and is deeply rooted in our nation's history and perpetuated through policies, practices, attitudes and cultural messages," she proclaimed. "Critical inquiry in the social studies can initiate transformative understandings that are foundational to shifting the mindsets of students and promoting the culture of equity and inclusion."
Heafner wasn't finished talking about the mission to transform social studies teaching—and the country. "The reluctance to acknowledge our racialized identities, to confront injustice and to dismantle racism in social studies, suggests neutrality," she added. "Yet there is no neutrality in the racism struggle. One either endorses the idea of a racial hierarchy as a racist or racial equality as an antiracist."
Life is more complicated than the crude binary Heafner presented. "I was waiting for her to say 'silence is violence' next," my 16-year-old daughter told me as I read that passage aloud to her.
Heafner went on to quote the latest prophet in our higher-education seminaries, Ibram X. Kendi, author of How to Be an Antiracist. Social studies content, Heafner explained—channeling her inner Kendi—bears the responsibility to present "accurate narratives of the lives, experiences and histories of all people" and to "unsettle a curriculum" that ignores institutional, structural and individual racism.
The stakes for not taking on this challenge, Heafner added, were high. "If we do not confront the truth in our social studies classrooms, the foundations of democracy will further be eroded," she said. "Social studies educators can no longer avoid studying race or confronting the dueling consciousness of racism and antiracism in America and around the world. An unwillingness to risk the reproach of communities has silenced curricular topics such as racial injustice and Black Lives Matter, LGBT+ history, immigration, human rights and sovereignty."
Heafner warned her army of K-12 social studies activists that their work would not take place without a fight. "Fears of political censure and being accused of partisanship should not be barriers to candid discourse in social studies classes that can lead to antiracist understanding and a more civil, democratic society," she declared.
What Heafner was saying to social studies teachers was simple: ignore the taxpaying parents in the community who disagree with our political agenda. Ignore their censure and judgment and ill-informed opinions and remember that, thanks to tenure, we teachers are accountable to no one but ourselves. We know what's best for their children and our country. After all, we're the experts on civics.
But the most vile part of her speech had to do with the NCSS's plans to weaponize students as agents for activism. "Today's young activists find themselves enmeshed in something larger, smarter, more diverse and ultimately more powerful than movements of the past," she said in her closing argument. "Youth activism is booming post-Parkland, but many schools have struggled to connect it to formal civics preparation."
She cited one of the nation's most progressive school districts as an example of how student activism could be not merely stoked but rewarded. "The rise of youth activism and the power of youth voice has been formally recognized by the decision of Fairfax County, Virginia, one of the largest school districts in the nation, to offer students a civic engagement day as an excused absence from school," she noted. "This recognizes the right of students to participate in activities such as marches; advocacy and protest in support of issues; volunteerism and youth leadership; meetings with local delegates, senators or congressmen; and other types of involvement in civil society."
It's not enough for teachers to indoctrinate the students of our nation's K-12 public schools, Heafner said. The real goal is turning them into activists for a grand leftist program.
Across America, more and more parents are showing up at school board meetings to protest the ever-growing politicization of our nation's K-12 curriculum. When school board members or superintendents deny or ignore their pleas, parents should hand them a copy of Heafner's speech. Those leaders will discover the problem is real. And the legitimacy of the public school system is at risk, thanks to ideologues like Heafner and her cohorts.
One thing is certain: If our nation's K-12 school leaders aren't careful, a taxpayer revolt may lead to a mass exodus—and the defunding of schools. Our nation's social studies teachers, particularly those hell-bent on starting a public school revolution, might find themselves looking for work.