Radio Station Tweets Gay Slur Against One Of Its Hosts After He Criticized New Orleans Saints Quarterback Drew Brees
Tuesday afternoon, the official Twitter account of New Orleans radio station WWL-AM shared a post calling Seth Dunlap, one of the station's hosts, by a homophobic slur after he criticized New Orleans Saints quarterback Drew Brees.
Brees recently appeared in a video for the conservative activist group Focus on the Family for its "Bring Your Bible to School" day event. Brees received some pushback from the LGBTQ community, as Focus on the Family has a history of homophobic activities. The organization is listed as an anti-LGBTQ hate group by the Southern Poverty Law Center.
Last week, Brees posted a video on Twitter to clarify that he's not homophobic. He said he didn't support "any groups that discriminate or have any agendas that are trying to promote inequality." Brees said he did the video because he liked the message, of people being "able to live out your faith with confidence."
Brees also held a press conference, during which he said he was unaware of Focus on the Family's messaging beyond the "Take Your Bible to School Day" messaging.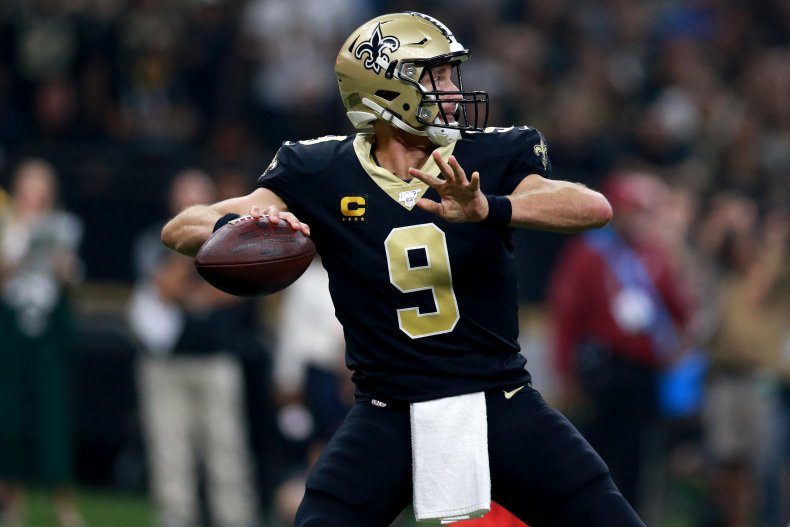 That same day, Dunlap, host of The Last Lap with Seth Dunlap, wrote an open letter on his Facebook page, addressed to Brees. The letter was sympathetic, telling Brees "I admittedly have no conception of the amount of requests you receive from organizations asking you to support their causes."
Dunlap also wrote that he believed Brees when he said he didn't know about Focus on the Family's reputation in the LGBT community. To that end, the letter included background on the homophobic statements and actions members of Focus of the Family have said and done.
"The FRC and FoF employ an army of hate-mongers and spend millions of dollars each year lobbying Congress and other governmental organizations to impose strictly anti-LGBTQ+ policies," Dunlap wrote.
On Tuesday, however, the official WWL-AM Twitter account replied to one of Dunlap's tweets, calling him by a homophobic slur, as reported by The Advocate.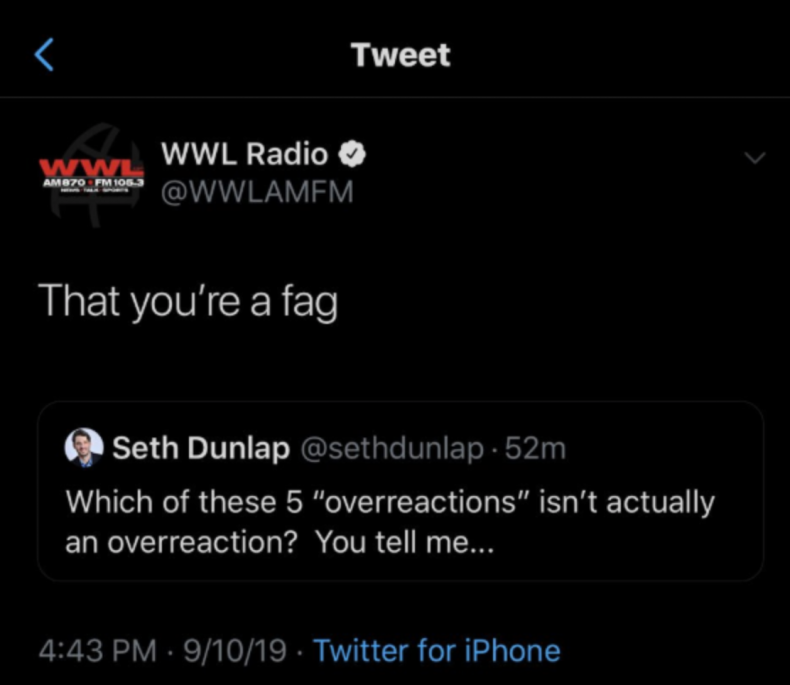 Though the tweet was quickly deleted, several screenshots had been taken and shared around. Nick Underhill, a writer for The Athletic, shared the image, writing, "My wife used to tell me not to go on this radio station because she always felt undertones in their political coverage. Looks like she was right."
Approximately two hours after the tweet, WWL apologized, writing, "We are aware of a tweet that went out today from the WWL account. The content of the tweet is categorically offensive and abhorrent to the station. We are actively investigating this incident and will take swift and appropriate action once we determine how this occurred."
Though Dunlap has remained relatively silent about the tweet, he did share one amusing comment on Twitter.