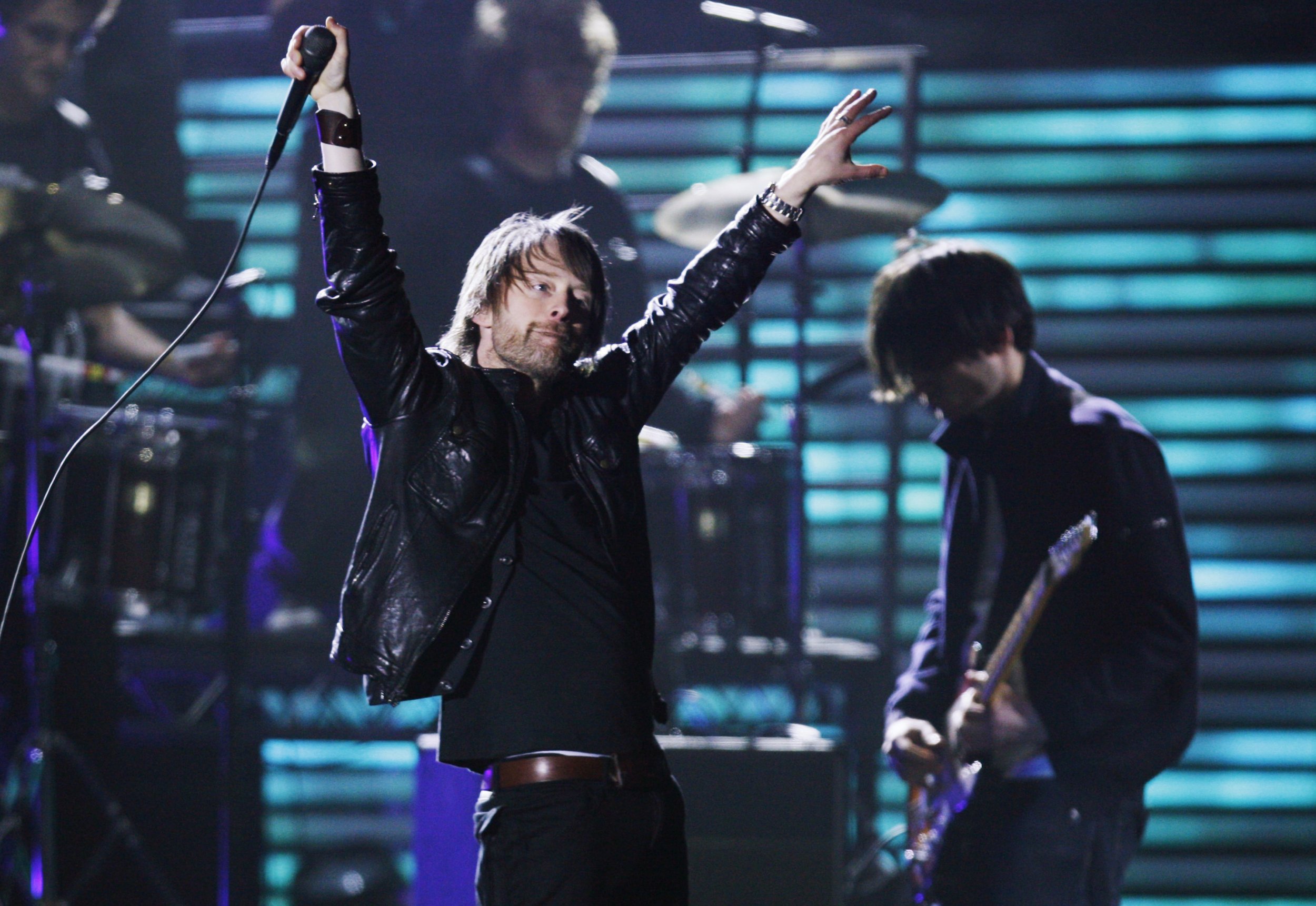 Radiohead knows how to end a record.
The final track on any given Radiohead album is often the best track (or at least a strong contender), delivering stark pathos or some bold leap into the unknown. As we wait for the band's new album to drop on Sunday, we've opted to rank these songs.
Why rank album closers? Mostly because the straightforward Radiohead album ranking has been done to death. Besides, it is a fundamentally pointless exercise—mounting a case for why Kid A is better than In Rainbows is like trying to argue whether the moon is a more worthy symbol of the universe's vastness than, say, Jupiter. Ranking album closers is perhaps equally pointless in the grand scheme of the heat death of the universe, but at least it narrows our range and makes for a fresher debate.
So, here's the ranking. We're counting every full-length Radiohead release that isn't a best-of compilation (including I Might Be Wrong: Live Recordings and TKOL RMX 1234567).
10. "Lotus Flower" (SBTRKT remix) (from TKOL RMX 1234567)
Because the best (or at least most popular) song on King of Limbs needed a limp remix almost as much as King of Limbs needed a limp remix album that also happens to be almost two hours long. This is only barely worthy of being counted.
9. "Separator" (from The King of Limbs)
As a song, "Separator" is fine. Pleasant, even. The trouble is that Radiohead has always aspired far beyond pleasant. And after King of Limbs's strong second half—especially the dark-night-of-the-soul passage of "Codex" into Give Up the Ghost"—"Separator" is something of an anticlimactic bummer: It's the only Radiohead closer that leaves you without some emotional punch.(Also anticlimactic: The fleeting theory that "Separator" marked a bridge to a King of Limbs Pt. 2—hence the song title and refrain "If you think this is over / Then you're wrong." Not so! It was over.)
8. "True Love Waits" (from I Might Be Wrong: Live Recordings)
This tortured and deceptively simple acoustic number would almost certainly be ranked higher if it were not found on 2001's live album I Might Be Wrong. Despite being a fan favorite, no studio version of the track exists, which is why we are docking it points. This is our list and we can do what we want with it.
7. "The Tourist" (from OK Computer)
Radiohead's instinct is to end with a fade-out. Breathtaking, but quietly so. During the Hail to the Thief tour, the band would close shows with every member individually leaving the stage one-by-one, sound elements drifting off until there was just Jonny Greenwood fiddling with a sampler. OK Computer's "The Tourist," largely composed by Greenwood, reflects this instinct. It's a steady and peaceable finale; it's even in waltz time. As the guitarist put it, it "doesn't sound like Radiohead at all. It has become a song with space"—a contrast with Computer's temperamental brilliance. Then there's Yorke's rising plea to "slow down, sloooow dooooowwwn"—and the final ting of that bell. That packs a punch.
6. "Blow Out" (from Pablo Honey)
Truly one of the most underappreciated Radiohead songs, this building and frantic Pablo Honey closer sounds just a little bit different from everything that came before it on the band's first record. As a result, it almost stands as a mission statement for the spacey direction the band would move in by its next album—and over the coming decades.
5. "A Wolf at the Door (It Girl. Rag Doll)" (from Hail to the Thief)
You may not remember where you were the first time you heard (OK, illegally downloaded the leak of) Hail to the Thief, but you probably recall your reaction the first time you heard "A Wolf at the Door": "That's Thom Yorke…rapping?" Mate, it is—Yorke delivers an unsettled, Beck-ian verse—and the song succeeds as both a willfully jarring stylistic exercise and a fitting denouement for the paranoia that's all over this record. Like many songs on here, it's curt, unpredictable and disturbing. "I wish you'd get up / Get over / Turn the tape off," Yorke orders at the end. Nice close for an album that began with the grumble of an electric guitar being plugged in.
4. "Motion Picture Soundtrack" (from Kid A)
"Motion Picture Soundtrack" is like floating on a sea of marshmallows once you've made it past the perilous mountains on the cover of Kid A. It is a treasure buried at the end of Radiohead's most immediately divisive LP. (A ghostly cocktail of harp trembles and Yorke's sleepy murmurs of devotion, the song was said to be inspired by '50s Disney soundtracks, of all things.) And that moment where Yorke promises to see you in the next life, amidst all those fluttering harps and singing saws? That's the part that hits. (No, we're not counting that hidden instrumental track as its own album closer, since it doesn't have a title or track number. It feels more like a gentle coda to "Motion Picture Soundtrack"—and it's a really nice way to drift off to sleep when listening to Kid A late at night.)
3. "Life in a Glasshouse" (from Amnesiac)
The last song on Amnesiac is anomalous in Radiohead's catalog thanks to its smoky, swaying horns, courtesy of jazzman Humphrey Lyttelton and his band. Lyttelton, who passed away in 2008, was called in after Jonny Greenwood realized that no one in the band could actually play jazz. It works, partly because Yorke's bleats at the crescendo are their own sort of wind instrument and partly because it confirms that Radiohead can make a beautiful, haunting song from any genre it likes.
2. "Videotape" (from In Rainbows)
Though its instrumentation is comprised mostly of a piano with some swirling ambient noise in the background, "Videotape" manages to be one of the band's most wrenching tracks. It's almost emo: "This is my way of saying goodbye / 'Cause I can't do it face to face/So talking to you after it's too late / From my videotape." And this was 2007, so no one had even seen a videotape in the wild for years.
1. "Street Spirit (Fade Out)" (from The Bends)
Sparse, haunting and swathed in bleak imagery, "Street Spirit" is one of Radiohead's greatest achievements. The song benefits from a stark simplicity that Radiohead has spent 20 years denying itself, from the R.E.M.-inspired arpeggio to the grave directive that finishes the song: "Immerse your soul in love." It closes The Bends with equal parts elegance and terror—it's not cheery. According to Yorke, the song is about "staring the fucking devil right in the eyes, and knowing, no matter what the hell you do, he'll get the last laugh.… I can't believe we have fans that can deal emotionally with that song." Thom, have you seen all the "IMMERSE YOUR SOUL IN LOVE" tattoos on Pinterest?