Radiohead's Glastonbury Set: The Truth Behind The Fake BBC Story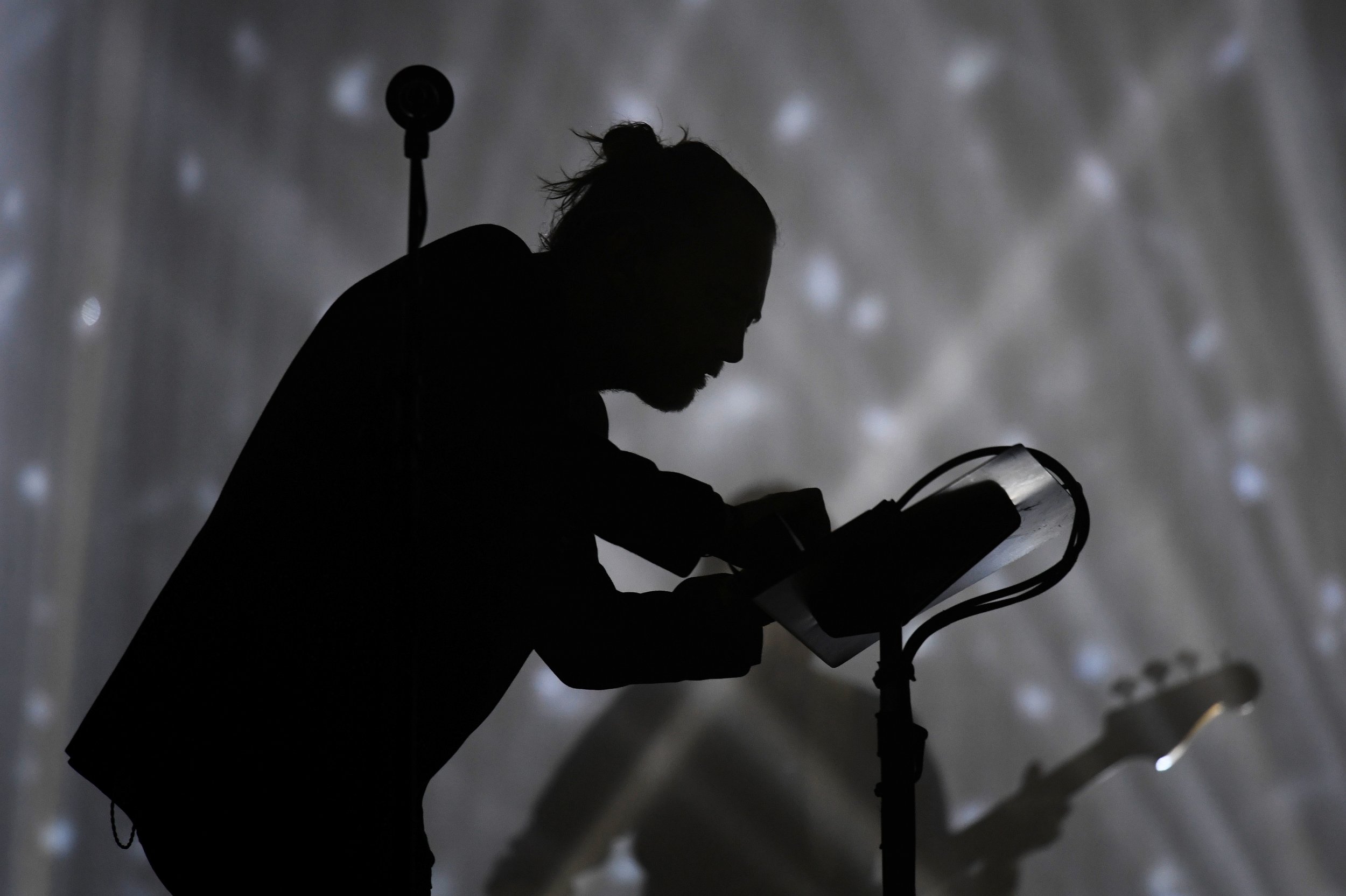 Radiohead fans tend to be a skeptical bunch.
The band has essentially built its career on calculated skepticism: skepticism towards the promise of modern technology (OK Computer), skepticism towards guitars (Kid A) and skepticism towards the structure of the music industry itself (In Rainbows).
But this week, in all the excitement over the band's historic Glastonbury performance, the Radiohead-adjacent internet succumbed to gullibility.
Tens of thousands of people enjoyed and retweeted a screenshot of a BBC article about Radiohead's Glastonbury gig. According to the headline, the audience was "left red-faced after applauding three minute guitar tuning, mistaking it for [a] new song." Some fans described it as the band's "best work since OK Computer." It's a pretty funny anecdote about how pretentious Radiohead fans are.
It's also a joke. No such incident took place during Radiohead's set. Of course it didn't: Radiohead isn't standing around onstage tuning guitars. The band has roadies for that stuff, and equipment that mutes the guitars during the tuning process. And if it had happened, your social media would be flooded with iPhone videos of the awkward mix-up. (Also, in fairness, the band's most recent album doesn't sound cold or masturbatory at all.)
The tweet was manipulated to look like a BBC article, but it doesn't appear anywhere on the BBC's site. The joke actually originated with a British flower delivery company called Arena Flowers (@ArenaFlowers), which tweeted it out on June 23. That tweet has garnered about 3,000 retweets. Unlike most online florists, which just sell flowers, this one regularly dispenses surrealist humor and faked news stories on its Twitter account.
Related: The secret shame of people who have Bill Cosby tattoos
"We create content with a really great bunch of writers and are as renowned for our Twitter feed as we are for our award-winning flowers," John Hackett, the company's managing director, told me via email. "I don't think anyone can genuinely be surprised by the reaction to posts on social media any longer, but this one has definitely created more apparent confusion than usual. Generally people are more confused that the @ArenaFlowers handle is actually managed by a florist!"
The Radiohead article was written by Anthony Morcom, who tweets as @sadbearhandbook. "I've been one of the writers on the Arena Flowers account for the seven or so years it's been a comedy account," Morcom tells me. "Usually when I make fake news stories they're sillier, but I think this one strayed too far into the realm of possibility." The timing was important: Arena Flowers made sure to tweet it out right as Radiohead was onstage.
But the joke article really took off when it was shared by a Welsh reporter named Grant Tucker the following morning. Tucker's tweet declared it "the headline of the year." He now has 57,000 retweets and counting. It's impossible to say how many of those 57,000 people believed the story to be true. Some of them clearly knew it was fake and just got a laugh out of it. But thousands of others took it at face value, contributing to the story's easy virality. Here's a small scattering of the reaction:
Morcom was surprised so many people fell for it. "I'm sure a lot of them were willing to suspend their disbelief just to have a chance to take a pop at Radiohead and their fans," he says. "I'm not pleased about becoming part of the fake news problem, though, so I'll probably have to start adding 'This is a joke' to everything, which will kill the joke, but help the greater good."
When a hoax-y or satirical story gets enough retweets, it's widely assumed to be true, even when there's no basis in fact. This is how news publications were tricked into reporting that Bill Murray can legally execute a heist to steal back the Wu-Tang Clan's $2 million album. Similarly, in January, a tweet by the writer Dana Schwartz fooled countless liberals into thinking that President Trump photoshopped his hand to make it look bigger. Some news outlets rushed to write up the faux-scandal without confirming its veracity.
Related: How the media got fooled into thinking Bill Murray can steal the $2 million Wu-Tang album
Schwartz hadn't intended to trick the internet. Neither had Tucker: When he tweeted the Radiohead article, he thought it was real. A friend sent it to him in a group chat, he tells me via email. The story begins the way all great stories do: "I was hungover in bed and just tweeted something I thought was funny."
To his surprise, it went viral. "When I realized it was fake, it had already amassed thousands of retweets," Tucker says. "I contemplated taking it down. However, it was such a fun story I decided to keep it up to make people smile. It's similar to the satirical pieces on The Onion."
Tucker, a Radiohead fan who works for The Times of London, only later saw that it had been previously tweeted by Arena Flowers. He still doesn't know who created the fake story and has no idea how many people thought it was real. "I'm not at all surprised people fell for it," he says. "I did. It's so believable! It has happened before, at a Ravi Shankar concert. He said: 'If you appreciate the tuning so much, I hope you'll enjoy the playing more.'"
I asked Tucker what his favorite Radiohead album is. "OK Computer," he answered, "because I'm a very basic bitch."
But if you're looking for a Radiohead song that sounds like several minutes of guitar tuning, that's the wrong album. Try Amnesiac. The song is called "Hunting Bears."