Radiohead Releases Trio of Rare Songs to Online Archive
On Friday, Radiohead added three rare tracks to their online public library.
The indie rock titans most exciting new addition is an extended cut of the Kid A track "Treefingers." According to Rolling Stone, this version of the song had only been featured on the soundtrack for Christopher Nolan's Memento. The atmospheric track is about a minute longer than the album version.
The new releases also include a new mix of "Talk Show Host" from Baz Luhrmann's iconic 1996 Shakespeare modernization Romeo + Juliet. The Nellee Hooper mix is much more sparse than the version featured on the soundtrack and the "Street Spirit (Fade Out)" b-side. The crisper production gives the song a much more haunting quality than is featured in the Leonardo DiCaprio-starring film.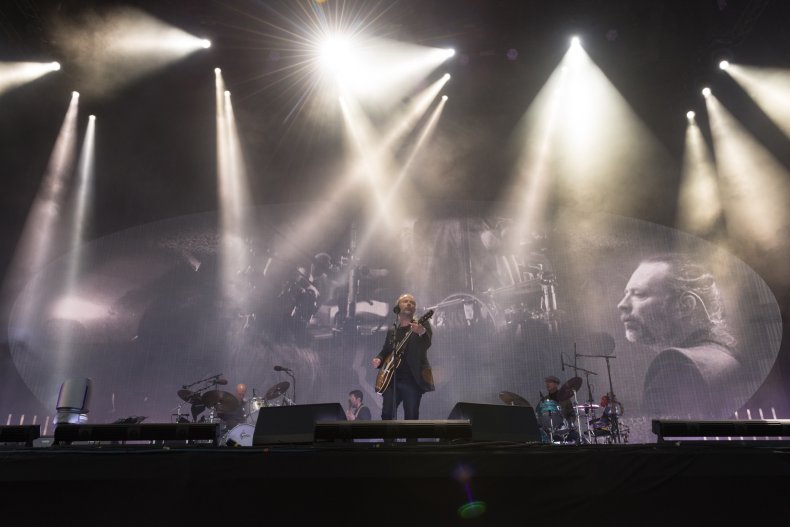 The band also released a remix of their 2003 track "The Gloaming" from Hail to the Thief. Dubbed "The 33.33333 Remix," this version runs for a suiting three minutes and 33 seconds. The near-instrumental version of the track almost edits out Thom Yorke's vocals entirely, but brings the glitchy synths to the forefront.
The only remnants of Yorke's vocals come at the end of the track, cut down to small indistinguishable pieces. While it's unclear which lyrics are present in the song, the listener does miss the intimidating repetitive delivery that Yorke's original provides, such as the line "Your alarm bells, your alarm/They should be ringing," with Yorke repeating the second line 12 times in a row before announcing "This is the gloaming."
While the song's original meaning is lost in the remix, in a 2003 interview with XFM, Yorke called the track "the most explicit protest song on the record."
In January, the band launched the Radiohead Public Library as a free collection of the band's discography. The career-spanning tool contains deep cuts, b-sides, and non-album songs alongside the band's collected albums and TV appearances, concerts, artwork from each era and more.
"The internet as a whole has never been a reliable resource for detailed or even accurate information re: Radiohead," the band wrote in a statement to Rolling Stone when the archive launched. "Many sites that attempted to provide some measure of service have long since gone dark as well. The overall effect has been 'Radiohead' search results that yield random and/or abbreviated shards: songs and album titles unaccompanied by detailed artwork or any additional context, low quality videos preceded by advertisements and shuffled via algorithms, and so on... That ends with the unveiling of the Radiohead Public Library."