Radiohead Public Library: How to Stream Free Rare Songs From U.K. Rock Band in New Digital Archive
U.K. rock band, Radiohead—known for 90s hits such as "Paranoid Android," "Creep" and "Karma Police"—has launched a free online archive of the band's material.
Known as Radiohead's Public Library, the website allows fans to register to create their own library card and membership number, allowing them to access an archive of the band's back catalog. According to music publication, NME, the archive will also include "artifacts" that are associated with each Radiohead album.
From today (January 20), fans of the band will also be able to stream a number of songs, which were previously unavailable, for the first time. According to NME, these include the band's debut EP Drill, a 2005 charity compilation "I Want None of This" and the TKOL RMX 8 remix EP.
Other things the band has made available include detailed artwork and official videos, as well as ad-free HD live and TV performances, B-Sides and compilation tracks.
Fans can also get out-of-print merchandise which can be custom made on demand, as well as the band's individual playlists from the recording sessions of In Rainbows, The King of Limbs and A Moon Shaped Pool.
As part of the opening week of the public library, Radiohead members Colin and Jonny Greenwood, Ed O'Brien, Philip Selway and Thom Yorke are going to each serve as "librarian" for a day. This will start from today and end on January 24.
How to Stream Rare Songs From Radiohead
This chance to listen to unheard music from the band is not to be missed, so Newsweek checked out how to stream them as well as Radiohead's released discography.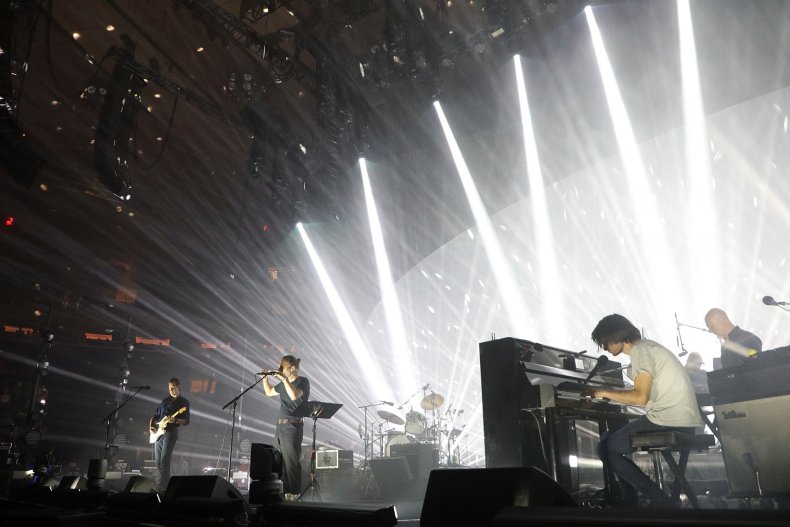 At the top right of the menu bar, fans can click on each color to see each album in reverse chronological order (starting with A Moon Shaped Pool).
The rare EP Drill is on the last page, with album Pablo Honey. At the time of reporting, the stream option for this EP wasn't available. The band states it should be available by January 24, 2020. The charity single "I Want None of This" is available to stream on the In Rainbows page.
Radiohead is no stranger to doing things differently; in 2007, the band released In Rainbows for free to the public and in 2016 allowed BBC Radio 6 Music to stream the album A Moon Shaped Pool free for a month to its listeners.
At the end of 2019, the band also made its entire album catalog available on YouTube for free.