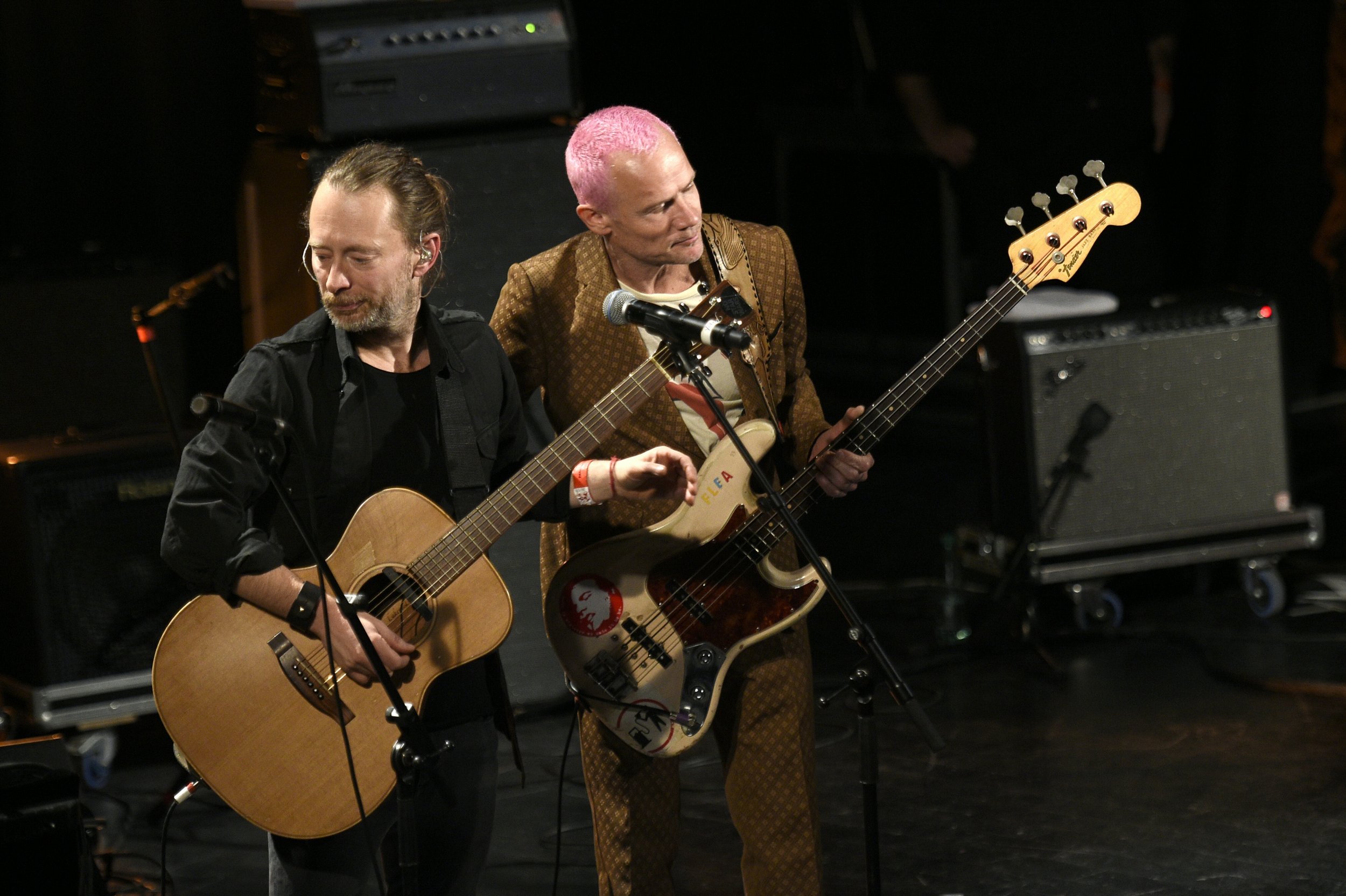 Fans hoping to see Radiohead perform in the U.K. for the first time in four years this week already had a hard time getting tickets. Thom Yorke and company will play only three dates in London between May 26 and 28 at the Roundhouse in Camden, which hosts just 3,300 standing concertgoers, so tickets were far more limited than in 2012, when the band played The O2 arena with its 20,000-person capacity.
When tickets to the Roundhouse shows went on sale in March, many fans were left furious when they missed out. But they also noticed that many of the tickets, which originally sold for £65 ($94), were going for as much as £3,000 ($4,340) on second-hand ticketing websites.
Now, as the gigs fast approach and demand for Radiohead is higher than ever following the May 8 release of their ninth studio album A Moon Shaped Pool, some resale sites are listing tickets for almost £6,000 ($8,600).
Viagogo lists a standing ticket for Thursday's concert for £5,900 ($8,535)—91 times more than face value. The website also has tickets for the same date on offer for £1,705 ($2,466) and £1,600 ($2,314). Stubhub, meanwhile, is offering a relative bargain for the same gig: it lists a resale ticket at £700 ($1,000).
Tickets for Friday's show are going for as much as £2,500 ($,3617) on viagogo and Saturday's highest touted ticket is £3,685 ($5,330).
Those buying from resellers should be warned, however, that there appear to be stringent precautions in place to combat ticket touting at the concerts. Gigsandtours, one of the official retailers that sold tickets in March, noted that it would sell only two tickets per person and barred fans from purchasing tickets to more than one of the three gigs.
It also said there would be tight security at the Roundhouse and fans will have their ID checked upon entry. " The name of the lead booker will be printed on each ticket. The name cannot be changed once the booking has been made," said a disclaimer on the ticketing page. "The lead booker will be asked to present photo ID to gain entry into the venue. Failure to adhere the terms and conditions may result in the customer's order being cancelled. There are no exceptions to this rule."
Labour MP Sharon Hodgson, co-chair of the All-Party Parliamentary Group (APPG) on Ticket Abuse, which campaigns to prevent tickets for popular events from being resold at extortionate prices, said she was angered by the news that Radiohead tickets are being sold at nearly 100 times their face value.
"Yet again we are seeing tickets resold at extortionate prices on secondary ticketing sites," she tells Newsweek . "These huge marked up prices are locking fans out of seeing their favorite bands and artists perform and lining the pockets of touts who have no interest in going to a gig and want to make a quick buck off the backs of genuine fans."
Secondary ticketing abuse has united members of both of Britain's leading political parties. Conservative MP Stephen McPartland is the Tory vice-chair of the APPG on Ticket Abuse. "Ticket touting is a huge problem in this country," he says. "What people think of as secondary ticketing sites often allow criminals and organized gangs to take advantage of fans. Would you buy a ticket for your daughter off a dodgy bloke? That's often what you're doing on secondary ticket sites.
"We need to educate people that are buying these tickets that they could be buying a fake ticket," he continues. "And if it's not a fake ticket, you could actually be handing your credit card details over to criminal organizations."
In March, as tickets for Radiohead's upcoming gigs were appearing on secondary sites, frontman Thom Yorke said he was as "f***ed off as you are" in response to fans dismayed at missing out on seeing the group.
Radiohead joins a long line of bands and artists who have stepped up their efforts in tackling touts and ensuring their fans get a chance to see them.
Prior to her sell-out world tour in February, superstar Adele's management team worked together with the company Songkick to identify and exclude 18,000 purported ticket touts from being able to purchase tickets.
In November 2015, Coldplay, together with the management firms behind top chart acts like One Direction and Ed Sheeran, signed a letter lobbying the British government to intervene in the "industrial-scale abuse and insider exploitation of tickets for music, arts and sports events by ticket touts."
The government has taken some steps to combatting secondary reselling. In May 2015, it enshrined new rules in the Consumer Rights Act 2015 requiring second-hand sellers to disclose the seat row and number, the face value and any restrictions the seat may have.
But critics argue that many secondary resellers are ignoring, or at least failing to enforce, these new rules. Some five months after the law was updated, consumer body Which? found that many websites weren't complying with the legislation.
"It's unacceptable that these ticket resale sites are getting away with not providing fans with key ticket information, leaving them unsure whether their ticket is a good deal, where they'll be seated or if they'll even get in," said Which? executive director Richard Lloyd in a report.
An independent government review of Britain's secondary ticket market and its effectiveness, chaired by professor Michael Waterson, is due before the end of May. It was first commissioned in October 2015 and those within the music business are keen to read it once it's published.
Some within the music industry hope the report could lead to the touting of concert tickets being criminalized. "Touting is illegal in football. Touting was made illegal when the Olympics hit the U.K. The government needs to intervene and make touting a criminal offence for all music, arts, theater and sporting events," Adam Tudhope, whose management company Everybody's looks after Mumford & Sons, told The Guardian. "The existing civil legislation isn't doing the job."