Radiohead's Thom Yorke Defends Israel Show: We Don't Endorse Trump But Still Play America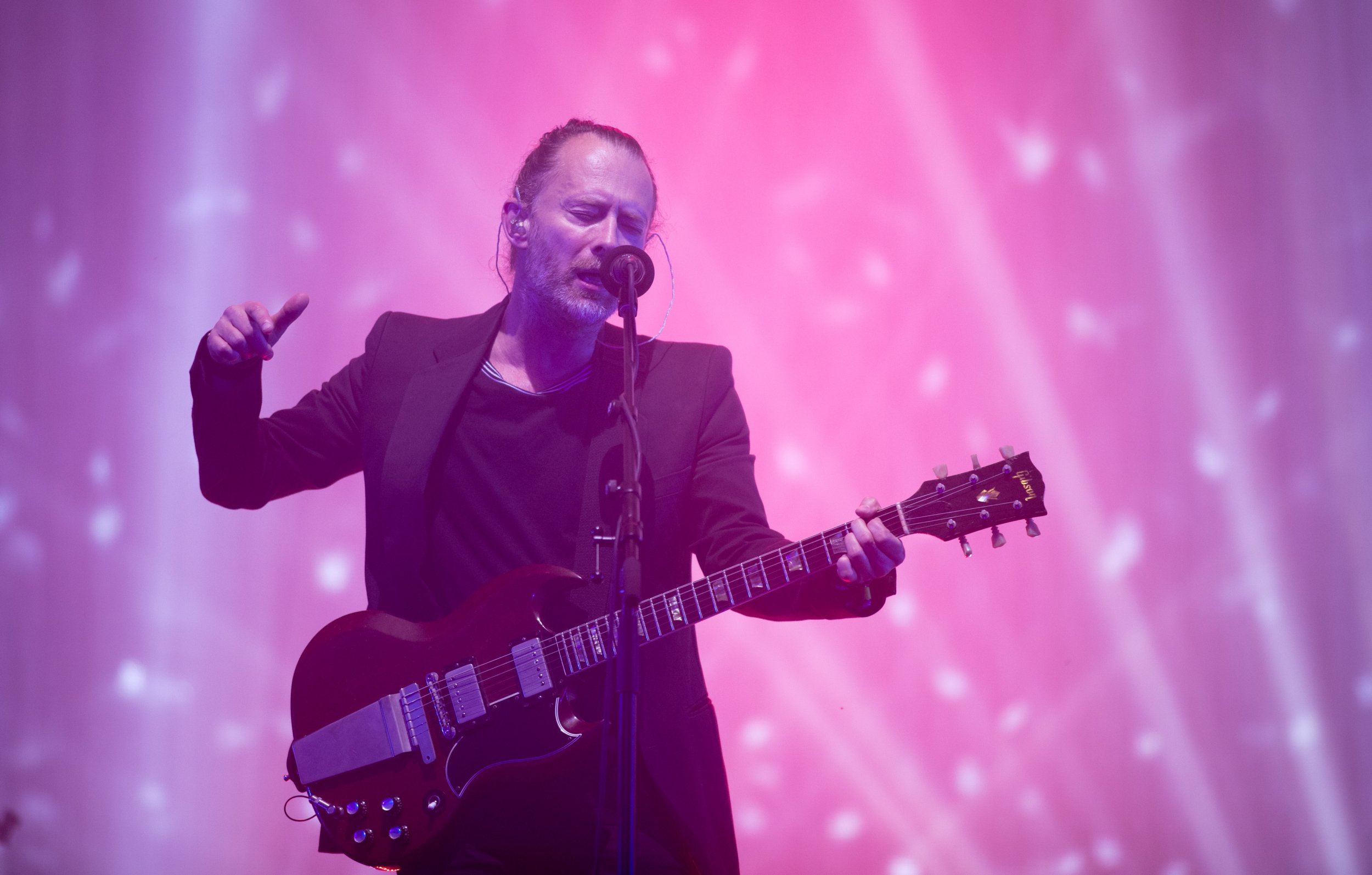 Thom Yorke, the lead singer of Radiohead, has defended the rock band's decision to play a show in Israel next week, saying that the band does not endorse U.S. President Donald Trump but still performs in America.
His defense came after British filmmaker Ken Loach tweeted that the band's members had a decision to make: whether they "stand with the oppressed or the oppressor. The choice is simple." He shared his opinion piece in British newspaper The Independent, in which he accused Israel of "apartheid" and expressed disappointment with Radiohead for its decision.
Yorke chose to respond on Twitter, explaining that the band's decision to play the Tel Aviv show on July 19 was not one based on the support of the government of Israeli Prime Minister Benjamin Netanyahu.
The right-wing government has faced criticism from rights groups and EU member states for its continued military occupation of Palestinians in the West Bank and East Jerusalem.
"Playing in a country isn't the same as endorsing its government," Yorke wrote.
"We don't endorse Netanyahu any more than Trump, but we still play in America. Music, art and academia is about crossing borders not building them, about open minds not closed ones, about shared humanity, dialogue and freedom of expression. I hope that makes it clear Ken."
The band's guitarist Jonny Greenwood has a Jewish wife of Iraqi and Egyptian descent who was born in Israel and Yorke said his bandmate was particularly hurt by the furor around their show in his wife's country.
Other artists have called on the band to boycott shows in Israel, including former Pink Floyd frontman Roger Waters, one of the most prominent supporters of the Boycott, Divestment and Sanctions (BDS) campaign.
The movement says it advocates applying economic pressure on Israel to secure equal rights for Palestinians. Israel says the campaign is inherently anti-Semitic and seeks to target the country because of its majority Jewish population.
Pro-Palestinian groups have also tried to pressure the band to cancel its show. Some fans flew Palestinian flags at a Radiohead concert in the Scottish city of Glasgow last week, and Yorke appeared to swear at them, saying repeatedly: "Some f***ing people."
He also made his views clear about the BDS movement in a Rolling Stone interview last month.
"The kind of dialog that they want to engage in is one that's black or white. I have a problem with that," Yorke said.
"It's deeply disrespectful to assume that we're either being misinformed or that we're so retarded we can't make these decisions ourselves. I thought it was patronizing in the extreme. It's offensive and I just can't understand why going to play a rock show or going to lecture at a university (concerns them)."
Many premier bands and music acts have played shows in Israel such as the Rolling Stones and Britney Spears but others have decided to cancel their shows, such as Lauryn Hill.
Correction: This article originally stated that Stevie Wonder cancelled a show in Israel, he in fact cancelled a performance at a 2012 Los Angeles fundraiser for an organization supporting the Israeli military.