Syrian Humanitarian Raed Saleh Is Denied Entry to U.S.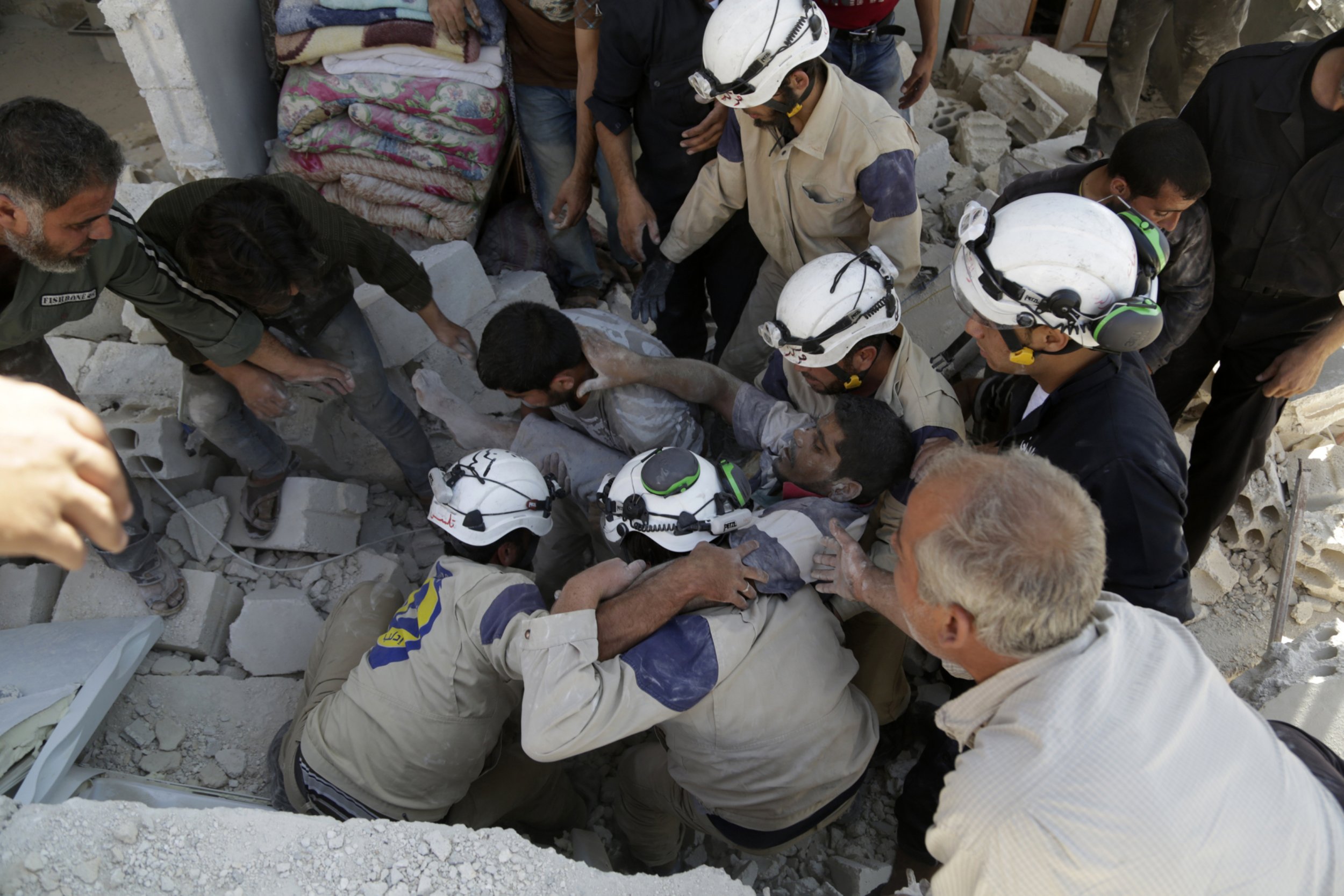 Raed Saleh, head of the Syrian Civilian Defense, a 2,800-strong team of volunteers who aid Syrians affected by shelling and barrel bomb attacks, arrived at Washington's Dulles International Airport on Monday after a 10-hour flight from Istanbul.
Saleh was due to receive the 2016 Humanitarian Award from InterAction, a Washington-based alliance of more than 180 international NGOs. Saleh had previously traveled to the U.S. in June to address the U.N. Security Council, and Newsweek interviewed him in New York in 2014 about his work as a first responder. On Monday, he was equipped with his visa, a letter from the U.S. Agency for International Development (USAID)—which has given more than $23 million to his organization since 2013—and his Syrian passport.
Three hours later, Saleh found himself on a plane back to Turkey. He had been denied entry into the United States.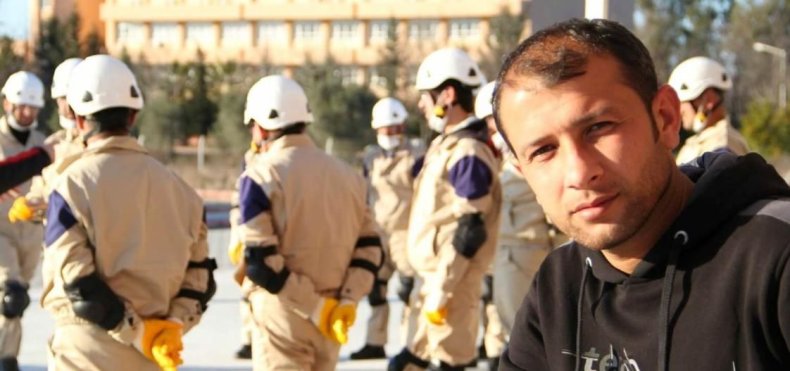 "I was shocked, actually," Saleh tells Newsweek through a translator from Geneva, where he is attending the Syria peace talks. "I realized the suffering of thousands of Syrians who face closed borders and who are denied access to other countries."
He adds: "In the past, I heard stories from other Syrians. I felt sorry for that kind of treatment." Saleh, who worked as an electrical equipment salesman before the war started, is married and has a daughter, 10, and a son, 9.
The Syrian Civil Defense, also known as the White Helmets for the headgear they don when attending to a site of mass casualties, is estimated to have saved 50,000 civilian lives since 2013. It has 120 stations in the country, says Saleh.
Soon after Saleh and his translator, Farouk al Habeeb, arrived at Dulles Airport on Monday, they were taken to immigration security and had their passports and cellphones taken away by guards. They were asked about the purpose of their one-day trip. After 90 minutes, al Habeeb had his passport stamped and was free to go; Saleh wasn't so lucky.
The guards "asked the normal and usual questions," Saleh says, and were polite. But after another hour Saleh called al Habeeb and said he'd been denied entry. He ended up traveling back to Istanbul on the same plane that flew him to the U.S.
Saleh says he still hasn't been given any "precise details" about why he was denied entry. His visa, issued by the U.S. consulate in Istanbul last September, doesn't expire until September 22. Saleh says he showed officials his documentation and the letter from USAID while in detention, but adds that "the guards said they do not interfere in these issues, [and] said it's purely a technical issue."
When asked by Newsweek to provide details on Saleh's case, a spokesperson said U.S. Customs and Border Protection is "prohibited from discussing the specifics of an individual's inadmissibility review." There are more than 60 grounds for being denied entry into the U.S. detailed in the Immigration and Nationality Act, including health-related reasons, criminality and immigration violations.
An individual's admissibility determination "is an administrative action that is protected by the Privacy Act," according to Customs and Border Protection.
Nancy Wilson, president and CEO of Relief International and an InterAction board member, said she didn't expect Saleh to be turned away because authorities scrutinize passports for immigration and visa discrepancies at Istanbul's airport.
"We were surprised and very disappointed" upon hearing the news about Saleh, says Wilson. At the conference on Tuesday where Saleh was due to receive his award, guests donned white helmets—purchased from Home Depot earlier that day—in his absence; Wilson says the moment was "very powerful for everyone there."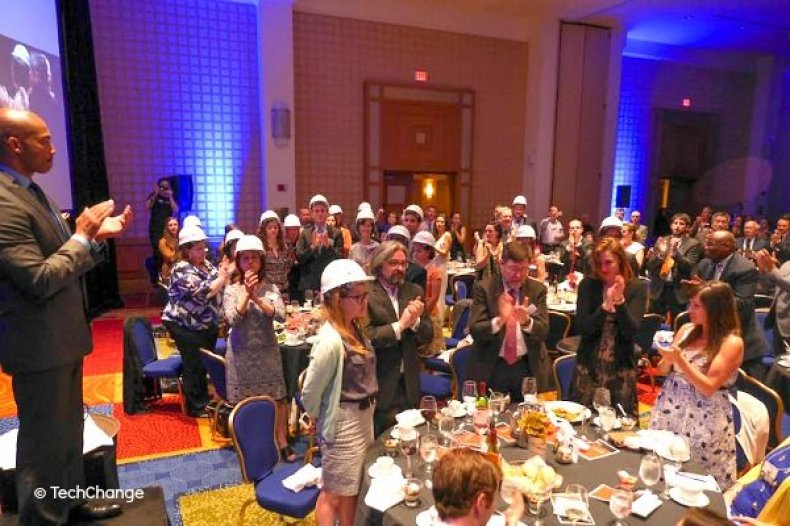 "We understand the need for strong security measures, but we also need to safeguard the travel for people like Raed and thousands of others who are offering support and sustenance for vulnerable populations," says Wilson. "This work is hard enough and there's no reason to make it harder."
Ben Edwards, a spokesman for USAID, tells Newsweek that the agency contacted other government agencies about Saleh's case after hearing that he was denied entry.
"We employ a robust and continuous process of examining the people and organizations that receive our funds to prevent those funds from falling into the hands of terrorists," says Edwards. "We also take extremely strict measures in environments like Syria."
He adds: "The Syrian Civil Defense met those standards for receiving USAID funds and we're going to continue to make the best informed decisions in the future using the most up-to-date and complete information available."
When asked by Newsweek if he'll try to return to the U.S., Saleh says he first needs to know why he wasn't allowed to enter a country he's visited many times before. That explanation, however, might never come. Kathleen Newland, co-founder of the Migration Policy Institute (MPI), says that while the incident is "deeply, deeply embarrassing" for the U.S. government, "normally, the Department of Homeland Security doesn't give reasons."
"They won't say if a person was on a watchlist or for exactly what reason they were denied entry," she says. "That of course makes the whole thing harder to resist, or to know what you should do differently."
Wilson says InterAction hopes to present Saleh with his award during the World Humanitarian Summit, which takes place next month in Istanbul. Until then, Saleh and those who wanted to honor him are waiting for answers.
"Here's someone in the middle of [the war] just trying to be courageous and do the right thing in and for his community," says Wilson. "It just seems to me it's the role you want to celebrate. Why would you not want to celebrate someone who's taking the high ground?"