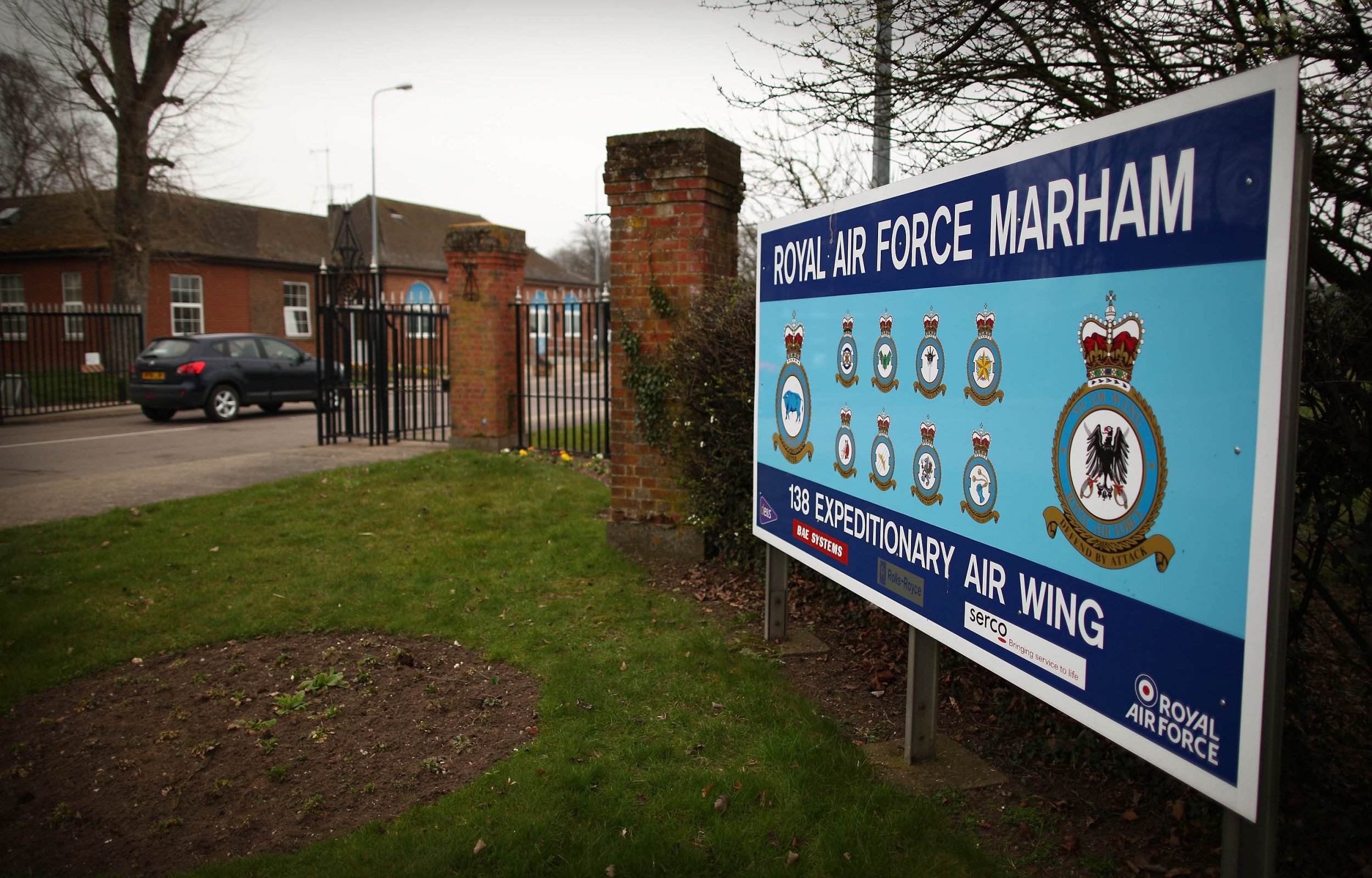 An incident at a Royal Air Force (RAF) base in England during which two men tried to grab a serviceman is being treated as an attempted abduction.
Police said a serviceman in his late 20s was jogging when he was approached by two men of "Middle Eastern origin" near the married quarters at RAF Marham, in Norfolk, Wednesday.
A police spokesman said: "The first suspect apparently shouted at him and made an attempt to grab him. The victim successfully fought him off causing the suspect to fall to the ground. The second man then approached the victim but on noticing his accomplice on the ground went towards him instead, at which point the victim ran off.
"The second man was armed with a knife, which has not been located at this time."
The serviceman was not in uniform and was uninjured. The suspects fled the scene in a dark-colored people carrier and police say they have not been located.
The incident shares some elements of the attack on Fusilier Lee Rigby, who was murdered by Islamic extremists Michael Adebolajo and Michael Adebowale outside Woolwich Barracks in London in 2013. The pair first drove into the soldier, who was not in uniform, before attacking him with knives.
In May, a British Islamic extremist was sentenced to a minimum of 12 years after being found guilty of planning a terrorist attack on U.S. military personnel in Britain. Delivery driver Junead Khan, 25, used his job with a pharmaceutical firm as cover to scout United States Air Force bases in Suffolk—one hour's drive from RAF Marham.
Khan was found guilty of preparing for an act of terrorism and was convicted alongside his uncle Shazib Khan, 23, of preparing to go to Syria to join the Islamic State militant group (ISIS).
RAF Marham is home to almost 10,000 people, including members of the RAF, Navy and Army, as well as the civil service and other staff.
Detective Superintendent Paul Durham, from the Norfolk and Suffolk Major Investigation Team, said: "The motivation for the attack remains unclear at this time, and whilst we are currently unable to discount terrorism, there are a number of other possible hypotheses. We are therefore carrying out a thorough investigation to understand what has happened, why and who is responsible."
Police have released details of the two suspects they are searching for.