Raffensperger Went on TV and Said Biden Won GA in Audit and Recount, Then Trump Called
Georgia Secretary of State Brad Raffensperger said in an excerpt of his new book that former President Donald Trump's phone call urging him to "find" 11,780 votes in the state followed his appearance on Fox News decrying claims the election was stolen.
Raffensperger, a Republican who has been critical of the unproven claims of widespread election fraud, appeared on Cavuto Live on January 2, and said, "We did an audit of the race. President Trump still lost. Then we did a full recount. President Trump still lost."
While driving back from the TV studio, Raffensperger learned the former president wanted to have the call—which he took later that day at his home, according to an excerpt from Integrity Counts, published by The Daily Beast.
In the chapter of the book titled, "The Call," he provides a transcript of the conversation, along with his thoughts about it.
Raffensperger wrote that when Trump told him his assertions the election results were legitimate were "dangerous," he believed it was meant to intimidate him.
He described the threats in the book, set to be published on November 2, as "nothing but an attempt at manipulation" from a "bully."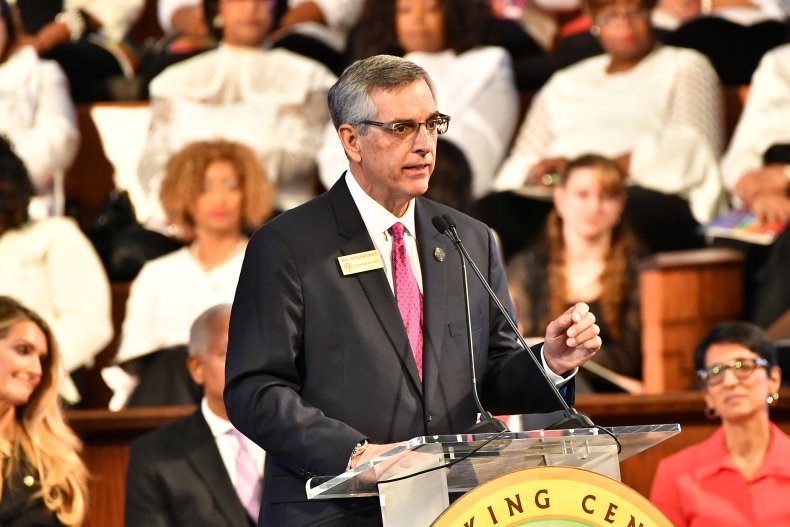 "President Trump is now turning to ridicule, perhaps thinking a shot at my ego will persuade me to do something that I knew wasn't right and had no power to do," he wrote.
During the conversation, he immediately thought about how the phone call would play out in court.
"I needed to say, from the outset, that I disagreed with him. I could not give his lawyer the opportunity in a deposition or in court to say to me, 'You never disputed what he said.' I had to be very clear and precise that the facts did not support his statements," Raffensperger wrote.
He also said that Trump attorney Cleta Mitchell was asking for "certain personal information" about voters on the call, which his office declined to provide.
The call sparked a quick backlash from critics, who slammed Trump for allegedly trying to threaten Raffensperger into trying to steal the election. A Brookings Institute report in September found that Trump committed "multiple crimes" on the phone call.
"These charges potentially include criminal solicitation to commit election fraud; intentional interference with performance of election duties; conspiracy to commit election fraud; criminal solicitation; and state RICO violations," the legal analysis explained.
The call is being investigated by the Fulton County district attorney's office. Prosecutors have interviewed at least four of Raffensperger's aides, issued subpoenas for witnesses and documents and coordinated efforts with the House select committee investigating the January 6 riots at the U.S. Capitol.
There has been no credible evidence that the election was stolen from Trump. Biden flipped the traditionally conservative state of Georgia narrowly, winning by a razor-thin margin of .24 percent.
Newsweek reached out to the office of former President Trump for comment Tuesday afternoon but did not hear back before publication.