'RAGE 2' Roadmap Teases Updates, Cheats, Mechs and Expansions
Bethesda has just announced the content roadmap for apocalyptic survival shooter RAGE 2 . In 2019, games are rarely done when they are released to the public, with more content being added to give incentives to keep playing. Some roadmaps give players who are disappointed with a launch hope for better content in the future, like Fallout 76 , while others have been a basic lie that the developers couldn't even stick to, like Anthem.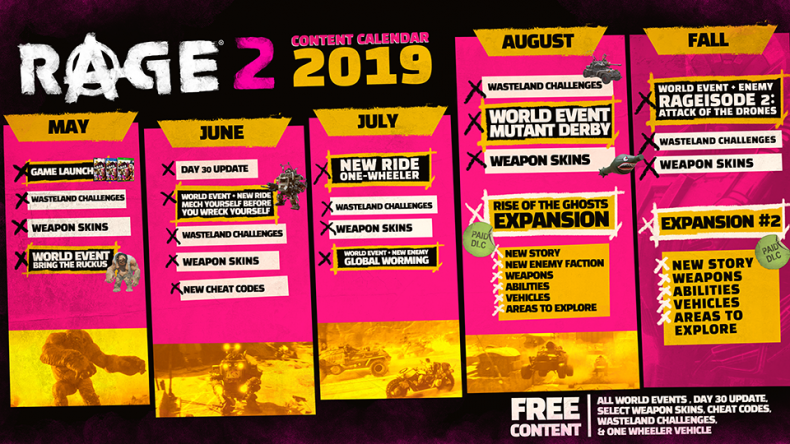 Rage 2 has planned updates all the way into December, which is a pretty awesome deal for a single-player shooter. The game releases May 14 so you'll be able to shoot giant worms, collect new guns and even pilot a brand new mech suit very soon. The full roadmap can be found on Bethesda's website, but here's a breakdown of what's coming for the rest of 2019.
May- When Rage 2 launches, players will be able to take part in Community Challenges that will test your grit and determination. If everyone manages to pitch in and complete these challenges, they'll be able to earn weapon skins like the Vomit Comet Pistol skin. New challenges will be revealed on the RAGE 2 Twitter account every week throughout May and June. If you're a hardcore collector, you're going to have a lot of work to do.
June- Alongside new challenges, a new update is being added to RAGE 2 . There will be new cheats (I'm hoping for infinity ammo) and a new event with a giant Dune- style worm. The desert can be a dangerous place, especially when you don't know what lurks beneath the ground. There's also a new pilotable mech to fight the angry sand worm, giving you the exact rush RAGE 2 is designed for.
July- Alongside more skins and cheats, players will have access to another new vehicle and event. What they are still remains to be seen, but I'm hoping for more explosions.
August- Rise of the Ghosts, the first expansion for RAGE 2 releases this month. According to the blog post, the expansion "will add a brand-new storyline and region to explore, as well as new weapons, abilities and vehicles."
Rest of 2019- Another expansion will be coming in November along with continuous updates to the game.
RAGE 2 launches across all consoles and PC on May 14.
Are you excited for RAGE 2 ? Tell us in the comments.