Rage Against the Machine Reunion Confirmed, and Fans Naturally React on Twitter
Rap-rock pioneers Rage Against the Machine are back.
On Friday, Forbes confirmed that the band would perform a string of shows in 2020, including appearances at both weekends of Coachella.
Rage Against the Machine hadn't played live together since performing a one-off show in 2011. Original band members Tom Morello, Brad Wilk and Tim Commerford formed the band Prophets of Rage with Chuck D of Public Enemy and B-Real of Cypress Hill in 2016. Meanwhile frontman Zack de la Rocha released a solo single and collaborated with rap duo Run The Jewels that same year.
Fans and music critics, of course, were quick to share the reunion news. Comedian and actor Tommy Campbell shared his feelings on seeing the band in London along with his excitement. He tweeted, "It was one of the most exciting concerts I've ever been to. This is awesome news."
Vicky Baftiri, a journalist for Chicago-based WGN-TV, tweeted her excitement upon hearing the news.
Music journalist and author Dan Ozzi made his desires clear in a tweet that read: "rage against the machine tiny desk concert."
A Skylit Drive guitarist Nick Miller wrote: "I can't believe I will have an opportunity to see them in 2020," after calling them one of his favorite bands.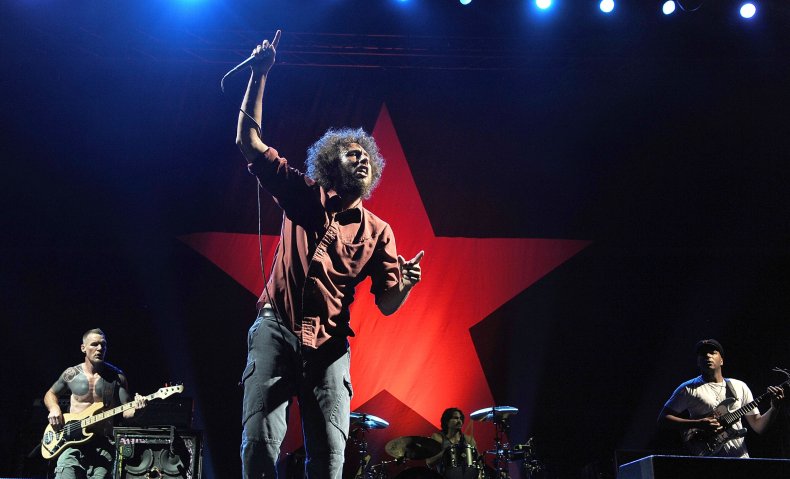 Some users couldn't help but acknowledge the timing between Rage Against the Machine's reunion and My Chemical Romance's announcement on Thursday. Sarasota Herald Tribune reporter Jimmy Geurts wrote: "Between My Chemical Romance and Rage Against the Machine announcing reunions, big week for all of us who were angsty teens in the late '90s/early '00s."
Some were critical of the band for playing Coachella due to the festival's large corporate sponsorships. Beer critic Ben Johnson noted: "Rage Against The Machine are reuniting at Coachella 2020, which is sponsored by Absolut Vodka, Amazon, Amex, BMW, Calin Klein, YouTube, Heineken, HP, and more. Isn't that kind of... the machine?"
Twilight of the Gods author Steven Hyden chimed in: "See Rage Against The Machine at the Machine."
YouTuber Dominic B. simply wondered "why would a band like rage against the machine play an event like coachella."
Forbes mentioned that Rage Against the Machine's choice to tour during an election year seemed like a calculated move to coincide with the band's often-angry political lyrics. Also of note is that all tour dates are in or near border towns. Author Lou Brutus also pointed this out before writing: "It's ON." NFL associate editor Ian Kenyon commented on it, "wooo boy."
The Rage Against the Machine tour begins in March in El Paso, Texas.