'Raging Inferno' in Los Angeles After Huge Fire Breaks Out at Factory
A large fire has destroyed a commercial building on the outskirts of Los Angeles, injuring one firefighter.
The blaze, described as a "raging inferno" by local news station KCAL9, took hold in a large one story unit in the northern L.A. suburb of Chatsworth overnight on Wednesday.
No one was inside the building, which local media reported was owned by the Arizona Pipeline Company, but one firefighter suffered minor burn injuries.
Crews responded around 9:50 p.m. to the factory on Sunburst Street to reports of a large fire and smoke.
Just after 10 p.m., the fire was said to have been burning through the roof of the 100ft-by-75ft building.
Footage showed Los Angeles Fire Department (LAFD) crews spraying water onto the fire from an elevated ladder.
Fire crews said they had swiftly moved to a defensive mode, meaning their focus was on preventing the blaze spreading to neighboring buildings.
The LAFD said it took 120 firefighters from 16 fire companies over an hour-and-a-half to extinguish the blaze, which was designated a "Major Emergency."
Margaret Stewart, the LAFD spokeswoman, said the Department of Building and Safety had "red-tagged" the commercial unit "due to potential collapse", forcing fire crews to suspend work from ladders until it was deemed safe to continue.
Investigators from the LAFD arson unit are looking into the cause of the fire, a move which Stewart said was standard procedure for a large fire.
She added that the operation would continue through the night, impacting traffic in the area.
Describing the scene, KCAL9's Desmond Shaw, who was reporting from a helicopter overhead the blaze, said: "This looks like such an incredibly dangerous fire. We've been seeing a lot of these lately, there were a couple in the City of Industry and in downtown L.A., just a rash of these commercial and industrial fires."
The Arizona Pipeline Company constructs utilities infrastructure and pipelines and describes itself as the "leader in the underground industry."
The Hesperia, California-headquartered company is shown on Google Maps as having a premises on Sunburst Street—an area dominated by commercial units and factory buildings.
Newsweek has contacted the Arizona Pipeline Company for comment.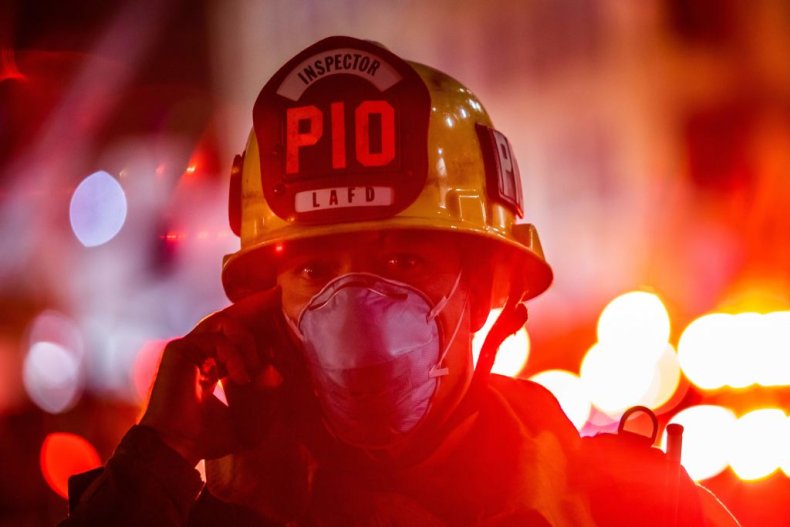 Hours earlier, 150 LAFD firefighters were dispatched to tackle a blaze near the Getty Center after two small grass fires were discovered, The Los Angeles Times reported.
In October 2019, a fire destroyed nearly 750 acres in the same area, again coming close to the museum, which was unaffected.