Raging Wildfires Near Berlin Force Hundreds to Evacuate as Undetonated WWII Munitions Start Exploding
Blazing forest fires in Germany have forced the evacuation of three small towns believed to be sitting atop undetonated munitions from World War II.
The fires are burning in the districts of Potsdam-Mittelmark and Teltow-Flaming, just outside Berlin. Residents of Frohnsdorf, Klausdorf and Tiefenbrunnen were told to leave their homes by more than 300 firefighters taking on the blaze. The fires were so out of control that they were burning through tree tops, not just on the ground.
In total, 540 people were evacuated, most of whom chose to stay with family members. Several people are staying in the town hall of Treuenbrietzen nearby. According to the website dw.com, Treuenbrietzen Mayor Michael Knappe said that the area never had fires "of this magnitude." The fire is spread across 400 hectares (about 988 acres).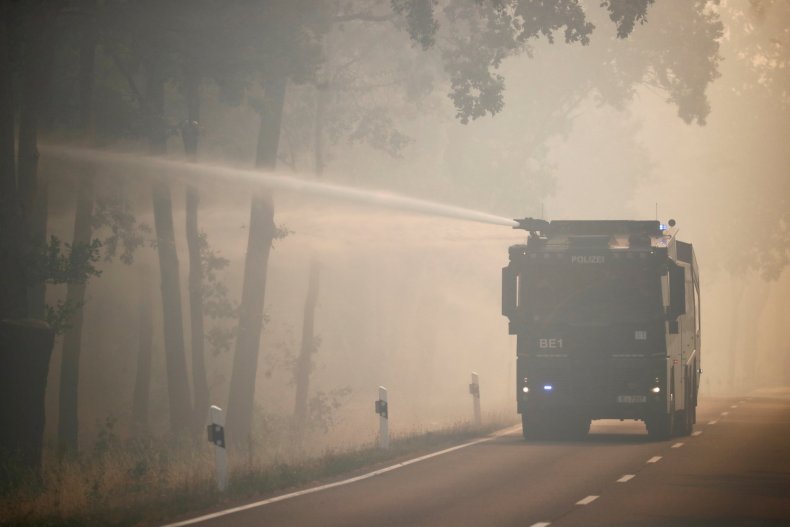 Frohnsdorf residents have since been told they can return to their homes. Klausdorf and Tiefenbrunnen residents are still being told to stay away. Berlin itself has also been affected by the fires, with smoke billowing through its streets. The Berlin Fire Department warned residents of ash rain in the southeast of the city.
The munitions are spread across the land and have limited the firefighters' access. "There are places we cannot get to," an emergency service spokesman said. "We can't get to a lot of places, only the paths that have been cleared and are accessible."
So far, grenades and cartridges have exploded in response to the fires. Bombs dating back to World War II are unearthed regularly in Germany.
Speaking to reporters on Thursday, Potsdam-Mittelmark official Christian Stein said the fires could be seen from as far as 10 kilometres (six miles) away. "Our main goal is still to protect the evacuated areas from the flames," Stein said. "The fire still has not been pushed back, but it also hasn't taken a building with it."
As of Friday morning, the fire was mostly under control, The Guardian reported.
In the United States, evacuation orders were issued in parts of Washington State this week as the Crescent Mountain Fire continued to burn. The fire has swept through some 31,091 acres and was 34 percent contained on Wednesday.
The fire, caused by lightning, which ignited on July 29, has prompted level three evacuation orders for residents living west of the Little Bridge Creek intersection in the Twisp River Valley. The Red Cross opened a shelter for those affected by the evacuations at the Methow Valley Community Center in Twisp.