'My Favorite Philosopher Is Not Pepe the Frog:' Breitbart London Editor Raheem Kassam On His UKIP Leadership Bid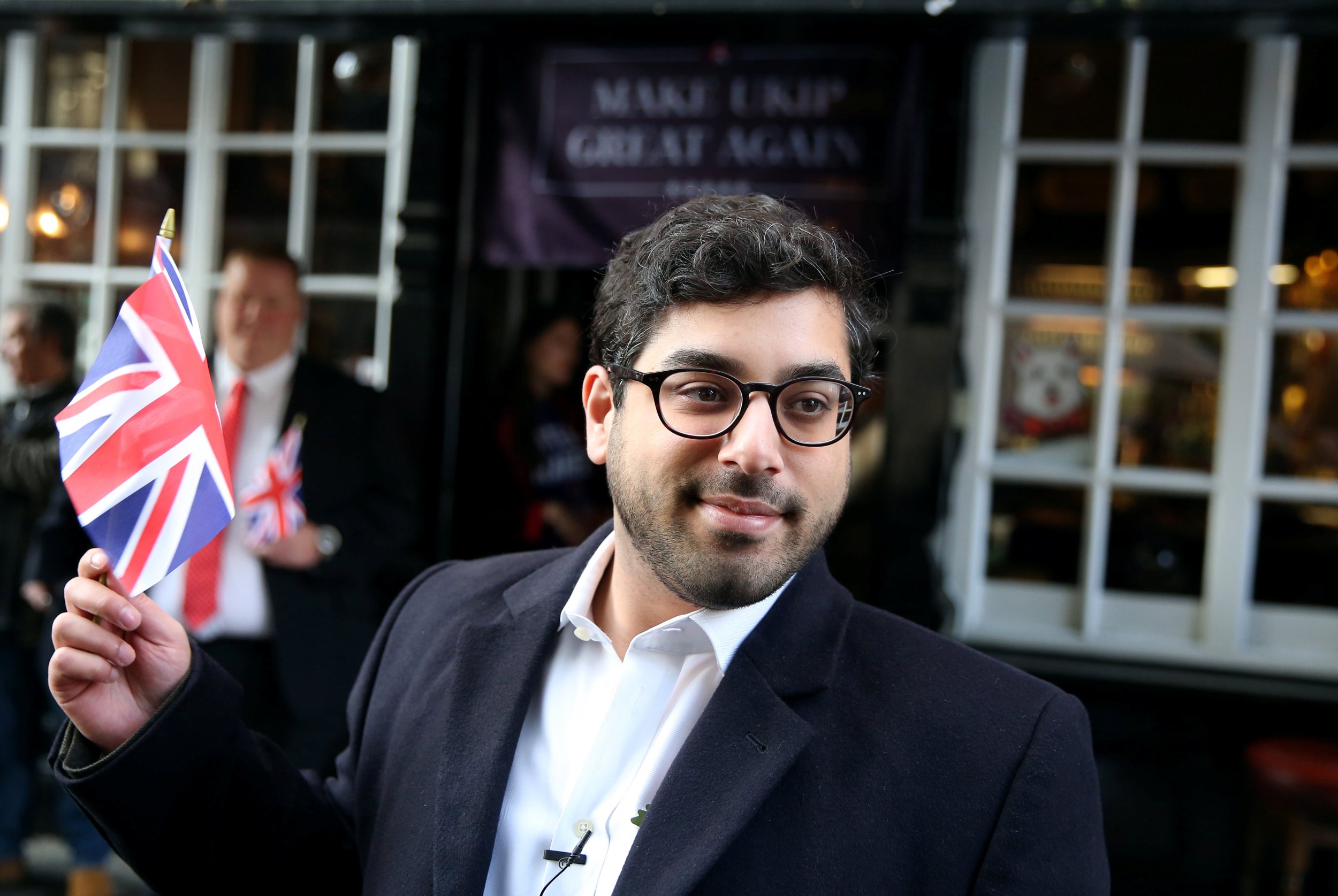 Raheem Kassam wants to set the record straight on his alleged "alt-right" political leanings. The editor-in-chief of Breitbart London and sometime backroom operator for Nigel Farage is now a contender to replace his old boss as leader of the U.K. Independence Party (UKIP), and, he says, he's got better things to do than post memes to annoy left-wingers.
"You know," he tells Newsweek over a fry-up breakfast in Westminster, eyes widened and speaking in a measured drawl, "I like books, I like philosophers, and I like to get out into the country and see stuff going on. My favorite philosopher is not Pepe the Frog."
"I know this probably sounds a bit high and mighty," continues Kassam, who once "joked" on Twitter that someone should tape the Scottish First Minister Nicola Sturgeon's mouth and legs shut, "but I think we have a very limited time on this earth and we have a very limited time to effect change in what we do. I'm in politics, I'm in journalism to effect change."
A Donald Trump fan, Kassam's campaign slogan is a pledge to "make UKIP great again." And, just like the Donald, he has received continued flak during the contest for his aggressive and offensive Twitter remarks (one article listed "13 people and things this Ukip leadership candidate has told to 'f*** off'"). He has since apologized for the post on Sturgeon. But, he says, his Twitter persona is not him IRL, to use the site's parlance. "It's tongue-in-cheek, you know, but how long does it take to send a tweet?" he asks.
When he worked for Farage, Kassam was one of the most notorious figures in the Westminster village's army of advisers, strategists and operatives. The 30-year-old son of Tanzanian immigrants, he grew up in Uxbridge, west London. He didn't join a party until after university, and when he did it was the Conservatives, though he had been "taken in by Blair's Britain" in his youth.
Kassam campaigned for a 2008 by-election in well-heeled Henley ("Instead of 'yeah,' I started saying 'yah'") and it was there he met the rising stars of a new young Tory elite. He names Harry Cole (now a political correspondent at The Sun), Alex Swann (who was also to jump ship to UKIP in a much-touted defection, before leaving the party over its illiberal immigration stance), and Anastasia Beaumont-Bott, a leading LGBT activist who briefly caused a stir in 2010 after she left the Tories, calling the party homophobic.
I suggest it's a bit at odds with UKIP's outsider image to be rattling off the names of Tory advisors. "Nosce hostem: know thy enemy," he replies. But it was in the bars of Westminster that Kassam met his new friends, too. Years later, disaffected with the increasingly liberal direction of David Cameron's Conservatives and leaning towards "civic nationalism," as he puts it, Kassam started running into Farage.
At a birthday party for BBC producer Joanne Hilditch, he introduced himself to the UKIP leader. The pair were talking to a woman Kassam had recently met for dinner ("I'd thought it was a friend date!" he says). The woman said to Kassam: "You know, Raheem, I had 16 oysters that night, why on earth didn't you take me home?" Farage turned to the young Kassam: "Why didn't you take her home?" A political partnership was born.
Kassam worked as Farage's personal advisor in the lead-up to the 2015 general election, and he has been blamed by critics inside and outside his party for fashioning a more abrasive style for the already politically incorrect leader.
After Farage suggested in a TV debate that migrants with HIV should not be treated on the NHS, it was claimed that Kassam was orchestrating a strategy based on deliberate controversy dubbed "shock and awful." He has long been a hate figure for the party's more liberal wing, exemplified by Suzanne Evans, also a leadership contender, and Douglas Carswell, UKIP's only MP.
But Kassam says he has been stitched up. The HIV comments, he claims, were not approved by him. His misfortune, he says, was to make an ill-timed pun on the phrase "shock and awe" to a Daily Telegraph reporter in a bar. As for the rest of the job, he would brief Farage on the news, work on his op-eds and complete other standard-issue political advisor tasks. "It was very much a bag-carrier role," Kassam says. "At no point did I ever try and wind him [Farage] up." Now, he says, he wants party unity. He is backed by leading party donor Arron Banks, a key Farage ally.
Evans apparently doesn't share Kassam's desire for unity. Talking to the BBC on Sunday she accused Kassam of being "far-right." It's a charge Kassam strongly denies. But he has addressed a U.K. meeting of the anti-Islam street movement PEGIDA. Its British leader Tommy Robinson, formerly of the English Defence League (EDL), is a passionate Kassam supporter on Twitter. Kassam says he would not allow Robinson—who he describes as a "source" rather than a friend—to join UKIP if he wins the leadership. While he describes Robinson as a "really misunderstood person," Kassam also says "he can be a bit fast and loose with the language he uses and I just don't think that fits in a political party."
Kassam would, however, introduce an appeals process against UKIP's longstanding ban on former members of the far-right British National Party (BNP) joining, in which would-be members would pay £50 and make their case to a UKIP panel.
Where he and Robinson share some common ideological ground is over Islam. Kassam was born in a Muslim household. "I grew up... being threatened, frankly, by my peers at university who told me that unless I came to Islamic Society meetings I was an apostate," he says.
Now, at Breitbart, he's highly placed on a major anti-Islam news site; one which refers to London mayor Sadiq Khan, a Muslim, as "Islamist-linked," runs columns from the likes of Dutch Freedom Party leader Geert Wilders and, in the U.S., publishes speculation about President Barack Obama's supposed Islamic sympathies or beliefs. Kassam's recent work at the site has included a glowing pen-portrait of the German PEGIDA leader Lutz Bachmann, who a court subsequently convicted of hate speech.
Does he agree with the likes of PEGIDA who say Muslims want to "Islamize" Europe? "I think there are certainly forces out there who want that," he says, using foreign funding for mosques as an example, but "I don't believe that it is inherent in the average Muslim to want to Islamize a country." He would like UKIP to focus more on Islam, with a call for a referendum on banning face coverings, a block on foreign government funding for religious institutions, and a ban on Sharia arbitration panels.
"I want to give young British Muslims the opportunity to do what I did—integrate, assimilate, be British and enjoy everything that this country has brought us," he says. In this broader aspiration, he does not differ from some in the party's "moderate" wing. UKIP councillor Lisa Duffy, backed by Evans when she stood for the party's last leadership race, also focused on British Muslims in her policy platform. Elsewhere, Kassam's policies are familiar UKIP territory: simpler taxes, boosts for the fishing industry, education on British values and a crackdown on "health tourism" all feature.
As we're finishing breakfast, I ask Kassam how he, a Londoner whose professional life has been spent behind the scenes in Westminster, could continue UKIP's march through the discontented, anti-metropolitan, "left behind" of Britain.
"I have grown up in a metropolitan place, I understand metropolitan values," he says, "I just have a different world view." His "civic nationalism," he argues, makes him "a patriot." "When you talk about nationality or talk about identity, I think it's important that we don't lose the word nationalism," he says, but adds that it is crucial to him they we "don't lose it to the 'ethno-nationalists'" in parties like the BNP. Since taking a senior role at Breitbart, he says, he gets stopped for selfies all over Britain "like Nigel, [but] to a lot lesser extent."
Why do some people dislike him, I wonder? "Most people haven't met me." How much effort has he had to make during this interview to seem reasonable and likeable? "I don't do that, I just don't," he replies. (I'm not sure I buy that, but it's my word as a reporter from the "mainstream media" against his).
"You and I," he says, "grew up in a world of [BBC political satire] The Thick Of It… so we all thought we were Malcolm Tucker." He once did too, but he says he's changed. "If I am in it to make a positive difference to people, you don't carry yourself like that. You don't behave like that."
As we're getting ready to pay up, he brings out a quote from a famous British anti-Islam campaigner of the past: "It's the old [Winston] Churchill quote, isn't it—'If you've made enemies, good, you've stood for something.'"