Rahm Emanuel's Ambassador Nomination by Joe Biden Angers Progressives
The prospect of former White House chief of staff Rahm Emanuel becoming U.S. ambassador to Japan has angered progressives who point to the legacy of the notorious killing of a Black teenager when he was mayor of Chicago.
In August, President Joe Biden announced his intention to nominate Emanuel for the envoy role and Nicholas Burns as ambassador to China, in appointments that had been in the works for months, according to CNN.
But critics have said Emanuel should be disqualified from consideration because under his mayoral administration, Chicago city lawyers fought to hide police dashboard camera video of Laquan McDonald, a Black teenager who was shot 16 times in the back by a police officer in 2014.
Facing accusations he was involved in a cover-up, Emanuel apologized in 2015 for the circumstances surrounding the death, including that it took 13 months before police dashboard camera video of the incident.
But he rejected calls to step down and has always denied he was involved in keeping the video from being released.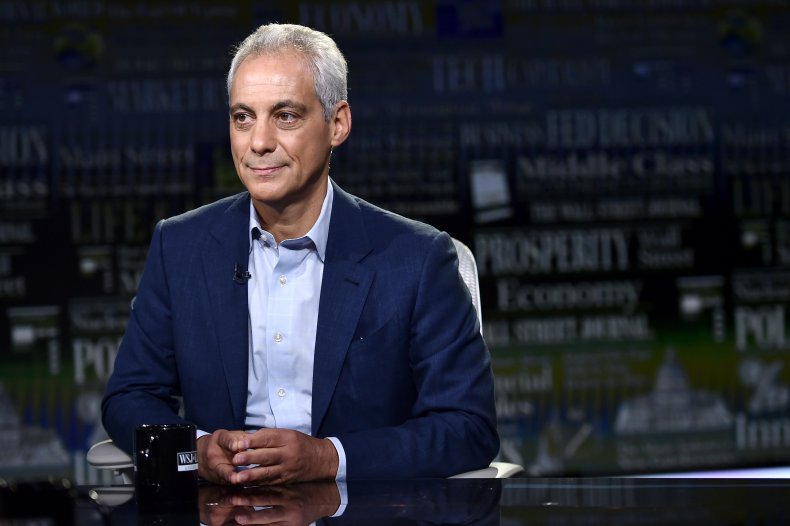 Last month the Chicago Tribune, which has condemned moves to appoint Emanuel to the ambassador role, pointed to a poll from 2016 that suggested more than two-thirds of people said he was not justified in withholding the shooting video.
Meanwhile, Emmanuel's inclusion on a White House list of ambassadorial nominations formally sent to the Senate for approval has sparked further outrage which has been building ever since his name was mentioned in connection with the envoy role.
New York congresswoman Alexandria Ocasio-Cortez, who has been a vehement critic of his appointment, reiterated her criticism on Tuesday tweeting: "This continues to be one of the most bizarre campaigns / uses of energy in Washington. Once again, Senate should vote NO on confirming Rahm Emanuel."
Representative Cori Bush (D-MO) tweeted that Emanuel "should be disqualified from any public office for covering up the murder of Laquan McDonald," adding, "the Senate needs to do the right thing and block his nomination."
Emanuel, who was a chief of staff to former President Barack Obama and a senior adviser to President Bill Clinton, could face questions during his Senate confirmation hearing about the shooting as well as crime levels in Chicago when he was mayor.
New York congressman Jamaal Bowman, who last month condemned the nomination, made a direct appeal to lawmakers, tweeting, "you can value Black life, or you can confirm Rahm Emanuel to an ambassadorship. Pick one."
The Progressive activist group Roots Action has launched an email campaign to encourage people to urge their U.S. senators to vote "no" on Emanuel's nomination.
White House spokesman Chris Meagher told Newsweek in a statement: "President Biden chose Rahm Emanuel to be his ambassador to Japan because he knows that Rahm will bring the experience, the policy chops, the relationships, and the work ethic to do an important job with a critical partner country.
"The President knows Rahm and has confidence in him, and believes that he will be a great representative in Japan," he added.
Update 9/15/21, 3:10 a.m. ET: This article has been updated to include a White House statement to Newsweek.