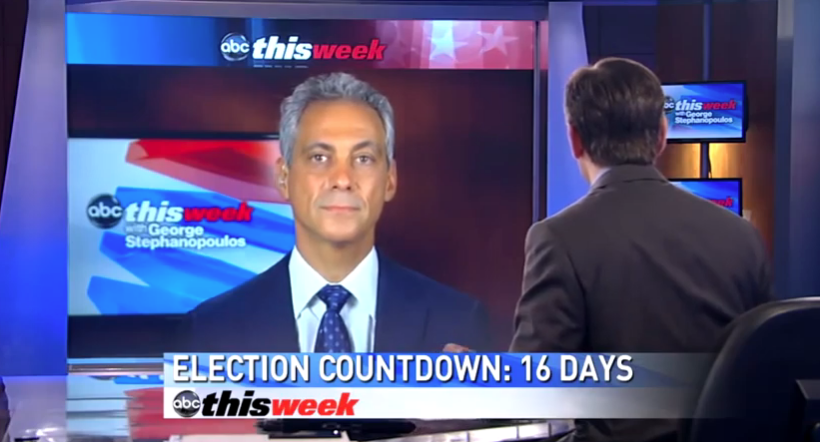 ABC News and CNN on Tuesday added to the lengthy list of fiery Democrat and Republican politicians caught in the ever-revolving door between both the Obama and Trump administrations and cable news networks.
Former Chicago mayor and Obama chief of staff Rahm Emanuel, who left the mayoral office just two days ago, is joining the upper echelons of network broadcasting at ABC News as a network contributor, The Daily Beast reported. Emanuel's move, which will take place after a two-week cycling trip, according to a City of Chicago spokesperson, comes hours after ridiculing "American Elites" in a piece for The Atlantic. Also this week, CNN commentator and former GOP Virginia attorney general Ken Cuccinelli is "expected to take a top job at the Department of Homeland Security" as President Donald Trump's latest installment of an immigration hard-liner.
In the past year, former Arizona GOP Senator Jeff Flake joined CBS News, ex-Utah Republican congresswoman Mia Love joined CNN and controversial former DNC chairwoman and CNN contributor Donna Brazile moved to Fox News.
Although rooted in different political parties, both Cuccinelli and Emanuel have engaged in a series of testy on-air exchanges through a format frequently viewed by Trump: cable news. Despite CNN and ABC pundits frequently criticizing the cozy connections between the Fox News Channel and the Trump administration, Cuccinelli and Emanuel's moves further illustrate the intimate ties between both parties' White House occupiers and lucrative cable news positions.
The Daily Beast reported Emanuel was also involved in prospective job meetings with MSNBC and CNN over the past year in search of post-mayoral pundit gigs. And Cuccinelli, whose role is expected to be inside the Department of Homeland Security and not the White House, according to The New York Times, has spent the past several years arguing anti-immigration conservative talking points on CNN.
Despite Trump's repeated accusations of "fake news" and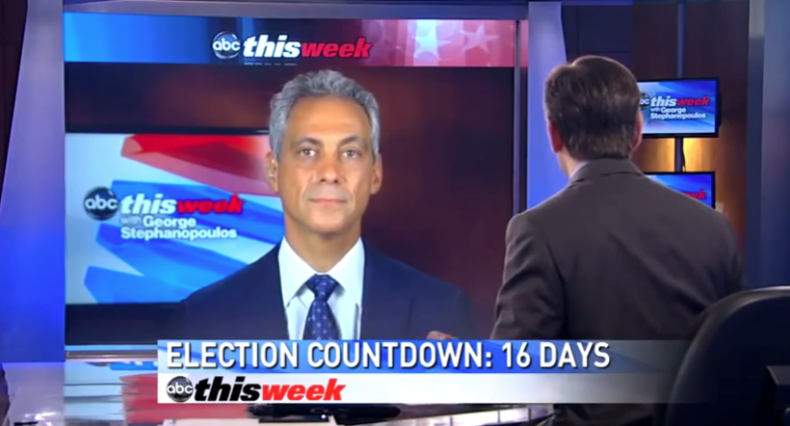 Cuccinelli served as attorney general of Virginia from 2010 to 2014 before losing a gubernatorial bid in the state in 2013.
During a heated 2017 exchange with Symone D. Sanders, who is now a senior adviser for Joe Biden's 2020 campaign, Cuccinelli told her to "shut up" as the two discussed a deadly white nationalist rally in Charlottesville, Virginia.
The New York Times reported that Cuccinelli may take over an immigration "czar" post alongside acting DHS secretary Kevin McAleenan, who took over that role following the resignation of Kirstjen Nielsen in April.
Emanuel made it clear this week he would not fade into post-politics retirement, penning a piece for The Atlantic calling on Democrats to address middle-class anger. And earlier this month, he appeared on ABC News' This Week program—a show he may now appear on more frequently alongside Good Morning America spots.
On Fox News earlier this week, Life, Liberty & Levin host Mark Levin ridiculed the "incestuous relationship" between Democrats and the national TV networks. ABC's George Stephanopoulos took flack from Trump during the 2016 campaign for being a Clinton donor and former White House adviser to President Bill Clinton. And right-wing CNN critics routinely point out that Chris Cuomo's brother Andrew is the governor of New York.
Levin lamented a "two-way street" between the Obama administration and his cable news rivals. But earlier this year, former Fox News executive-turned Trump White House Deputy Chief of Staff for Communications Bill Shine left to work for the president's 2020 reelection campaign, drawing the ire of pundits at the rival networks. And Sarah Isgur, a former spokeswoman and senior counsel at Trump's Justice Department, joined CNN in February as a political editor for 2020 coverage despite the president routinely labeling the network "fake news."
"You couldn't tell me the difference between the Democrat agenda and what you hear from Chris Cuomo or Don Lemon or a list of so-called reports, same with MSNBC," Levin told fellow Fox News host Pete Hegseth.
He continued: "You look at CNN there's several over there, you look at MSNBC, Chris Matthews and others, there's several, there's this incestuous relationship—it's a social relationship, it's a geographic relationship, pretty much on the East Coast, New York and Washington."