Rahm Emanuel on Track to Take Over Chicago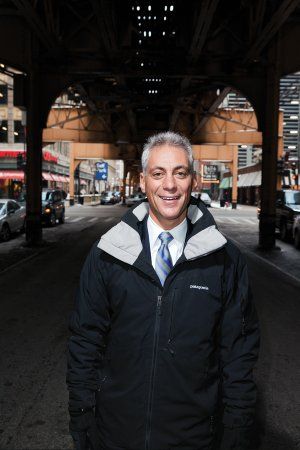 For 24 hours, Rahm Emanuel sweated in frigid Chicago. "I, like the city, was thrown for a loop," he told me later, after an appellate court ruled on Jan. 24 that Emanuel hadn't resided in Chicago over the last 12 months and therefore couldn't be its mayor. It didn't matter that the dissenter on the court said her two judicial colleagues were acting on a "whim" by overturning three previous decisions in his favor and that Emanuelites saw a political hit job. As White House chief of staff, "Rahm" (as in "Hillary" or "Prince") had been, by Barack Obama's own description, "almost like a prime minister." Now he was about to have plenty of time to work on his yoga.
Chicago precinct captains famously joke to their neighbors to "vote early and often." With early voting beginning on Jan. 31, the Emanuel campaign needed an immediate judicial stay to stay alive. Given that the wife of Rahm's most powerful local adversary serves on the Illinois Supreme Court, no one knew if it would come through. But within hours, the state's high court stopped the presses that were already printing ballots without Rahm's name. On Thursday, when the court formally ruled in the case, Rahm called his wife, Amy, and said, "Honey, it's 7–0." Amy asked, "Which way?" When Rahm told her, "I'm at the L stop," she knew the campaign was back on again, thanks to a unanimous decision that Emanuel hadn't "abandoned his Chicago residence" when he moved to Washington. Rahm then phoned his parents, the president called him, and Chicagoans turned their attention back to whether the Bears' quarterback was a wimp.
With the residency fight behind him, Rahmbo is getting ready to storm City Hall. With a tireless, meticulously organized campaign and more than $10 million in the bank, he's ahead by more than 20 points in recent polls and may even surpass 50 percent on Election Day, Feb. 22, which would allow him to avoid an April 5 runoff. The only other plausible mayor in the race, Gery Chico, a former school-board president, can't seem to get traction.
Some analysts are trying to make the contest seem racial, but most Chicagoans don't want a return to the bitter "Council Wars" of the 1980s. The decision by Jesse Jackson and a few other African-American leaders to unite behind Carol Moseley Braun, a former senator and quixotic presidential candidate, means little without Obama, who is firmly behind Rahm. (Braun didn't help herself by saying Bill Clinton's endorsement of Emanuel was a "betrayal" of minorities.) So right now it looks as though only a gargantuan gaffe can keep Rahm from completing an improbable journey from stubby-fingered, potty-mouthed ballet dancer to Hizzoner Da Mare.
In retrospect, the residency mess helped humanize Rahm by showing that the macher (Yiddish for big shot) didn't have everything wired.
A hearing in December before the Chicago Board of Election Commissioners proved to be a cosmically appropriate test for a guy in need of some humbling—12 straight hours of self-appointed Perry Masons ("objectors," as they're called) granted 30 minutes each to grill the candidate about everything from the lease on his house to when he last visited Wrigley Field.
When the Emanuels moved to Washington in 2009, they rented their house in the Ravenswood neighborhood to a man who not only refused to move out last fall but promptly declared that he, too, was running for mayor. (He has since withdrawn.) The renter's wife testified that the Emanuels left nothing in the house, though it later turned out that she somehow had missed 100 boxes in a basement addition that contained family heirlooms like Amy's wedding dress, photo albums, china, and a prized leather jacket that once belonged to Rahm's beloved grandfather. For the elections board and, eventually, two higher courts, this indicated that the Emanuels planned to return, the standard used in prior cases where a taxpaying resident was out of town on government business.
For all 12 hours of testimony, Rahm's mien was either deadly serious or deadpan. A matronly objector who said she goes by the name "Queen Sister" cross-examined him over the leather jacket, which she called "the amazing technicolor dreamcoat." Rahm calmly explained that it wasn't, in fact, Joseph's dreamcoat and quietly asked, "What is the proper way to refer to you—as 'Queen' or 'Your Excellency'?"
One man questioned Rahm about whether he was in Waco with the cultist David Koresh. Another kept shouting after his allotted time for cross-examination expired: "He's blackmailing Bill Clinton! It's in the Mega-File!"
As it happened, I was in the city of my birth this winter to expand my own "mega-file" on Rahm, whom I met 20 years ago. Over lunch at a Greek coffee shop on State Street, I asked how a man known for staring down the Joint Chiefs and scrolling through his BlackBerry while the president was talking could now keep his infamous impatience in check.
He said that to stay serene amid the flora and fauna of democracy, he placed on the table in the hearing room a picture of his wife and their three children together on the Truman Balcony. His daughter Leah was studying Tom Paine in school, but she wore a retainer and the family teased her over how she recited Paine's oft-quoted speech from the American Revolution.
"I kept looking at the picture and hearing my inner voice," Rahm said. " 'These are the thimes that thiy men's thouls.' "
when i caught up with the candidate at 7:30 one subfreezing January morning at the L station at 69th and the Dan Ryan on the South Side, he seemed in a great mood, much better than in the White House. He was throwing out his "Hey, buddy!" and "I got your back!" greetings to African-American commuters who seemed glad to see that Obama guy they know from TV. In Washington, Rahm was famous for not caring whether senators or heads of state liked him personally. But now he's back to being a convincingly solicitous retail politician. If the campaign scheduler doesn't pencil in at least two L stops a day, he'd better have a good explanation for the candidate.
At an evening L stop on Roosevelt Road, Rahm declines to kiss a baby ("I've been touching stuff," he explains to a young mother) but quizzes teenagers urgently about their long commutes. Legends repeated in numerous profiles are sinking in with Chicagoans. "The guy who sent the man a [dead] fish! I'm for ya!" exults one voter as he goes through the subway turnstile, a reference to how, as a ball-busting young political operative in the 1980s, Rahm expressed his displeasure to a pollster.
The guy has always been ambition cubed. After he reluctantly left the House in 2008 to work for the president, he made no secret of immediately switching his career goal from being Congress's first Jewish speaker to Chicago's first Jewish mayor. I asked him what he would have done had Richard Daley run again as expected and fulfilled assumptions he'd be mayor for life. "Probably take the gears off his bike," he said with a straight face.
The larger question these days is whether he can become something more than the least bad option to succeed Daley, who has mostly served well for 22 years but is leaving "The City That Works" in a precarious state. Chicago is facing a $650 million budget shortfall, about as many murders per year as New York (a city nearly three times its size), and a school system still mired in failure.
Rahm began his rise as a protégé of the Daleys (he returned the favor recently by strongly pushing Bill Daley as his White House successor), and he would mostly govern in their mold. He's a moderate, disciplined, "LaSalle Street Democrat" (the Midwestern Wall Street), consolidating support from the labor leaders and ward committeemen who make up what's left of the machine, even as he says he wants to dismantle it to save money. "The days of that kind of patronage are over," he says gingerly. We'll see.
In the White House, Rahm pushed hard for education reform. His lofty ambitions for Chicago schoolchildren—especially after-school programs for all kids up to eighth grade as a way to cut crime—might not be plausible fiscally, but he's got the passion to make some headway. "You can have world-class art and theater as we do in Chicago, but if a little under half of your kids aren't graduating high school, that's not a recipe for world-class growth," he says.
In the poet Carl Sandburg's "stormy, husky, brawling" city, Rahm is two out of three. "Rahm's not six feet [he's actually under 5 feet 8], and he probably doesn't weigh 150 pounds dripping wet, but in all the ways that matter he's a very big person for this job," Clinton said when he campaigned for him. Former White House adviser David Axelrod still talks to his friend and former colleague every day. "He'll set goals for the city and work relentlessly to meet them," Axelrod says. "When Rahm sets himself a target, he's like a heat-seeking missile."
With his ambition and toughness spoken for, his mayoral campaign now revolves around a third critical element of leadership: temperament. Rahm would hardly be a calm, steady, Obamanian presence at City Hall. In private at least, he'd be bouncing off the walls, interpreting everything that happens in a city of 2.8 million people as a personal challenge. His strange combination of intense focus and attention-deficit disorder might send him careening off course.
"There's nothing easy about Rahm. Nothing," says Desiree Rogers, who left her job as White House social secretary after the flap over gate-crashers at a state dinner. "But I noticed that when he talks about the children of Chicago in his ads, his voice almost cracks. He's a lot more sensitive than most people give him credit for." Rogers hosted a Chicago fundraiser for him, while her ex-husband, John Rogers, a prominent African-American investor, is helping Braun because he thinks she's more committed to fighting poverty.
Rahm's blunt, sometimes abusive style is an acquired and polarizing taste. Those who don't hate him, the line goes, love him a lot. Of course, those who resist his charms haven't hesitated to note that Obama's political fortunes sharply improved right around the time his stormy chief of staff moved home. Some White House staffers compare him to Ari Gold, the Jeremy Piven character on Entourage based on Hollywood super-agent Ari Emanuel, Rahm's younger brother. "He treated us like we're all Lloyd," says one White House aide, a reference to Ari's long-suffering gay Asian-American assistant on the HBO show.
This trait is now a desperate campaign issue. Braun used a Jan. 14 Chicago Tribune debate to cite an incident I reported in my book The Promise, where Rahm barks at a stammering male staffer in the White House, "Take your [expletive] tampon out and tell me what you have to say."
In the debate, Emanuel tried to change the subject by saying, "When it comes to fighting the NRA … ," but Braun interrupted.
"No, tampons—let's talk about tampons," Braun said. "This isn't about guns; this is about tampons and how women would feel about someone who does that in the workplace."
Tampons aren't going to bring Rahm down. If he wins, he may be a historic mayor or a train-wreck mayor, but even Queen Sister must concede that he won't be a boring mayor. "I have banned the word 'resident' " from family Scrabble games, he said after his court victory. "Even if you get it on a triple word, you're not allowed to use it." Chicago had better get ready to play by Rahm's rules.