Rahm Emanuel's Actions After 2014 Shooting of Black Teen Loom Over Ambassadorship Hearing
Rahm Emanuel's handling of a fatal police shooting of a Black teen seven years ago when he was mayor of Chicago might deter his chances of being President Joe Biden's ambassador to Japan.
In 2014, 17-year-old Laquan McDonald was shot 16 times as he ran away from police and for more than a year, Emanuel's administration chose not to publicly release the police dash cam video. When the video was finally released after being compelled by a state court, the city witnessed weeks of protests, most of them peaceful, in response.
Several lawmakers and House representatives believe Emanuel's actions following the shooting do not align with the Biden administration's mission of "comprehensive and meaningful police reform" and should disqualify him from nomination for an ambassador position.
Emanuel will appear for his confirmation hearing before the Senate Foregin Relations Committee on Wednesday, which also happens to be the seventh anniversary of McDonald's killing.
In the face of criticism over Biden's envoy, White House press secretary Jen Psaki said Biden's "commitment to police reform speaks for itself."
Psaki has explained that Biden's decisions on ambassador selection are informed by various factors.
"At the same time, he selects and has nominated a range of ambassadors to serve the United States overseas because of their qualifications, whether it's from business, public service, or other reasons that would make them qualified for these positions," Psaki said.
For more reporting from the Associated Press, see below.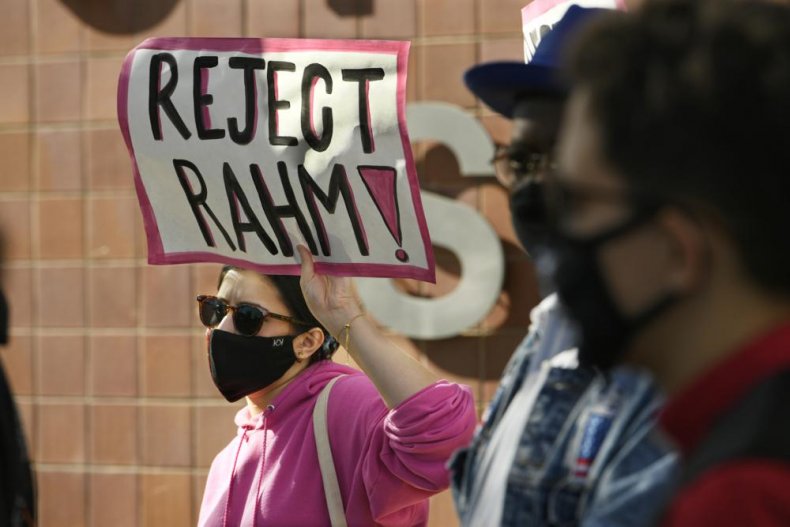 If confirmed, Emanuel will be Biden's chief envoy to Japan at a moment when the two nations are looking to strengthen ties as their common adversary, China, has strengthened its position as an economic and national security competitor in the Pacific.
The White House is confident Emanuel will be confirmed by the Senate despite sharp criticism by several of the president's allies in the party's liberal wing of the House, whose members do not vote on confirmations.
Thus far, none of the Senate's Democrats have publicly stated that they would vote against Emanuel. The White House also expects he will win support from several Senate Republicans, including some who served with him during his time in the House from 2003 and 2009.
Sen. Bill Hagerty, R-Tenn., who served as former President Donald Trump's ambassador to Tokyo, is slated to introduce Emanuel to the committee.
Among the Democrats most critical of Emanuel's nomination are Rep. Alexandria Ocasio-Cortez of New York, who called the pick "deeply shameful," and Rep. Cori Bush of Missouri, who has called on the Senate "to do the right thing and block his nomination."
The head of the NAACP and a number of police reform activists have also spoken out against the nomination of Emanuel, who also had been in the running to be Biden's transportation secretary.
The release of the McDonald video — which showed the teen repeatedly shot as he was running from police — led Chicago to make a series of changes in policies on police cameras, use of force and training. Months before the video's release, the city agreed to pay a $5 million settlement to McDonald's family.
Jason Van Dyke, the officer who shot McDonald 16 times, was convicted of second-degree murder and 16 counts of aggravated assault, and sentenced to six years and nine months in prison.