Rahul Gandhi, the president of the Indian National Congress party and India's main political opposition leader, strongly criticized Prime Minister Narendra Modi, warning in a letter that the "explosive" surge of COVID-19 in the South Asian nation threatens the entire world.
In the Friday letter addressed to Modi, Gandhi, a member of India's parliament, argued that the prime minister's government lacks "a clear and coherent Covid and vaccination strategy," The Indian Express reported, sharing a copy of the document. He wrote that this problem "has placed India in a highly dangerous position." Gandhi called for a national lockdown, acceleration of the country's vaccination strategy and for better "scientific" tracking of the coronavirus.
"India is home to one out of every six human beings on the planet. The pandemic has demonstrated that our size, genetic diversity and complexity make India fertile ground for the virus to rapidly mutate, transforming itself into a more contagious and more dangerous form," Gandhi, the son of India's former Prime Minister Rajiv Gandhi and grandson of former Prime Minister Indira Gandhi, wrote in the letter.
The politician took aim at what he views as Modi's government's "hubris in declaring premature victory as the virus was exponentially spreading." He said this had "placed India in a highly dangerous position," noting that COVID-19 is now "growing explosively" in the country.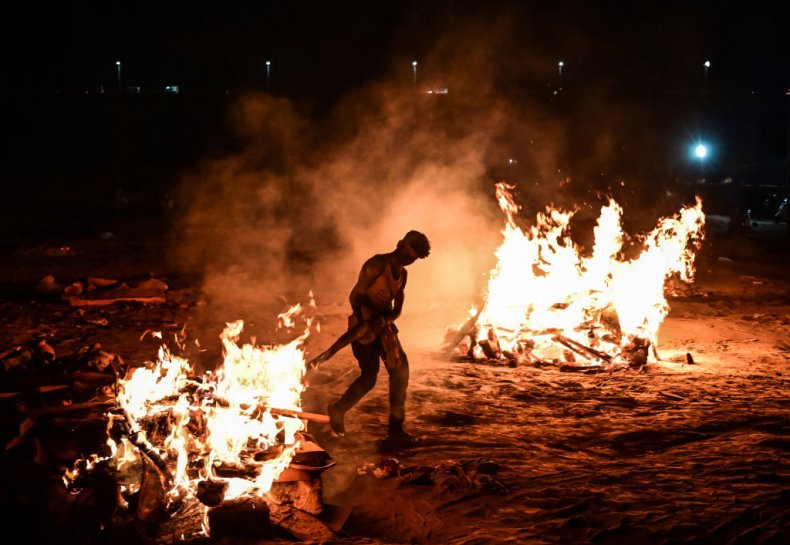 "I am aware that you are concerned about the economic impact of a lockdown. Inside and outside India, the human cost of allowing this virus to continue its march unimpeded will result in many more tragic consequences for our people than any purely economic calculations your advisers are suggesting," Gandhi wrote.
Newsweek reached out to Modi's office for comment but did not immediately receive a response.
India, home to the world's second largest population of about 1.37 billion people, has seen a record-breaking surge in COVID-19 infections over the past month. On Wednesday and Thursday, the nation recorded well over 400,000 new infections while analysts have said they believe this is likely an undercount due to a lack of access to testing. The country also recorded nearly 4,000 new deaths on both days.
Images of large numbers of bodies being cremated—as is the normal custom in India—have been circulated widely online and in the media, as some medical workers have compared the situation to the "apocalypse."
"What we are seeing is nothing short of an apocalypse," Dr. Farah Husain, head of a COVID-19 ICU unit at Lok Nayak Hospital in New Delhi, told CNN last Friday. "We've had patients rushed—being rushed in. Almost wards getting filled up overnight..."
The seven-day average of new daily COVID-19 infections has risen to nearly 390,000, while the country is seeing an average of nearly 3,700 deaths per day. India is now second in the world for its official number of COVID-19 infections, with about 21.5 million total infections recorded since the start of the pandemic. That's still significantly behind the much smaller U.S. (with a population of about 328 million), which has recorded more than 32.6 million infections.
India currently has recorded the third-highest number of deaths of any country, with just over 234,000 officially attributed to COVID-19 since the beginning of the outbreak, according to The New York Times' tracker. Comparatively, the U.S. has seen nearly 580,000 deaths while Brazil comes in second with nearly 417,000. But health experts are deeply concerned about the virus's current trajectory in India, as daily infections continue to surge.
Meanwhile, Modi has faced significant backlash. Earlier this year, the Indian prime minister held large and crowded rallies, as he suggested that the country had beaten back the pandemic. His government also allowed a large Hindu religious festival to move forward. Public health experts have pointed to these events as well as the government's more recent lax response to the pandemic as key drivers of the current surge in infections and deaths.