RAICES Action Fund Changes Bloomberg's Immigration Score From 'F' To 'C', While Sanders Claims Top Grade
The Refugee and Immigrant Center for Education and Legal Service (RAICES) Action Fund was forced to issue a new and improved score for former New York City Mayor Mike Bloomberg on a recent immigration policy report card released ahead of Super Tuesday.
Initially, RAICES Action, the political arm of RAICES, had given Bloomberg an "F" on his immigration platform—the same score that the group had awarded to President Donald Trump over his hardline immigration approach.
However, late on Tuesday, after Bloomberg's campaign team took issue with the score card, asserting that it discounted a number of policy changes the former New York mayor has championed, RAICES Action said it would be updating the score card to improve both Bloomberg's and Vermont Sen. Bernie Sander's grades.
With the update, Bloomberg's score soared from a failing grade to a "C," while Sanders claimed the top grade, moving from a "B-", which both he and Warren had initially received, to a "B+."
As Newsweek reported on Tuesday, Bloomberg's campaign team had asserted that a number of policies backed by the 2020 Democratic hopeful had been missed in RAICES Action's first scorecard.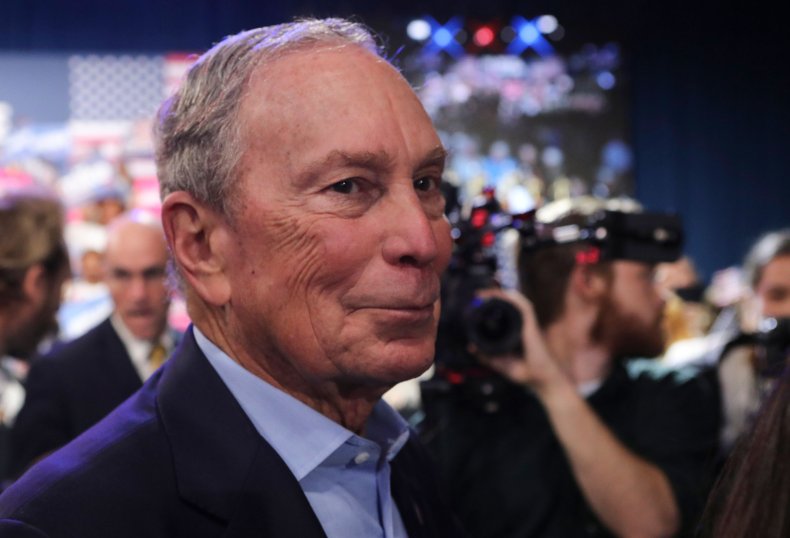 The campaign team said they had reached out to RAICES to request corrections on the report card, asking that it reflect the fact that Bloomberg does support a number of the efforts outlined, including demilitarization of the border, overturning the Trump administration's widely condemned travel ban, ending construction of Trump's border wall, welcoming asylum seekers, expanding visa access and creating distance between federal immigration enforcement and local law enforcement.
RAICES Action did not call the changes to its report card a correction. Rather, it said the scorecard was "meant to be updated when candidates clarify or change their positions and be a resource for the public."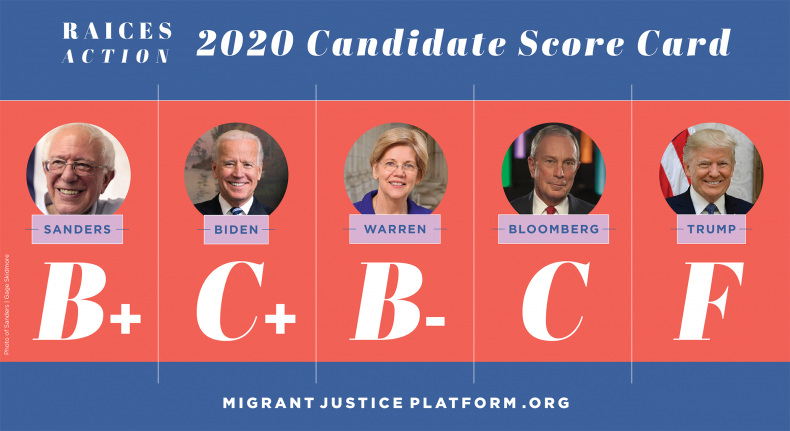 "We reached out to all campaigns (except for Trump's because we know it's a no brainer) prior to release to ensure we had the most accurate information after we looked at all their platforms, but some of them had not gotten back to us," RAICES Action said.
Bloomberg's immigration platform does appear to make mention of some of the initiatives mentioned above, including ending construction on Trump's "ineffective wall" and diverting the funds to investing in "smart security measures" and upgrading ports of entry "to protect the border and increase efficiency." It also vows to end a number of controversial immigration policies introduced by the Trump administration, including the travel ban.
RAICES Action said Sanders also received a higher grade in the updated version of the report card because the organization had learned that the Vermont senator supports a number of immigration initiatives that had previously been left out of his ranking, including his belief in the need to "demilitarize and restructure" CBP.