The 'Raiders Have given Up': Twitter Delivers Scathing Criticism of Jon Gruden After Hammering by 49ers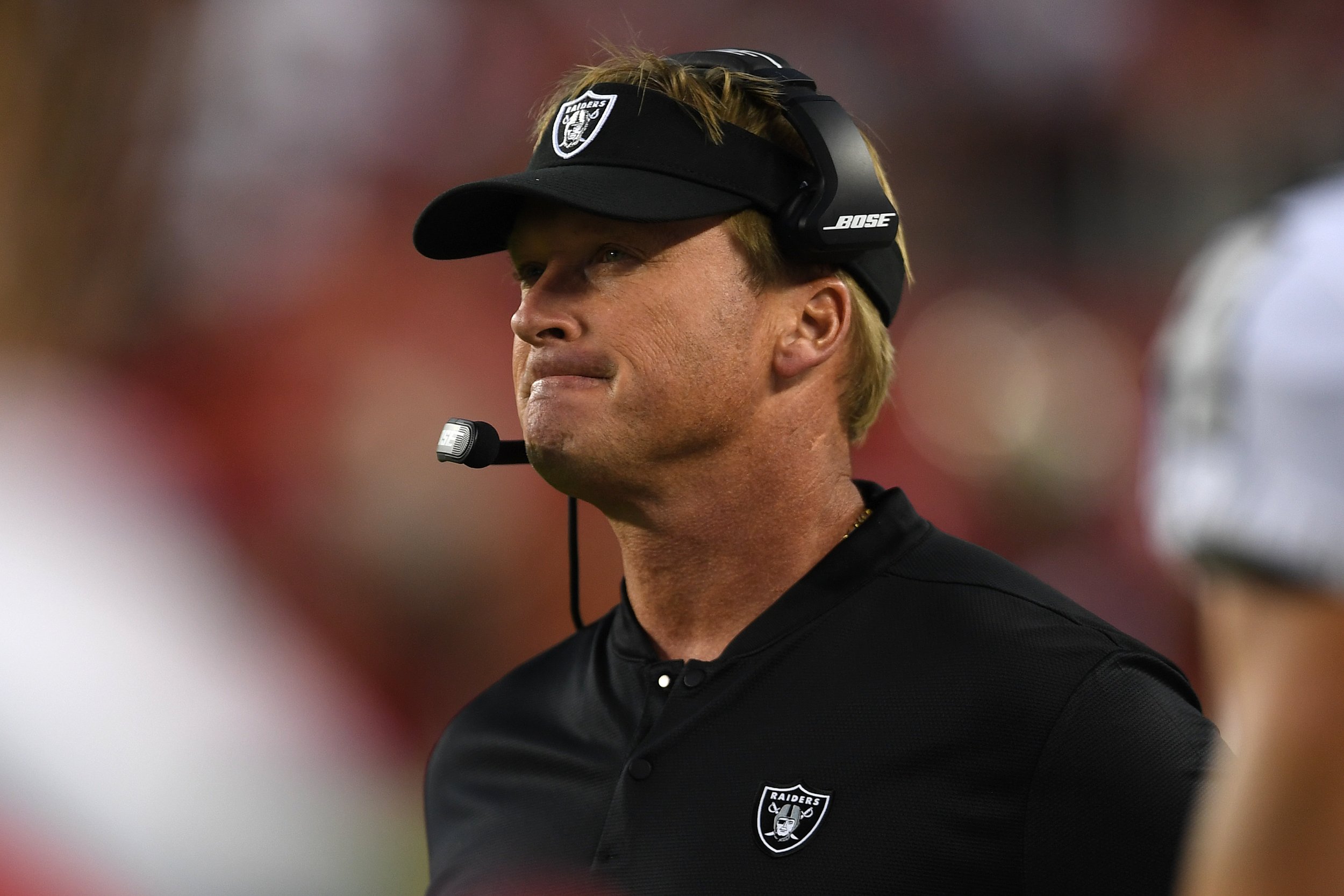 The Oakland Raiders' already dismal season took a turn for the worse on Thursday night as they were hammered 34-3 in San Francisco by the 49ers.
The final Battle of the Bay before the Raiders relocated to Las Vegas in 2020 was a contest only for the first quarter, with Oakland taking a 3-0 lead before conceding 34 unanswered points to a team which entered Thursday Night Football with the league's joint-worst record.
This dubious accolade now belongs to the Raiders, who share their 1-7 record with the New York Giants and look on track to record their worst season since 2014 when they went 3-13. In fact, as things stand, even the prospect of Oakland failing to win more than two games in the regular season – something they have failed to do only three times in their history – doesn't seem too far-fetched.
If Jon Gruden's decision to trade Khalil Mack and Amari Cooper raised doubts over the path the Raiders have embarked on off the field, they performances on the pitch paint the picture of a team that appears to have given up.
Those who watched the Raiders being shellacked in San Francisco certainly seemed to think so.
"They quit early," 49ers reporter Joe Fann quoted a 49ers player as saying.
He was not the only one to reference the lack of fight.
Typically, Gruden was reluctant to criticize his players.
"I'm not going to say anything about the effort," he was quoted as saying by The Mercury News.
"I know there were some big plays and I thought the guys fought until the end ."
With a 1-7 record, the Raiders look poised to secure a top 2 pick in April's draft on top of the two first-round picks they received for Mack and Cooper.
However, veteran defensive lineman Frostee Rucker dismissed the suggestion the Raiders had thrown in the towel. "No one is packing it in," he said.
"Coach hasn't quit. It's not about next year. It's not about that. We're trying to win. It's just not happening now."
While it is admirable for Gruden to stick by his players, the Raiders' decision to hand him a 10-year, $100 million contract to lure him away from the Monday Night Football booth is looking worse with each loss.
Yet he remains remarkably optimistic.
"The Oakland Raiders is a great organization," he said after the game, as per ESPN.
"I know it's not looking pretty right now. I've heard a lot of negativity over the last six or seven months, and rightfully so. But we're going to build a championship football team here. I know a lot of people as players, as fans, just in general, want to be a part of this."
Speaking to FOX Sports earlier this week, Gruden insisted players were from around the NFL were desperate to play for the Raiders.
"I get a lot of phone calls from people that are dying to come play here," he said.
"I'm just telling you. They're dying to play for the Raiders."
That might well be but at this stage of the season it looks like they might join the worst NFL team since the 2017 Cleveland Browns.