As Raiders Leave for Vegas, Oakland Still Owes Stadium Debt from 1995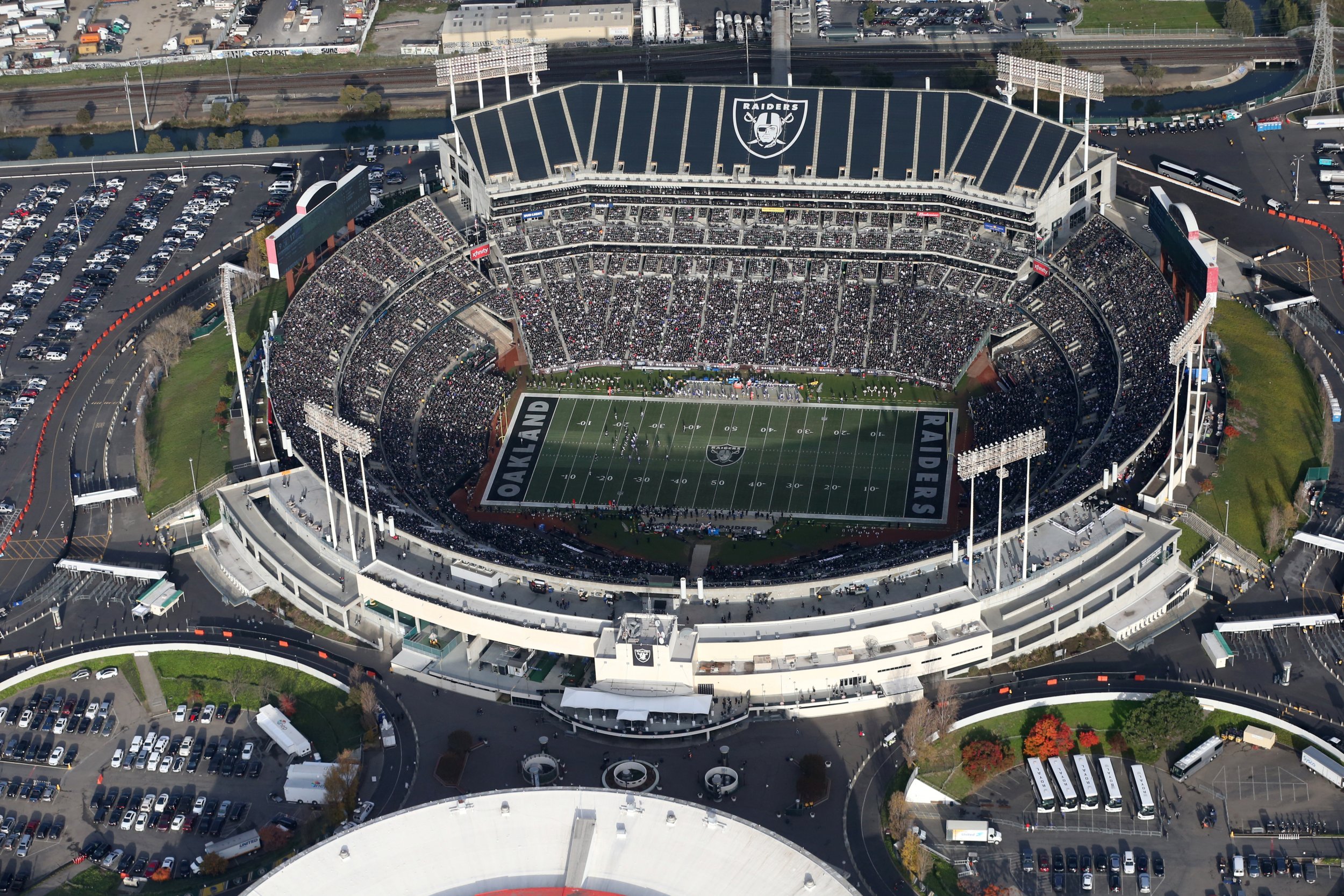 The NFL's Raiders will soon leave Oakland for the bright lights of Las Vegas, but they'll leave something special behind in northern California: nearly $85 million in stadium debt to be paid off by taxpayers.
Stadiums, and stadium funding, largely determine the comings and goings of NFL teams. The franchise formerly known as the St. Louis Rams left the midwest for a $2.6-billion planned behemoth in Los Angeles that will be privately financed. After San Diego voters voted resoundingly to not use taxpayer dollars on a new NFL stadium, the Chargers opted to move to L.A. and become tenants in the Rams' planned Inglewood, California, home.
The Raiders—whose move was approved Monday, 31-1, by the NFL owners—have been promised $750 million in hotel taxes to fund a nearly $2 billion stadium in Las Vegas. The Raiders will remain in Oakland for at least one more season and could pack up for Nevada as early as 2019.
The city of Oakland and California's Alameda County, meanwhile, remain saddled with an estimated $83 million in debt from a 1995 renovation of the Raiders' Coliseum stadium, according to the San Francisco Chronicle. The city made the expensive fixes to the stadium to lure the Raiders back from Los Angeles.
Americans love the NFL, but there is a near-consensus among economists that spending taxpayer dollars on stadiums is a fool's errand—the massive projects might bring excitement to locals, but they provide no economic benefit.
The debt in Oakland, leftover after more than two decades, illustrates the problem.
"In the past, the city of Oakland has been subsidizing Raiders games," Oakland Mayor Libby Schaaf said ahead of the news that Raiders would move, according to the Chronicle. "Obviously part of why we're in the predicament that we're in as far as the public's sentiment around contributing to a new stadium is because of the debt that we're continuing to pay on the last deal."
If there's a silver lining, it's that Major League Baseball's Athletics will continue to play in the Coliseum. But they are actively looking to build a new stadium in the city and in the wake of the Raiders leaving, the Athletics chose to remind folks Monday they want a new home in the city (while not mentioning how it would be financed).
"We understand the Raiders' need for a new stadium," the team said in a statement. "Oakland is an incredible sports town and we would be sorry to see them leave. We commend the city's and county's efforts to keep the Raiders in Oakland... We are focused on, and excited about, our efforts to build a new ballpark in Oakland and look forward to announcing a location this year."