Raiders Ready to Roar Into 20s With Move to Las Vegas, Hosting the NFL Draft and New Dark-Glassed Stadium
The Raiders of the National Football League have moved from the Bay Area to Los Angeles, and then back again. Now that the team's 2019 season in Oakland has concluded with no playoff in site, the next stop is Las Vegas.
The Raiders had an outside shot of becoming a wild card playoff team this season, needing losses from other teams in the final weekend. Instead, it's all looking forward for the Raiders and Sin City now.
The team will evaluate college talent the next few months before the NFL Draft 2020 will be held in Las Vegas beginning April 23. The Raiders will move into a new building with black-tinted windows in the summer, but not before the city hosts the 2020 NFL Draft.
Allegiant Stadium will still be under construction when Raiders personnel begin moving into it during June, according to the Las Vegas Review-Journal.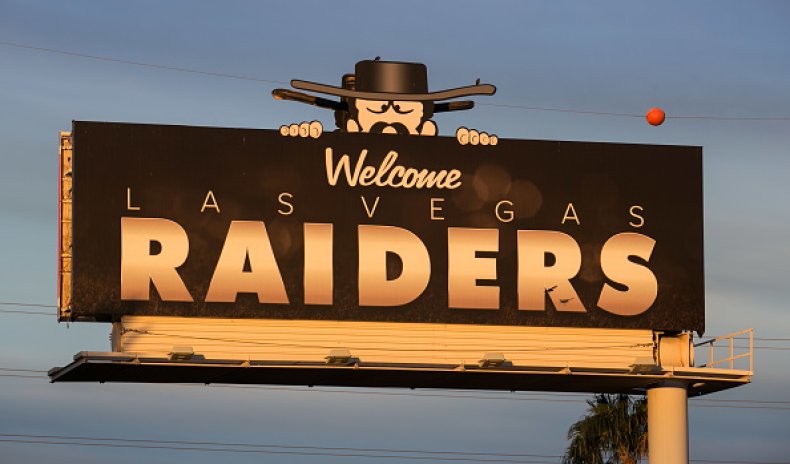 The first game scheduled for the new, Darth Vader-looking spaceship stadium is the University of Nevada-Las Vegas against the University of California on August 29. The first regular-season NFL game for the Raiders could happen by September 13 or 14, which is the first scheduled weekend of games next season.
In addition, the city looks to host the Super Bowl in 2025, which is the next slot available. NFL commissioner Roger Goodell has declared Las Vegas a city that has necessary qualities, including the "it" factor.
"It has the infrastructure. It knows how to do big events like no other city," Goodell said.
Meanwhile, Las Vegas has hosted major sporting events—not to mention business and entertainment events on a yearly basis.
Here's a timeline of events for the Raiders over the next several months:
February 24—March 2
Evaluate incoming NFL talent and prospects in Indianapolis, Indiana.
March 18
The Raiders officially become the "Las Vegas Raiders."
March 29-April 1
The NFL will have its annual spring meeting, and no fooling, Las Vegas could be considered a top choice as a Super Bowl host. This could come out just weeks before Las Vegas hosts the 2020 NFL Draft.
April 23-25
The NFL Draft 2020 will be held in Las Vegas, likely at the Caesars Forum Convention Center.
June 2020
The Raiders are expected to move into a 335,000-square-foot facility in Las Vegas, just ahead of stadium completion.
July 31, 2020
Allegiant Stadium is expected to be complete for move-in by the Raiders and ready to become the next home stadium in the NFL.