Kenya's Raila Odinga On Why 2017 Will Be His Year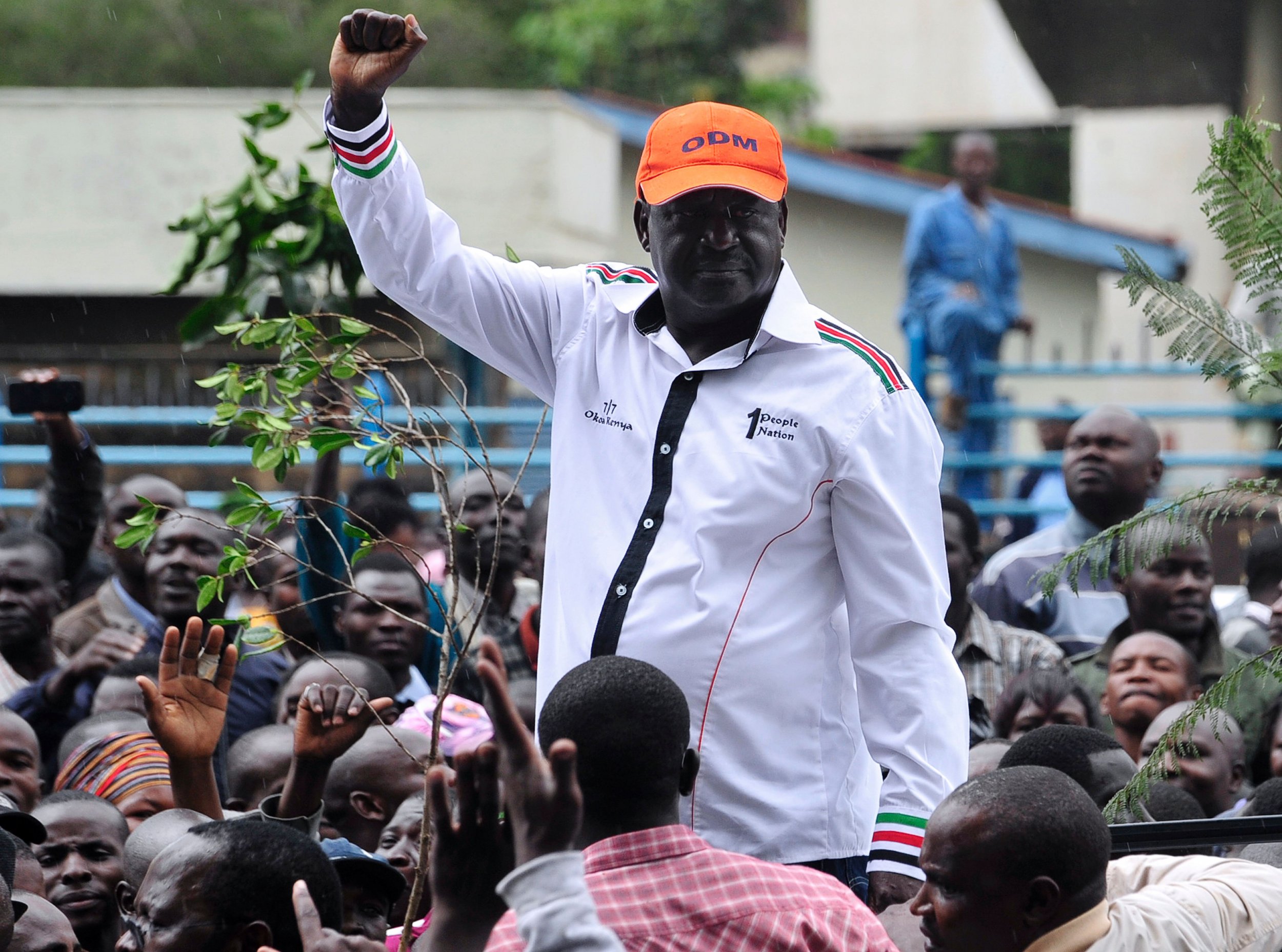 Kenya's establishment as an independent nation, free from British sovereignty, was dominated by two nascent political dynasties.
Jomo Kenyatta, affectionately remembered as the father of the East African nation, spearheaded a long campaign for independence, eventually becoming Kenya's first post-independence president in 1964. In that role, he appointed Jaramogi Oginga Odinga—another independence campaigner who had founded the Kenyan African National Union (KANU), which Kenyatta Sr. later led—as his right-hand man.
But the partnership did not last long, with Odinga Sr. quitting in 1966 and fading into the shadows of opposition, spending much of the rest of his life vocally criticizing Kenyatta Sr. and Daniel arap Moi, his successor as president.
There is a sense of déjà vu in Kenya's contemporary political scene, which is pitting the sons of the country's founding fathers against each other in a battle for supremacy. And at the moment, it's the Odingas who are—again—losing out.
Raila Odinga, the 71-year-old son of Kenya's first vice-president, has run for the presidency of Kenya on three occasions, in 1997, 2007 and 2013. Each time, he has lost out, most recently to Uhuru Kenyatta, the third son of the country's first leader.
"I have always won [elections] and I have been rigged out," Odinga tells Newsweek during a July visit to London.
In 2017, Odinga is planning to run again. This time around, the opposition leader is attempting to clear any obstacles that, he says, might pervert his path to State House in Nairobi. He has started with the people who count the votes and announce the results.
Starting in May, Odinga led a series of protests against the Independent Electoral and Boundaries Commission (IEBC), which he alleged to be biased in favor of the ruling Jubilee Alliance. The protests quickly escalated into violent clashes between supporters of Odinga's Coalition for Reforms and Democracy (CORD) and Kenyan security forces. Tear gas and water cannon were deployed to disperse demonstrators, riot police were pictured beating protesters lying prone, and at least five people were killed.
Ultimately, however, the opposition appears to have achieved its goal—the nine-member IEBC told a parliamentary committee on August 3 that it was willing to step down ahead of the 2017 polls, with IEBC chair Issack Hassan saying the commission would not be "a stumbling block to electoral reforms."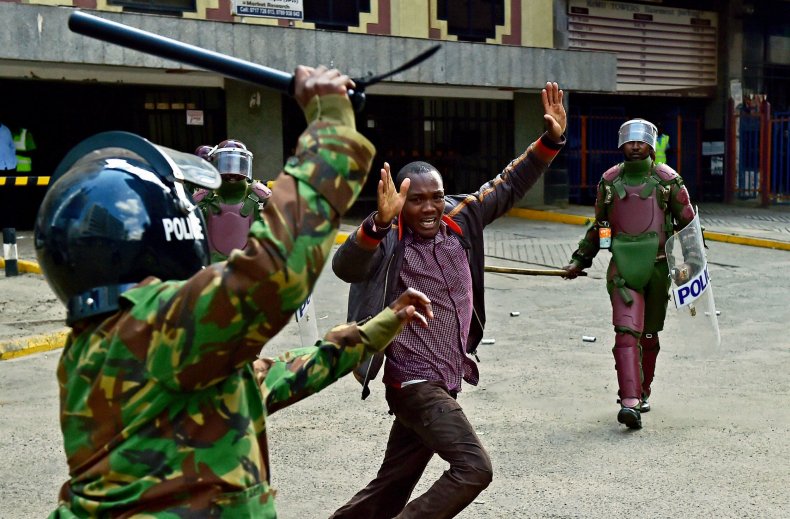 For Odinga, wholesale change at the IEBC is necessary to avoid the controversy that followed Kenya's 2007 elections, when allegations of rigging led to months of deadly ethnic violence. "We want this electoral commission to be removed and replaced with people of integrity," Odinga tells Newsweek prior to the IEBC's announcement.
He also lists his pre-election criteria as cleaning up the voter register and enfranchising each and every Kenyan of voting age to register ahead of the August 2017 polls. "Once that happens, we are sure that we will able to win these elections decisively," he says.
Odinga claims he has been cheated out of the Kenyan presidency on two occasions. The international community agreed with him on at least one—the 2007 elections. (Both the U.S.-based Carter Center and European Union observer mission agreed in 2013 that the elections had been largely peaceful and fair, and an appeal by Odinga was quashed by Kenya's Supreme Court.)
The 2007 vote was widely believed to be heavily-rigged on both sides, but more so in favor of the incumbent Mwai Kibaki—Odinga had a 1 million vote lead once counting began the day after the vote, but this had suspiciously evaporated just one day later. Kibaki was eventually declared the winner by a slender margin of around 2 percent, but a U.S. government-funded exit poll released in July 2008 claimed that Odinga actually won by 6 percentage points.
Odinga's supporters immediately cried foul and promised to inaugurate their man as the so-called people's president. Kenya plunged into looting, arson and ethnic violence. After more than two months of conflict, during which 1,200 Kenyans were killed and more than half a million displaced, Odinga was offered the post of prime minister in a coalition government aimed at bringing the bloodshed to a close. (Odinga remains only Kenya's second prime minister, after Kenyatta Sr. The post was abolished in 1964, resurrected for Odinga in 2008, and then done away with again in 2013.)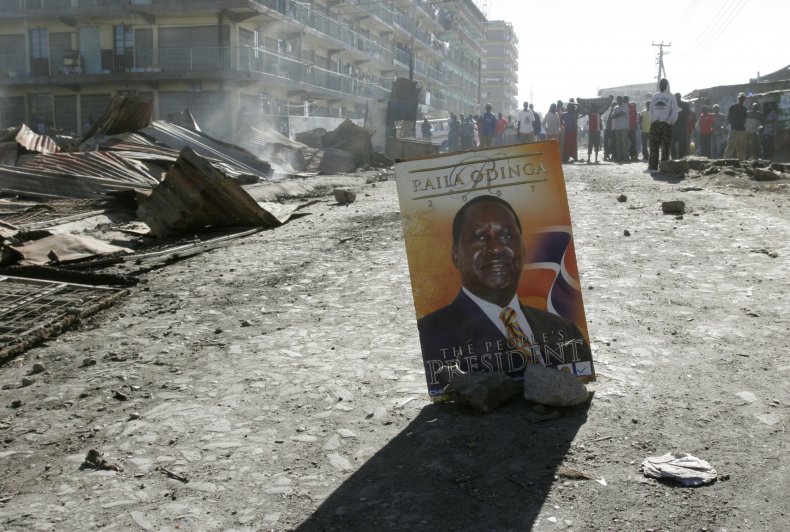 As the opposing sides begin to draw their battle lines ahead of the 2017 vote, there has been a resurgence in violent rhetoric from politicians—precisely the kind of provocative language that was commonplace before and during the 2007-08 crisis. Eight politicians, from both the ruling Jubilee coalition and Odinga's CORD, were detained in June following allegations of hate speech. These included government MP Moses Kuria, who allegedly suggesting that Odinga could be assassinated. "His protesters will throw stones for just one week and life continues," Kuria reportedly said.
Odinga tells Newsweek that such comments are "extremist… inflammatory and irresponsible," and that those who speak them should be prosecuted. But Odinga emphasizes that he is more concerned about the possibility of the governing party preparing for violence if it fears defeat in the elections. He is asking the international community to keep tabs on Kenya over the next year.
"We don't think that silence will help. Silence is always assumed to imply approval of whatever is happening," says Odinga. "We think that the West has an obligation to stand by the progressive forces who are fighting for reforms and democracy on the continent of Africa."
Born in the west Kenyan heartland of the Luo ethnic group, Odinga is known universally in Kenya by his first name, although he has also come to be known as Agwambo—which can be translated alternatively as "difficult to predict" or "act of God." Odinga is one of Kenya's longest-ever-serving detainees, after being held twice—for six years from 1982 to 1988 for alleged involvement in a failed coup against Moi, and again on-and-off between 1988 and 1991.
The opposition leader, who served as the MP for Kibera—one of Africa's biggest slums—for 20 consecutive years, has demonstrated a propensity for political shape-shifting during his career. Odinga is unique in having run for the presidency on three occasions, representing three different parties. A populist in style, he is a keen Arsenal fan and is known to rouse political rallies using football analogies.
Odinga tells Newsweek that he was a key part of developing Kenya Vision 2030—a development program, promulgated in 2008, that aims to transform the East African country into a middle-income economy by 2030—at the start of his tenure as prime minister. As such, he claims to have a "clear blueprint" to transform Kenya's economy.
Despite the fact that Kenya's GDP growth is projected, by the World Bank, to rise to 5.9 percent in 2016 and 6.1 percent in 2017, making it one of the best-performing economies in East Africa, Odinga is not satisfied. Kenya's youth unemployment is estimated to be around 17.4 percent—some put it as high as 35 percent and believe that 80 percent of unemployed Kenyans are under 35 years old.
"The Jubilee government has been a disappointment to Kenyans, because they have retarded the growth and development that we had started. By this time around, the economy should be growing in double digits. That is not the case," says Odinga.
During his time as premier, one of the more controversial decisions Odinga took was to send Kenyan troops into neighboring Somalia in late 2011. Kenya's unruly neighbor has been dealing with the long fallout of a civil war that began in 1991, and Somalia's crisis has slowly become Kenya's problem, particularly due to the growth of Al-Shabab, an Al-Qaeda-linked militant group that recruits largely from disaffected Somalis but also heavily from Kenyan Somalis. In response to cross-border kidnappings by the militants, Odinga gave the green light for Operation Linda Nchi—which translates from Swahili as "Protect the Country"—in October 2011, and thousands of Kenyan soldiers were sent into Somalia. (These have since been redeployed under African Union auspices.)
The results of the invasion have been mixed. In Somalia, Al-Shabab has been driven out of major towns and cities, though it has undergone a resurgence in 2016. But in Kenya, the militants have committed several major atrocities and continue to menace Kenya's eastern borderlands.
Most notable among these attacks were the 2013 Westgate mall siege and the 2015 Garissa attack. Al-Shabab has also attacked Kenyan interests on Somali soil. In January, militants stormed an African Union base in El Adde, in Somalia's Gedo region, that was manned by Kenyan soldiers. The Kenyan government has never provided an official death toll, but Somali President Hassan Sheikh Mohamud indicated that up to 200 Kenyan soldiers may have died.
Odinga tells Newsweek that, despite its aftermath, the decision was a necessary one. "At that time, Al-Shabab had infiltrated our society. They were carrying out attacks on border towns, inland and our coastal towns, they were kidnapping tourists, and therefore destroying our tourist industry," he says. "That is why it became necessary to push them back and then to seal the border."
Five years on, Odinga believes it is now necessary to draw up an exit plan, which he says should commence "within the next year." But he warns that Kenya is likely to be caught up in Somalia's conflict for years to come. "This is likely to be a long-drawn conflict, it's not likely to end tomorrow."
Kenya has also been the main recipient of hundreds of thousands of Somali refugees fleeing their country. The Dadaab refugee camps, which were established in 1992 as Somalia descended into war, host 330,000 refugees, the vast majority of whom are Somali. In May, the Kenyan government said that the camps must be closed down—Interior Minister Joseph Nkaisserry said they had become "hosting grounds" for Al-Shabab—and committed to resettling 150,000 refugees by the end of 2016.
While Odinga agrees in principle with the resettlement of Dadaab's population, he believes that there could be as few as "maybe 10 or 20" militants hiding among hundreds of thousands of genuine refugees. "The government has got intelligence in the camp, they are able to identify those Al-Shabab militia that are in the camp, arrest them and subject them to law," says Odinga. "I don't think it is right to do wholesome condemnation of an entire community of over 300,000 people."
Ahead of his fourth attempt at the Kenyan presidency, no one would blame Odinga if he was slightly pessimistic about his chances—he is not even guaranteed to run, as CORD has not named its official candidate yet. But Odinga is sure that this time is his time. With just under a year to go until the 2017 poll, Kenya's nearly man is doing all he can to ensure that will not be the case fourth time around.