Railroad Argues Possible Strike Will 'Harm' Economy, Asks Judge to Keep It From Happening
The BNSF railway company, one of the largest freight rail carriers in the U.S., is requesting a federal court stop a potential strike on the grounds that it would harm the economy after two unions representing thousands of the company's workers threatened a work stoppage over a new attendance policy set to begin at the onset of February.
"Rail strikes—even if brief or localized—can cause devastating and irreparable harm to carriers, their customers, other railroads, and the general public. The threatened strike in this case would strain an already overburdened supply chain, potentially causing wide-ranging harm to the national economy," BNSF said in its lawsuit, according to the Associated Press.
Last week, a joint statement was released by the presidents of the Transportation Division of International Association of Sheet Metal, Air, Rail and Transportation (SMART-TD) union and the Brotherhood of Locomotive Engineers and Trainmen (BLET) detailing the first steps the unions were taking to initiate a strike in response to the new policy.
The statement said the new "Hi-Viz" attendance policy is a points-based system designed to penalize employees for taking days off. Employees will receive 30 "points" for the rest of their time with the company, and have certain amounts of points taken away for taking days off on weekdays, weekends or holidays, a longtime BNSF employee told KCEN TV of Temple, Texas.
The employee said once a worker goes below 30 points, an "offense" is triggered that can result in an employee being suspended or terminated.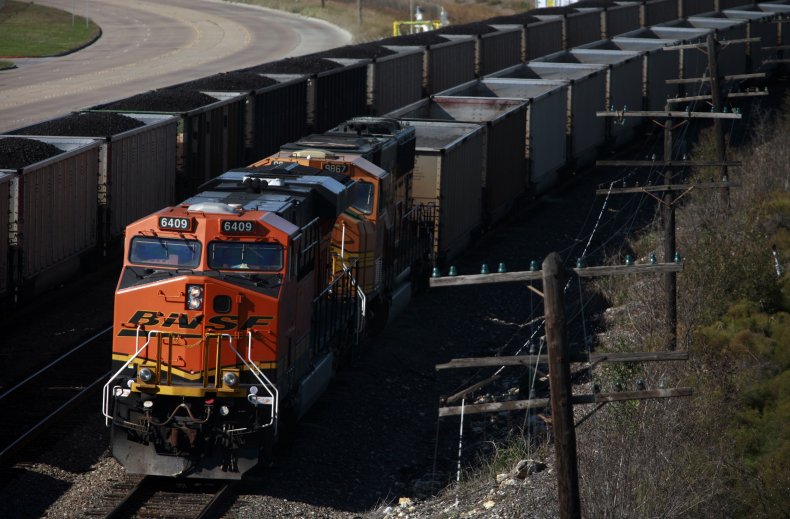 "This unprecedented BNSF policy repudiates direct and clear contract language and, in application, will attempt to force our members to report for duty without regard for their medical condition as we struggle to come out of a pandemic," the union presidents said in the statement.
The unions represent about 17,000 workers, and said it has begun polling its workers to determine if they would support a strike.
BNSF went to federal court this week arguing a change to their attendance policy hasn't been made in at least 20 years, and the change is not significant enough for workers to be able to go on strike under federal law, the AP reported.
The rail company also said the strike would cause too significant of damage to the economy and should not be allowed to happen.
The employee that spoke to KCEN told the TV station that the attendance policy change would mean instead of being available 24 hours a day, 7 days a week for about 75 percent of their time, workers would have to be available for work about 90 to 95 percent of the time if they don't want to risk potential discipline. He said the new policy would equate to workers getting two to three days off per month.