Railway Strike Would Impact Commuters Most in These Cities
An impending shutdown of large segments of the nation's railways could cause headaches for commuters in Illinois, Virginia, California and elsewhere as freight railroad unions prepare to strike on Friday.
Operators of commuter rail services for metro areas including Chicago, Washington, D.C., and the Bay Area this week warned of potential disruptions. Unions representing freight railroad workers say they'll strike Friday after midnight if their demands aren't met. A strike is expected to ripple through the economy and could disrupt commutes. But the Northeast, where workers are most likely to use commuter rail to get to work, would likely not be affected.
Many regional commuter rail services use tracks owned by freight railroad companies, such as BNSF, meaning a strike of freight workers would halt commuter trains, which typically transport passengers a relatively short distance between a suburb and urban center.
The largest impact of a strike would be felt in Chicago, which has the fourth-largest number of railway commuters, according to numbers from the American Public Transportation Association.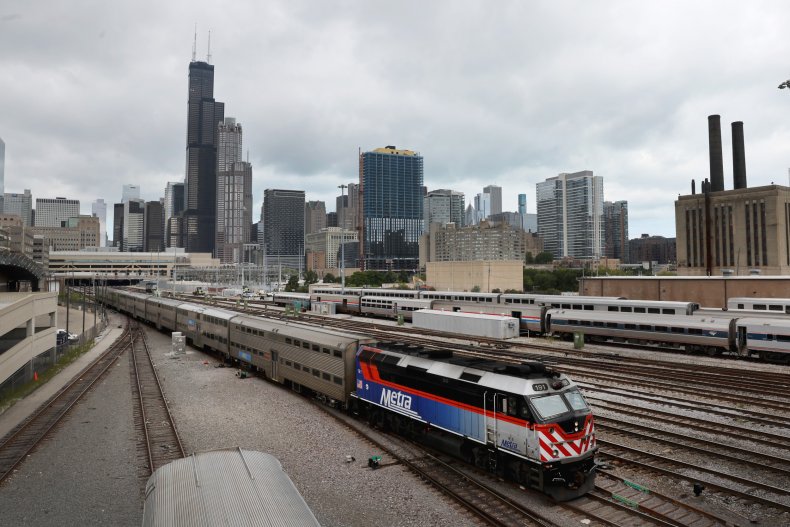 Metra, which operates 11 lines in the Chicago area, serving an average of 281,000 weekday passengers, said in a statement Wednesday that service could begin tapering off on some lines Thursday evening in preparation of a strike.
"If the work stoppage occurs, there will be no service Friday on the BNSF, Union Pacific North, Union Pacific Northwest and Union Pacific West lines," Metra said.
Other areas that would see significant impacts would be the Virginia Railway Express, which provides commuter lines to Washington, D.C., from Alexandria and other northern Virginia suburbs. In a statement, it said that "any labor strike would result in the immediate suspension" of all its service until a resolution is reached. The service provides 21,000 daily trips and recommended that riders plan for alternative commutes.
Nearby, the Maryland Transit Administration also announced that the strike would affect a line connecting Washington, D.C., to Baltimore.
Sound Transit, the agency for Washington state's Puget Sound area, said that its Sounder line servicing the Seattle area will not operate if there is a strike. The line served over 100,000 passengers in July.
In California, Caltrain warned that a large segment of its line in Santa Clara County south of San Francisco that's owned by Union Pacific could also be impacted, also advising riders to make other plans to get to work.
Elsewhere in the state, the San Joaquin Regional Rail Commission warned that the Altamont Corridor Express, which connects San Jose to Stockton, would suspend four of its lines starting Thursday in preparation for a strike.
The American Public Transportation Association referred Newsweek to a letter Paul P. Skoutelas, the group's president and CEO, sent to the administration of President Joe Biden in July sounding the alarm over how a strike would be disruptive to the nation's economy and labor force.
Commuter rail is an $11.2 billion industry that creates and supports 190,000 public jobs, Skoutelas said in the letter. More than 3,000 miles of freight railroad is used by commuter rail services that were relied upon by more than 1.7 million passengers before the pandemic, he said.
"Any shutdown of the freight railroad system would have severe repercussions to U.S. commuter and intercity passenger rail networks at a time when our nation is just beginning to restore ridership in the wake of the pandemic and grow passenger rail service in light of the historic investments of the Bipartisan Infrastructure Law," Skoutelas said, referencing the landmark package passed by Congress this year.
The New York City area has the highest commuter rail ridership in the country, according to statistics from the American Public Transportation Association. But commuter rail services in the region generally don't rely on freight rail lines.
New York City's Metropolitan Transportation Authority (MTA) told Newsweek in an email that none of its railroad employees report to worksites shared with freight rail workers.
"The MTA's railroad employees showed up and moved New Yorkers even during the toughest days of COVID," John J. McCarthy, MTA's head of external relations, said in a statement. "We are confident they will respect all Agreements and remain committed to transporting riders to their destinations."
NJ Transit told WABC-TV in a statement, "We don't anticipate any impact on NJ TRANSIT rail service."
Amtrak told Newsweek in a statement that the labor negotiations do not affect the rail service's workforce and that it owns most of the lines in the Northeast corridor. However, it said it's begun preparing for a possible strike.
"Such an interruption could significantly impact intercity passenger rail service, as Amtrak operates almost all of our 21,000 route miles outside the Northeast Corridor (NEC) on track owned, maintained, and dispatched by freight railroads," Amtrak said in the statement.
Update 9/14/22, 9:15 p.m. ET: This article has been updated with additional comment from New York City's MTA.