'Rain City' Faces 47-Day Dry Streak as Seattle Hits 4th-Longest Drought
Seattle, known for its rainy climate, is in the midst of one of its longest dry spells.
The month of July was tied for the driest July since 1945. Only a "trace of rain" was reported at Seattle Tacoma International Airport, the National Weather Service (NWS) said in a tweet.
The city has not received a measurable amount of rain in 47 days. Its longest dry spell to date was 55 days, in 2017.
On July 7, July 20, and July 31, trace amounts of rain fell in the Emerald City—but that's not enough to be measurable or break the dry spell. The last time measurable rain fell was June 14, when the airport reported .04 inches of rain, local news station KING-TV reported. During July, Seattle typically receives .7 inches of rain.
In 1958, 1960, 2013 and 2017, trace amounts of rain were also reported in July, according to the NWS.
The dry spell may end Thursday, when a chance of rain is expected after 11 a.m., says the weather service. The rain is expected to continue into Friday and Saturday.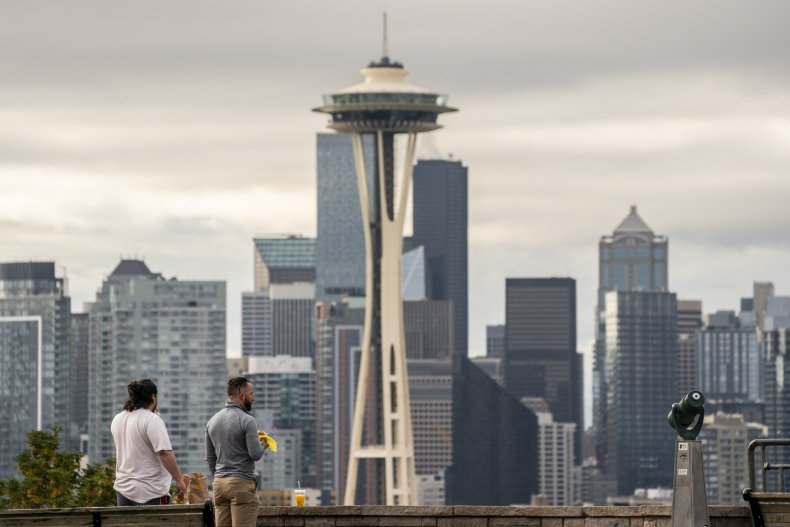 Earlier in July, the state's dry weather prompted Governor Jay Inslee to declare a state of emergency due to the risk of wildfires. This included a ban on most outdoor and agricultural burning through September.
"Washington is facing a historic drought and we have already experienced record-breaking heat. We must be vigilant in our efforts to prevent wildfires, and the loss of life and destruction of land and property that comes with them," Inslee said in a statement. "We don't want a repeat of recent years with dangerous wildfires across the state that have destroyed towns, killed livestock and resulted in weeks of unhealthy air quality. I urge everyone to do their part to help protect our beautiful state and all our communities."
The Northwest, including Washington, has been ravaged by wildfires throughout July. While the largest wildfires are located in Oregon and California, the Lick Creek fire in Western Washington has burned more than 80,000 acres of land. The fire is 90 percent contained, according to the U.S. Forest Service.
Additionally, the Cub Creek 2 fire has burned 55,602 acres of land, and the Cedar Creek Fire has burned 41,142 acres, according to the Forest Service. On July 21, Winthrop, Washington, reported an air quality index score of 469, the worst in the country at the time.
Inslee joined California Governor Gavin Newsom in requesting additional resources to combat the wildfires.
"We have a huge need for additional aerial assets, additional dozer bosses so we can get our dozers into fire lines, we need more trained people. We do have an emerging concern about our fuel supply for our aerial assets," Inslee said. "We've had 1,000 fires. It's burned four times more at this time of year than normal."