Rain Storm to Ease Air Quality in Bay Area by Wednesday Morning Commute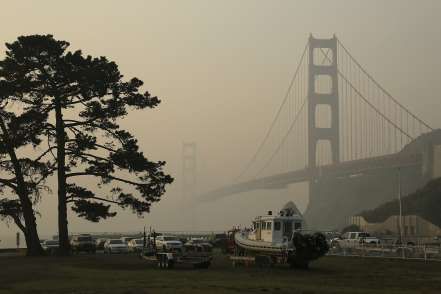 After nearly two weeks of the devastating Camp Fire wildfire, folks dealing with missing loved ones, the loss of their homes and the shock of displacement can finally expect a bit of precipitation in the San Francisco Bay Area by Wednesday.
On Thanksgiving Eve, there's a 90-percent chance of rain, followed by 30-to-50 percent precipitation on Thanksgiving Day and 90 percent on Black Friday, reported Weather.com.
It won't be much, but meteorologists welcome any precipitation with open arms.
"We're not looking at humongous amounts of rain, but the fact that we have been so dry thus far makes it more significant," said Jan Null, a meteorologist with Golden Gate Weather Services who was quoted by SFGate. "Any sort of precipitation, rain or snow, is needed."
Rains should start by late Tuesday night and then increase to a 90-percent chance by the Wednesday morning commute before 9 a.m., according to the National Weather Service.
The Bay Area will receive 1 to 2 inches of rain, 2-plus inches in the North Bay and as much as 2.5 inches in the Santa Cruz Mountains, according to SFGate.
The expected rain on Wednesday should help ease breathing for sensitive groups wearing protective masks due to the wildfire smoke that has choked the area for 12 days. Late Monday, the Bay Area Air Quality District deemed most of the air "unhealthy," a step down from the previous "very unhealthy."
In the charred Paradise area, one forecaster said the storm could "dump at least four inches of rain" and could form mud from the fire debris, according to CBS News.
Weather projections show the area will see moderate, steady rain, CBS News reported, adding it's still unclear whether the rain will be heavy enough to cause potential mudslides.
Meanwhile, searches continue in the town of Paradise. Nearly 1,000 people are missing and the Camp Fire death toll has reached 77.
Searchers are working to find those unaccounted for before the storm hits. Those exhausted from displacement or losing loved ones and homes can expect at least some respite from the smoke from the rain.
Media outlets posting lists of missing persons from the fire include KCRA-TV in Sacramento. The Butte County Sheriff's Office website keeps a running list of people considered missing due to the fires.
Still, confusion surrounds the searches, reported The San Francisco Chronicle, citing a statement that Butte County Sheriff Kory Honea released to the public:
"Butte County Sheriff Kory Honea has repeatedly warned that the list was not to be taken literally, and likely contains people who in fact are alive and should not be presumed dead. It's released as raw data, mined from reports from the missing persons hotline, emails and records generated during 911 calls. It could include repeated names or reports from those who simply didn't know someone moved out of the area."
The sheriff's office asks the public to contact its Missing Persons Task Force instead of emailing. Callers must speak to a person in order to impart information. The phone numbers are 530-538-6570, 530-538-7544, 530-538-7671.