Pride Flags Outside Gay Bar in Harlem Set on Fire for the Second Time in Weeks
A rainbow flag was set ablaze outside a gay bar in Harlem, the second such fire at the venue in just over a month.
Some time after midnight Monday employees at Alibi Lounge on Adam Clayton Powell Jr. were notified by a passerby that the flag was burning, owner Alexi Minko told the AP. Two rainbow flags had similarly been set on fire outside the club shortly after midnight on May 31, right before the start of Pride month.
A donor had actually given the bar a new, bigger flag to replace the one destroyed in the first fire.
"I have to say that what I find odd was the timing of both events," Minko told the AP. "One was at the beginning of Pride and one was right at the end. One has to wonder if there's a kind of message they're trying to send."
The flags outside had actually been taken down on July 4 because people "were intentionally setting off firecrackers" near the front door, Minko said.
Minko says he didn't expect the second flag-burning after police released video of the suspect from the May 31 incident and routinely checked on the bar. Officers had even stopped by Saturday night, Minko told the AP. "Second time around, I'm really kind of in shock, I have to admit."
Alibi Lounge bills itself as the only black-owned gay bar in New York. Employee Ashley Lugo-Brown called the arson "heartbreaking."
"It's really just an act of hate," she told CBS 2 after the first incident. "I think that person just doesn't understand or doesn't have the right vocabulary to understand what's happening in their community or in the world or what's going on."
New York Gov. Andrew Cuomo decried the first fire as "a despicable and cowardly act."
"There is no place for hate in New York and those responsible for this repugnant behavior must be held accountable."
Cuomo directed the State Police Hate Crimes Task Force to join the investigation. "Rather than divide New Yorkers, this despicable act will only strengthen our commitment to tolerance, equality and justice for every individual."
No injuries were reported in either attack and no suspects have been identified by police.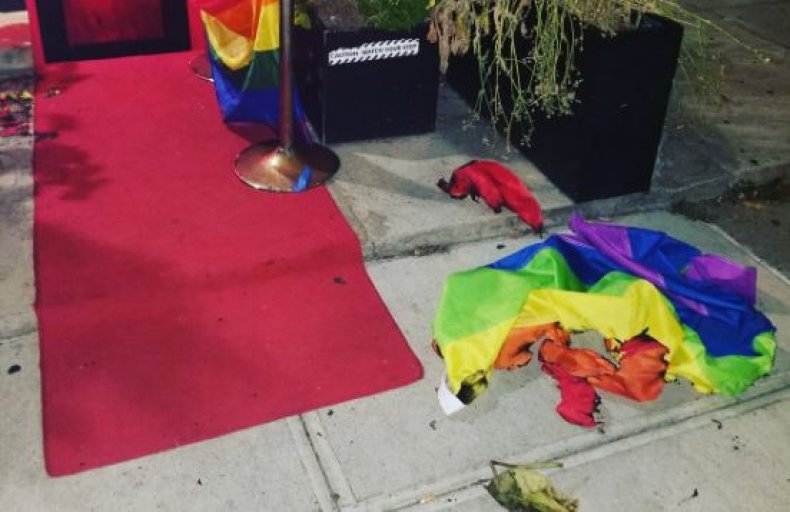 The attack on Alibi wasn't the only time rainbow flags were set on fire in recent weeks: In mid-June, two Utah high-schoolers were kicked off the football team after posting a Snapchat of a Pride flag being burned and someone saying, "All gays die."
And on June 1, a rainbow flag was set ablaze on the porch of a gay couple in Burlington, Vermont. Days later, Burlington Deputy Police Chief Jon Murad presented the couple with a replacement flag.
"A hate crime is a terrible way to begin Pride Month," Murad told the Burlington Free Press. "It shows that we still have a long way to go collectively. But we have come a long way as well, and I think that our police response is indicative of that."
Anti-LGBT hate crimes have been on the rise nationwide according to the FBI: The number of incidents based on sexual orientation rose each year from 2014 to 2017, when 1,303 incidents were reported.
Data from the NYPD show that hate crimes have shot up 64 percent in New York this year so far. There have already been 18 incidents reportedly motivated by the victim's sexual orientation in 2019, up from 15 at this time in 2018.