California Governor Defies Trump, Flies Rainbow Flag Over State Capitol During Pride Month
California Governor Gavin Newsom has ordered that for the remainder of Pride month the rainbow flag will fly above the state's capitol building, directly flouting White House policy.
The rainbow flag was raised over the California capitol building, flying alongside the Stars and Stripes and the California state flag. The governor tweeted a picture of the rainbow flag flying, adding that it was the first time in the state's history that the symbol of LGBT pride had been raised over the building in Sacramento.
"In California, we celebrate and support our lesbian, gay, bisexual, transgender and queer community's right to live out loud—during Pride month and every month," Newsom's office said in a statement.
"By flying the pride flag over the State Capitol, we send a clear message that California is welcoming and inclusive to all, regardless of how you identify or who you love," the statement added.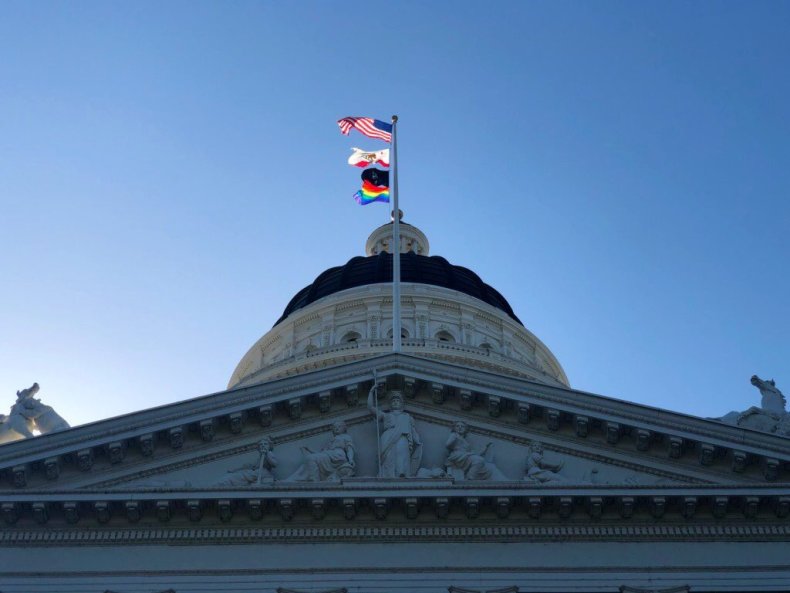 The decision in California is a symbolic rejection of President Donald Trump's policy prohibiting U.S. diplomatic missions from flying the rainbow flag during LGBT Pride month. In a break with previous years, American diplomats have had requests to fly the rainbow flag from flag poles rejected.
"Today's flag raising follows similar historical firsts in Colorado and Wisconsin and comes at a time when the federal government has told U.S. embassies they can't fly pride flags," the statement from Newsom's office said.
State Department staff and LGBT groups have questioned how the United States can claim to lead the world in promoting LGBT rights around the world while refusing to fly the rainbow flag abroad. Vice President Mike Pence has doubled down on the policy as some embassies have creatively found their way around the rule by hanging pride flags on balconies or exterior walls.
"As the president said on the night we were elected, we're proud to be able to serve every American," Pence said in an interview with NBC. "We both feel that way very passionately, but when it comes to the American flagpole, and American embassies, and capitals around the world, one American flag flies," the vice president said.
On social media, the reaction has mostly been positive. "So proud to be a Californian," wrote one Twitter user. Scott Wiener, a state senator, has also tweeted his support of the flag raising. "I'm proud to be a Californian, proud to be a gay man, & proud to serve this great state. Happy Pride Month!" Weiner wrote.