Watch: World's Longest-Lasting Rainbow Smashes Previous Guinness World Record
A rainbow which lit up the sky for nearly nine hours is officially recognized by the Guinness World Records for being the world's longest-lasting one.
Authorities from the organization held a ceremony on Saturday in Taiwan to honor the achievement—the first-ever world record the country has received for a natural science-related phenomenon, Taiwan News reports.
Professors and students at the Chinese Culture University in Taiwan witnessed the rainbow, which lasted for 8 hours and 58 minutes last November.
"It was amazing… It felt like a gift from the sky... It's so rare!" Chou Kun-hsuan, a professor in the Department of Atmospheric Sciences at the Chinese Culture University, told the BBC.
Most rainbows usually only last about an hour, according to AccuWeather. The rainbow's longevity was due to atmospheric conditions that included a seasonal monsoon, sunlight, and slow winds. Those conditions are frequent in the mountain range where the rainbow was observed, which makes it a common location to capture exceptionally long rainbows, Kun-hsuan said.
A week prior to witnessing the record-breaking event, Kun-hsuan and his students documented another incredibly long-lasting rainbow.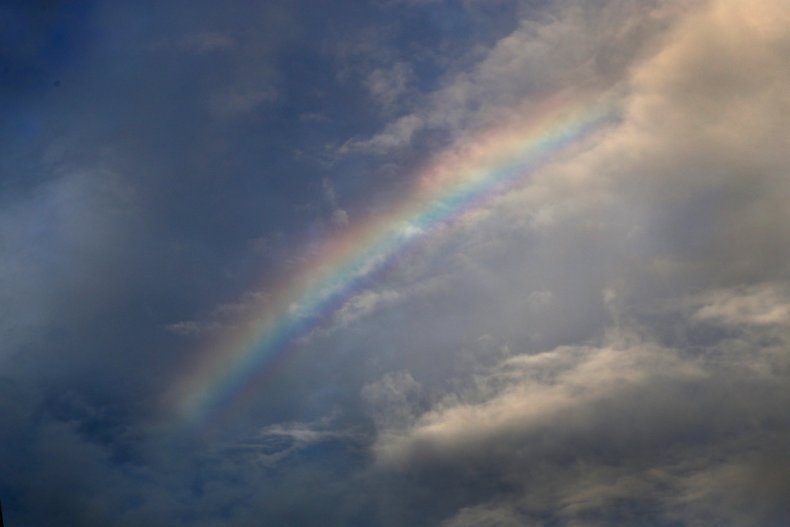 "When we broke the previous record after passing six hours, I was hardly able to stay seated for lunch; it was around lunchtime. I was so excited; I wanted to make sure we captured the rainbow," he said. "But then it did something even more incredible; it went on to beat the previous record by another three hours!"
The new record smashes the previous one of 6 hours, which was set in 1994 in Wetherby in Yorkshire, England, according to the Guinness World Records website.