A 'Rainbow Pool' Has Appeared in Virginia's Great Dismal Swamp
A spectacular image of a rare "rainbow pool" phenomenon has been captured at a swamp in Virginia.
The U.S. Fish and Wildlife Service (USFWS) posted the photo—taken in the Great Dismal Swamp National Wildlife Refuge—to its Twitter account on Tuesday.
The Great Dismal Swamp stretches across southeastern Virginia and northeastern North Carolina, spanning an area of around 750 square miles.
The picture shows an unusual pool of water in the swamp that contains a kaleidoscope of beautiful colors, ranging from blue and green, to yellow and red. This phenomenon, aptly referred to as a "rainbow pool," occurs only rarely in specific conditions.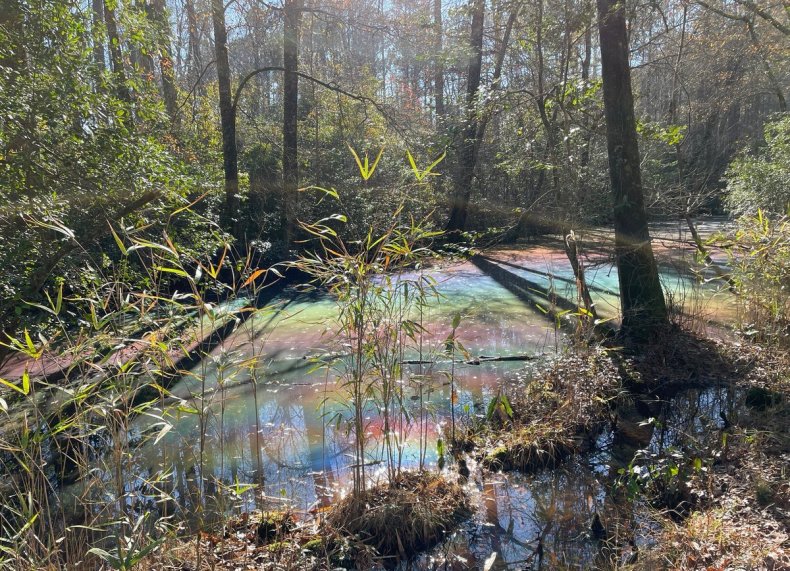 "How do you continue working today after knowing that 'rainbow pools' exist," the USFWS wrote in the Twitter post.
The colorful sheen of the water, as seen in the picture, is not the result of pollution in this case, according to the agency.
Instead, the phenomenon is caused by natural oils being released from decaying vegetation, or bacteria breaking down iron in the soil.
"These factors, coupled with several days of calm, undisturbed water and just the right angle of sunlight, will result in this seldom-seen rainbow phenomenon in swamps and marshes," the USFWS tweeted.
Winter is when rainbow pools tend to happen in the Great Dismal Swamp, the agency wrote in a subsequent tweet.
The Great Dismal Swamp National Wildlife Refuge is the largest intact remnant of a vast forested wetland. It once covered more than around 1,560 square miles of southeastern Virginia and northeastern North Carolina.
The refuge—established in 1974—is home to a wide range of biodiversity, including more than 200 species of birds and around 100 species of butterflies and skippers.
You can also find turtles, white-tailed deer, bobcats, and otters in the refuge, as well as one of the largest populations of black bears on the East Coast.
"Swamps are amazing, especially the Great Dismal Swamp pictured here," the USFWS wrote in a tweet. "They get a bad rap, but swamps are home to so much biodiversity and wildlife.
"It truly is a beautiful refuge," the agency added.
As well as being a home for wildlife, the swamp has also served as a refuge for people in the past. There is evidence to suggest that Native Americans hunted at the site thousands of years ago, with archaeologists uncovering ancient tools and weapons in the area. From the late 1600s until the Civil War era, fugitives from slavery set up settlements on the isolated islands found within the swamp.
Newsweek has contacted the U.S. Fish and Wildlife Service for comment.