The first Rainbow Six Siege U.S. Nationals are this weekend, December 15 and 16, in the Penn & Teller Theater at the Rio Hotel in Las Vegas. Eight of the best teams in the United States will compete for a $50,000 prize pool, with $20,000 earmarked for the first place team.
Hosted by Bill "Jump" Carter, teams at the R6 Siege U.S. Nationals will compete in best-of-three, single-elimination matches. Each match will be 12 Rounds of the Bomb game mode, with teams racing to be first to seven wins. In Bomb, an attacking team must defuse one of two bombs, with the defending team on guard to stop them. Teams can also win by eliminating the other team. Each round will be played on Day Time maps.
Casters for the tournament include Parker "Interro" Mackay, Robert Flynn, John "BLU" Mullen and Samuel "Stoax" Stewarted, joined by analysts Alex "z1ronic" Dalgaard-Hansen, Robert "RaMz" Rockhill and Loviel "Velly" Cardwell.
How to Watch the Rainbow Six Siege U.S. Nationals
In addition to Twitch, the Nationals will also stream on Steam, the Rainbow6 Mixer account and the Rainbow Six Esports YouTube channel. You can also watch it right here:
Rainbow Six Siege U.S. Nationals Teams
Eight teams, divided into two conferences, have survived three stages of online qualifications and a Wild Card tournament to arrive at the U.S. Nationals.
The Western Conference teams:
Rogue: Slashug, VertcL, easilyy, Ecl9pse, Shuttle
Team SiNister: Oasis, CookieZ, Yellow, awD, HolidayNOG
Rise Nation: Hyper, Vandal, GhxsT, Beastly, England
Spacestation Gaming: ThinkingNade, Redeemer, Bosco, Rampy, Chala
The Eastern Conference teams:
Orgless: Yeti, Acid, Crazy, MahMan
Evil Geniuses: Gotcha, NvK, Canadian, Yung, Necrox
Elephant Gang: Kanine, Avian, Neptunez, Trippen, Supr
Cloud9: LaXInG, FoxA, Mark, Goddess, Retro
Rainbow Six Siege U.S. Nationals Schedule and Bracket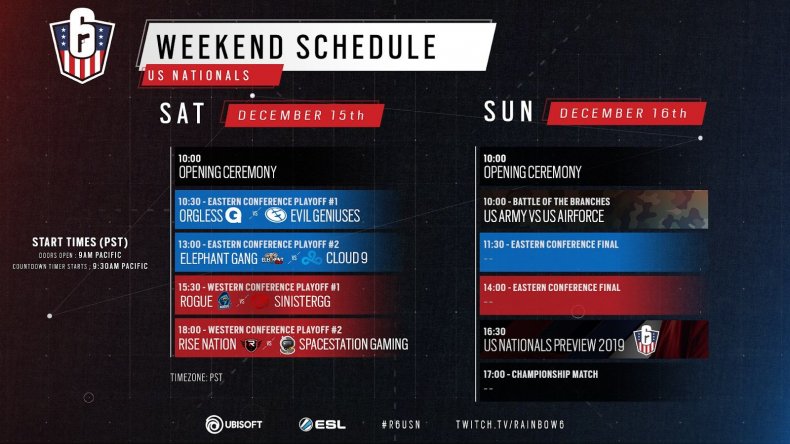 The tournament countdown timer begins at 9:30 a.m. PST on Saturday, with the opening ceremony at 10 a.m., after which the playoffs begin.
10:30 a.m.
Eastern Conference Playoff #1: Orgless vs. Evil Geniuses
1 p.m.
Eastern Conference Playoff #2: Elephant Gang vs. Cloud9
3:30 p.m.
Western Conference Playoff #1: Rogue vs. Team SiNister
6 p.m.
Western Conference Playoff #2: Rise Nation vs. Spacestation Gaming
The Conference Finals will be held on Sunday at 11:30 a.m. and 2 p.m. PST. The Championship Match will follow at 5 p.m., with the two Conference victors going head-to-head for the $20,000 pot.
Ubisoft has provided this bracket, for you to track the tournament yourself after the playoff rounds: