Majority of Republicans Support Raising Minimum Gun Age to 21, Poll Finds
A new poll released by YouGov/The Economist released this week found that a majority of Republicans support having a law that would raise the legal age to buy any type of gun or ammunition to 21.
The question from YouGov/The Economist asked respondents: "Do you support or oppose a law that would raise the minimum age for buying any type of gun or ammunition to 21?" They were then able to choose among "support strongly," "support somewhat," "oppose somewhat," "oppose strongly" and "not sure."
Among Republicans, 32 percent said they would support such a law strongly while another 22 percent supported it somewhat—meaning, in total, 54 percent of GOP respondents approved of raising the minimum gun age. According to the YouGov/The Economist poll, 39 percent of Republicans opposed the law (18 percent somewhat, 21 percent strongly).
Perhaps predictably, a large portion of Democrats approved of raising the minimum gun age. The survey found 83 percent of Democrat respondents supported such a law. Sixty-two percent of Americans overall supported a law raising the minimum age to buy a gun, the survey found.
The poll from YouGov/The Economist surveyed 1,500 U.S. adults from July 29 through July 31. It had a margin of error of plus or minus 2.8 percentage points.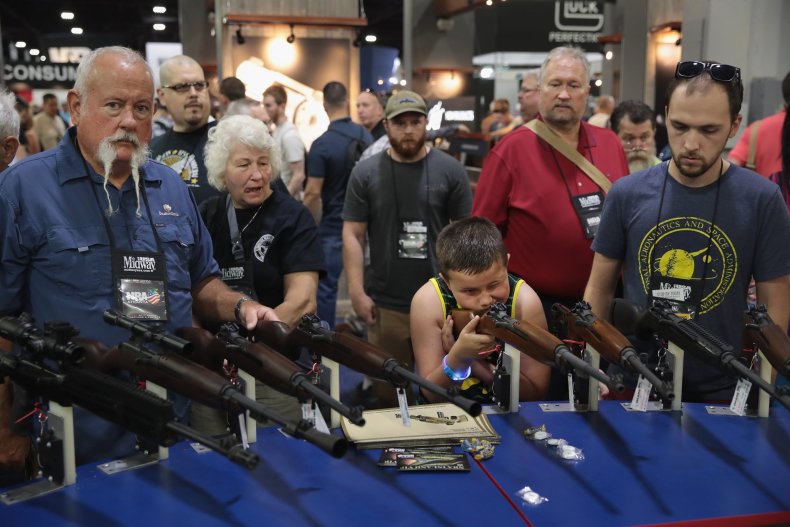 According to the gun-control organization the Giffords Law Center, federal law states licensed sellers can't sell handguns to people under 21 years old but unlicensed persons can sell or transfer a handgun to anyone over the age of 18. The Center also pointed out that the minimum age for shotguns and rifles is 18 years old and laws in some states allow people over 18 to purchase a handgun.
The conversation surrounding gun control has shifted after the school shooting in Parkland, Florida that left 17 students dead in February. States have since passed 50 new laws restricting access to guns, the Huffington Post reported on Thursday
"Legislators are starting to realize that mass shootings can happen in their state anytime," said Allison Anderman, managing attorney at the Giffords Law Center, told the Huffington Post. "And they don't want to be in a position that this kind of thing can happen in their state at all."