Rajon Rondo's Girlfriend 'Shoves' Chris Paul's Wife as Lakers Vs Rockets Brawl Spills Off Court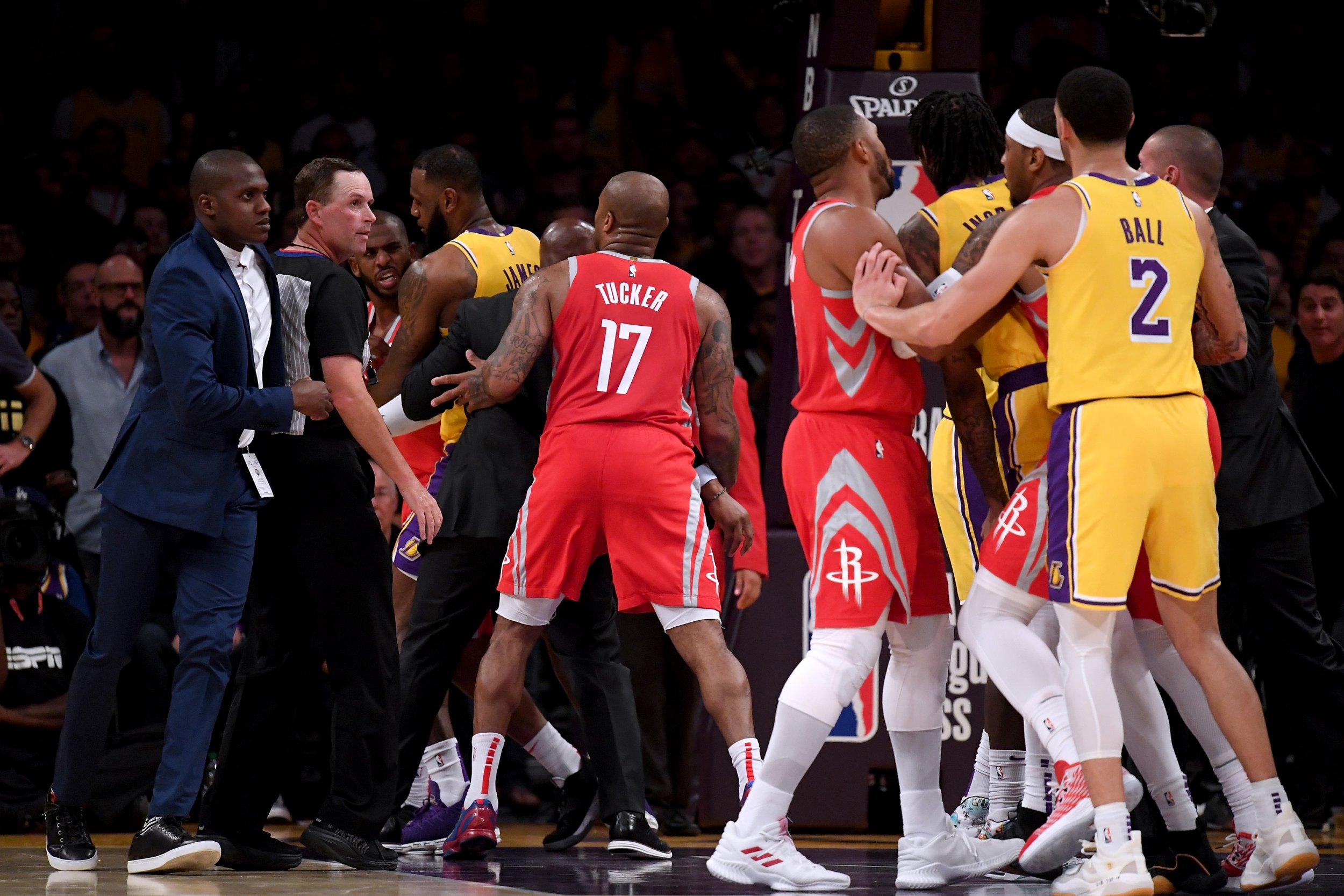 LeBron James's home debut for the Los Angeles Lakers was overshadowed by a major brawl that saw punches flying on the court.
The melee broke out on Saturday night, with the Houston Rockets 109-108 ahead late in the fourth quarter, when Lakers guard Rajon Rondo threw a punch toward Rockets point guard Chris Paul after the latter had poked a finger onto his face.
Lakers forward Brandon Ingram then sprinted from half-court looking to land a punch on Paul, before a host of other players got involved.
It would appear, however, that the fight was not limited to the court and the players and spilled into the stands, with some of the players' partners getting involved.
According to The Athletic, one of Rondo's family members confronted Paul's wife, Jada. An eyewitness told a reporter from The Los Angeles Sentinel that Rondo's girlfriend "shoved" Paul's wife before security intervened.
While the off-court shenanigans are yet to be dealt with, the NBA swiftly handed out punishment to the players.
Ingram and Rondo were suspended for four and three games respectively, while Paul received a two-game ban for his role in the melee, which he began serving on Sunday night as he sat out the Rockets' 115-112 defeat against the Clippers in Los Angeles.
"Ingram has been suspended for aggressively returning to and escalating the altercation and throwing a punch in the direction of Paul, confronting a game official in a hostile manner, and instigating the overall incident by shoving Rockets guard James Harden," the NBA said in a statement.
"Rondo has been suspended for instigating a physical altercation with, and spitting and throwing multiple punches at, Paul. Paul has been suspended for poking at and making contact with the face of Rondo, and throwing multiple punches at him."
Following the altercation, Paul insisted he had poked Rondo after the Lakers guard allegedly spat in his face, an accusation the latter vehemently denied.
According to ESPN, Rondo denied spitting at Paul, indicating the mouthguard he was wearing would have made spitting very difficult, while Lakers coach Luke Walton denied the guard had indeed spat at the Rockets point guard.
However, Rob Perez, the co-host of the popular BUCKETS show, pointed out on Twitter that while someone may have spat on Paul, the incident was far from deliberate and in fact the saliva may have come from one of his own teammates.
The Rockets eventually won the game 124-115, temporarily moving to 1-1 before Sunday's defeat against the Clippers, while the Lakers remain winless after two games.