Raleigh Woman Defends Use of N-Word: "I Suffer From Tremendous Anxiety"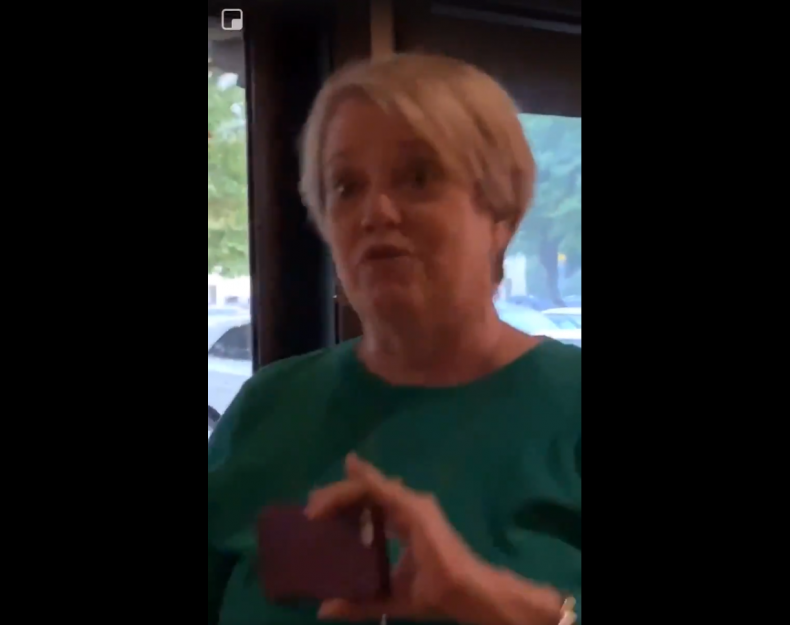 After a white patron at a Bonefish Grill in Raleigh, North Carolina, was filmed in a cellphone video calling a black customer the N-word, the woman, Nancy Goodman, defended her use of the racist slur in an interview with local TV station WRAL.
"I used that word because they forced me into it," Goodman, 71, told WRAL reporter Sarah Krueger. "I would say it again to them."
A viral video circulated previously showed Goodman at the restaurant in a confrontation with Lekesha Shaw, who is black. Goodman, in the video, tells Shaw that she's being "too loud."
Shaw replies that her money "is just as green as" Goodman's, at which point she retorts with the racial slur: "Wow, you're so stupid, [N-word.]"
Goodman is a former administrative employee of the North Carolina General Assembly, a spokesperson for the legislature confirmed to Newsweek. Her employment there ended in September 2015. Newsweek could not reach Goodman for comment.
Another video recorded during the incident showed Goodman speaking with a Bonefish Grill employee while a voice, either that of Shaw or someone sitting at her table, claimed that Goodman had come over to them to tell them they were "the rudest people she's ever met." When Goodman notices this recording, she smiles and gestures at the camera.
After being tracked down by Krueger, Goodman defended her use of the slur by saying she "suffer[s] from tremendous anxiety."
"I'm not going to say I'm sorry to them, because they kept pushing at it," Goodman said. "And that's all I'd really like to say."
When asked whether or not she understood how using the N-word is incredibly offensive, Goodman replied: "Yes I do, that's why I said it."
Shaw, after being informed by Krueger of Goodman's explanation, was stolid.
"Wow, that's sad," she told the reporter. "I don't care how you feel like we should have been acting. If I was standing on the table with three heads in a purple jumpsuit, nothing justified you coming to my table and call me a stupid [N-word.]"
Elizabeth Watts, a spokeswoman for the restaurant's corporate owner, told Newsweek in a written statement that the restaurant is "a place for all people to gather for good food in a comfortable atmosphere, including positive interactions among guests."
"We do not tolerate hate speech or disrespect in our restaurants," the statement continued. "Our team takes this seriously and is providing additional training to our staff for situations such as these that escalate quickly. We are saddened by what happened and are committed to doing everything we can to ensure guests get the courtesy and respect they expect and deserve—every time."
The incidence of hate crimes and prejudice-based events has risen over the past few years, according to data on the matter. In 2017, the FBI received 7,175 reports of bias incidents, an increase of 17 percent from the prior year. In recent decades, the number of hate crimes peaked just after 9/11 and began a steady decline, falling to a relative low during the end of President Barack Obama's second term. Just before the race for president began in early 2015, hate crimes started to tick upward, and then shot up around the time of the 2016 election.
This story has been updated to include a statement from the restaurant's owner and additional details about Goodman's previous employment.
Raleigh Woman Defends Use of N-Word: "I Suffer From Tremendous Anxiety" | U.S.