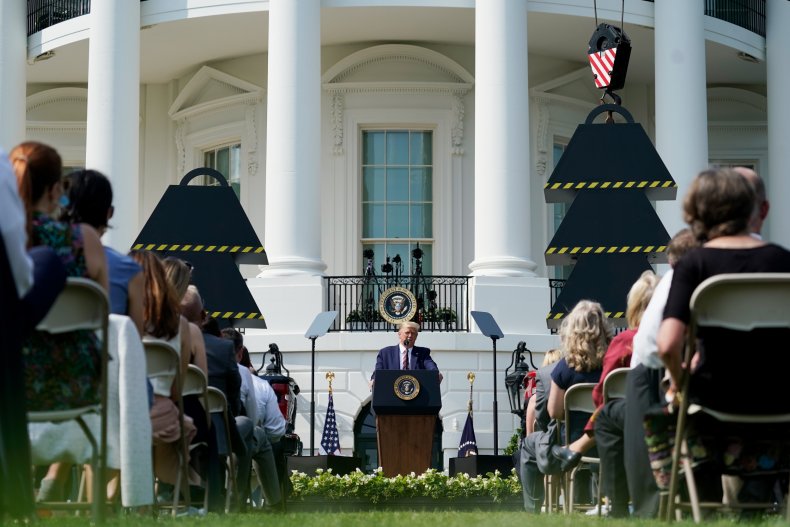 With the coronavirus stifling his ability to hold massive campaign rallies, President Donald Trump doubled down on Thursday with a second campaign-laden speech on the White House grounds in a week.
Only this time it was under the guise of trumpeting his administration's efforts to roll back regulations on businesses.
"Unlike the socialists, we believe in the rule of the people, not the rule of the unelected bureaucrats who don't know what they're doing," he told a crowd of supporters seated on the White House South Lawn. "We believe in the dignity of the individual, not the iron grip of the state."
Trump was touting efforts by his administration to roll back restrictions on the environment and efforts that paved the way for more coronavirus testing and vaccine development—anchoring the official purpose for the event, before segueing into the typical campaign themes.
On Tuesday, Trump raised eyebrows with a 64-minute address that was supposed to be about China but ended up largely dedicated to attacking his Democratic rival in the November 3 election, former Vice President Joe Biden.
Biden's campaign called it a "taxpayer-funded campaign rant."
"It was a politician who sees his re-election slipping away from him and who is furious that his own botched response to the coronavirus pandemic has denied him the campaign events he so craves," Biden spokeswoman Kate Bedingfield said in a statement to reporters.
But Trump's campaign saw the speech as a win and repeated that tactic with Thursday's address on cutting regulations on businesses.
Press Secretary Kayleigh McEnany denied that the president's use of White House grounds as an election tool was improper and told reporters Thursday before Trump spoke that the Rose Garden address was a "very good, powerful speech."
His campaign also took issue with some cable networks cutting away before it ended, while Fox News carried it in its entirety.
Trump has been forced to cancel at least two planned campaign appearances this month: An Alabama rally first reported by CNN and a New Hampshire rally the campaign had touted.
Trump's 2016 campaign was noted for his massive rallies that drew thousands of supporters, decked out in red "Make America Great Again" caps and red, white and blue clothing. Trump would riff on campaign themes and rile up raucous crowds with chants.
But after a pause during the coronavirus outbreak, Trump's return to the campaign trail in Tulsa was met with a dismal turnout. After the campaign had erected overflow areas, only about 6,200 people filled the 19,000-capacity arena, leaving several sections of empty seats visible on television.
Organizers of the Republican National Convention also announced on Thursday that the GOP's nominating convention next month, which has been moved from North Carolina to Florida to accommodate the president's desire for a large-scale event, has been forced to scale back to delegates only and they are limited to bring one guest to Trump's address.
During Thursday's regulatory address from the White House grounds, Trump repeatedly took aim at Biden and sought to tie him to "socialists" and "the radical left." The event featured a speaker who was an Arizona rancher "crushed by the Obama-Biden administration's ridiculous" water regulations.
Trump also previewed a roll-out of agenda items that he said would touch on suburban life, education and other issues in the lead up to the election that is about 15 weeks away.
"We have many exciting things that we will be announcing over the next eight weeks, I would say," Trump said. "Things nobody has ever contemplated, thought about, thought possible."