Ralph Lauren's Parisian Store Shows New Opulence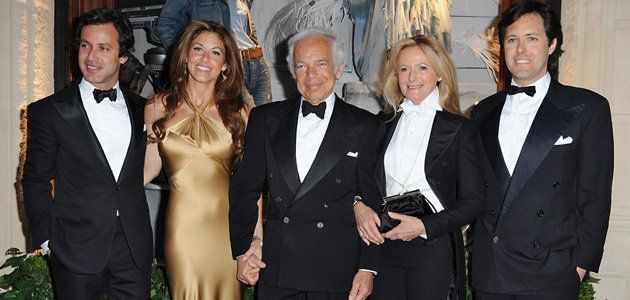 Paris may be the capital of fashion, but Americans are masters of retailing, as Ralph Lauren proved last week with the opening of his new flagship store on the Left Bank. The store is a staggering 23,000 square foot space in an 18th-century city mansion that includes everything from made-to-measure men's suiting to RRL Western wear and a 128-seat American-cuisine restaurant aptly named Ralph's. "My heart beats faster now," Lauren told NEWSWEEK the day before the opening. "I've been smiling for four days."
With the store, Lauren is finally bringing to Europe a message that he started with his flagships in Chicago and Tokyo: what he describes as the "world" of Ralph Lauren. Luxury fashion has been embracing this concept for the last decade—the Chanel and Hermès stores in Tokyo have cultural spaces that host concerts and movie screenings, Dolce & Gabbana and Armani have cafes in various shops; Armani even has a florist in his Milan Emporio. But Ralph is the first brand to do it on such a grand scale, and with such a focus on hospitality. In essence, he's taken the old-fashion department-store model—luxurious environment, posh dressing rooms, personalized service, fine dining—and adapted it to a single brand. And when you walk in the place, it feels like Lauren conducting a master class in merchandising: this, messieurs et mesdames, is how it should be done.
Lauren says that the building itself gave him the ability to make such a bold retailing statement. Just across the Boulevard Saint-Germain from the famed Café Flore, the manse was built on the foundations of an old monastery and completed in 1754. Over the centuries, it has been a private home, the Dutch Embassy, the Carnegie Foundation for International Peace, and, most recently, a government office building. Though it was in sore need of a face-lift, when Lauren first saw it, he said, "It was something I really loved." He acquired it in 2007, and spent two years renovating it, bringing in artisans to relay the Versailles-style parquet and restoring the plaster moldings, oak paneling, and sweeping limestone staircase. While digging the restaurant's basement kitchen, workers discovered a Roman well.
When Lauren walked in through the carriage entrance and saw the cobblestone courtyard with the old stables behind, he says, "the first thing I thought was: a restaurant." The restaurant is polo-club chic, with tables in the stables (and in the warmer months, in the courtyard), a cozy bar in the old tack room, and loads of leather chairs, polished wood, and hunt-scene pictures. The menu includes American classics such as Maine lobster, Maryland crabcakes, Southern fried chicken, and steaks from Lauren's ranch in Colorado—the sort of cuisine you just can't find in Paris.
As for the retailing space, it's done up like a well-appointed old-money home, with merchandise demurely displayed in four floors of pretty salons, and in the former garret, which has been transformed into a Colorado-like cabin, the RRL Western-wear collection. Vintage pieces and items from Lauren's Home Collection are sprinkled throughout the store and to the right of the entrance, in the former guardian's loge, is the watch boutique. Unlike in Paris boutiques, where sales staff has a well-earned reputation of being imperious, the service is American-style friendly, helpful, and quietly present.
Today, Europe represents only 18 percent of Lauren's $5 billion annual sales; Asia 17 percent. Lauren CEO Roger Farah says he'd like to up both to about one third of all sales. Though Lauren is rolling out across Europe—most recently opening in Gstaad and St. Moritz and future plans for Rome, Barcelona, Madrid and Berlin—the company is banking on the new Paris store for substantial growth. "I wanted to create a unique environment that captures the glamour, culture, and the artistic spirit of the Paris that I have fallen in love with," Lauren said. "Now, with this store opening, in the most romantic part of the city, I finally feel that I have been able to tell my whole story in Paris."