Virginia Governor Ralph Northam's approval rating has fallen off a cliff amid an ongoing scandal concerning a racist photo that was found on his page in an old yearbook.
A poll from Morning Consult released on Monday found his net approval rating has fallen 41 percentage points. Just 29 percent of Virginia voters approved of the Democratic governor's job performance, down from 48 percent. His disapproval rating climbed from 26 percent pre-controversy to 48 percent post-controversy.
While his approval among Democrats did drop precipitously, Northam still had 50 percent among his own party (down from 70 percent). Seventy-three percent of GOP Virginia voters disapproved of Northam.
The new Morning Consult survey polled 291 Virginia voters and had a margin of error of plus or minus 6 percentage points and took place between February 2 and February 3, the two days after the photo became public.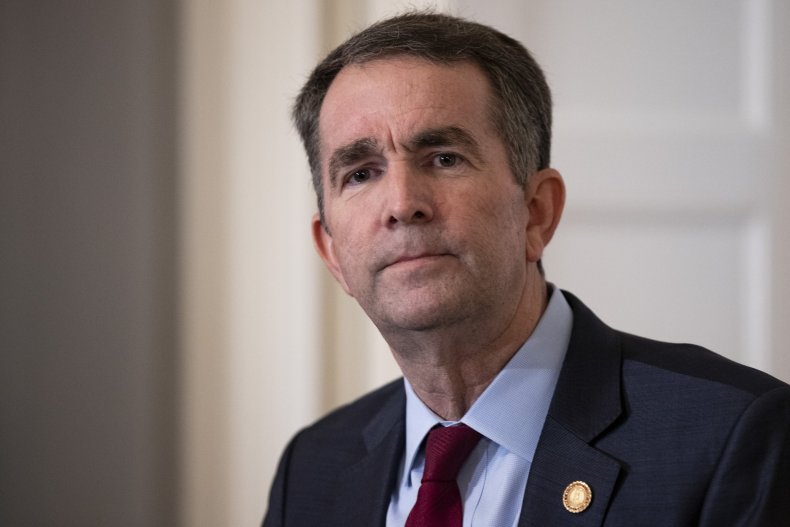 Many have called for Northam to resign—including officials in his own party—after a photo on his page from the 1984 Eastern Virginia Medical School yearbook showed a man in blackface and another in a KKK outfit.
At first, the governor apologized and said he featured in the photo. But he has since claimed he is not in the photo on his yearbook page.
"I realize that many people will find this difficult to believe. Last night I finally had a chance to sit down and look at the photograph in detail," Northam told reporters. "I am not the person in that photo. I have had friends look at it and tell me that it's not me."
The governor also said he remembered he had worn blackface as a part of a Michael Jackson costume around the same time.
While Northam has refused to step down over the past few days, The Washington Post reported on Monday that he was still deciding what his ultimate choice would be.
Even some of the governor's allies, like former Virginia Governor Terry McAuliffe—for whom Northam served as lieutenant governor—have said it is time for him to go.
"Once that picture with the blackface and klansman came out there is no way you can continue to be the governor of the Commonwealth of Virginia," McAuliffe said on CNN on Sunday.