Ralph Northam 'Truly Stunned' by GOP Rally That Pledged Allegiance to January 6 Flag
Virginia Governor Ralph Northam said Thursday he was "truly stunned" to see his state's Republican ticket embrace "dangerous falsehoods" about the 2020 election at a "Take Back Virginia" rally on Wednesday evening.
During the rally, at which former President Donald Trump addressed attendees virtually, the individuals present were led in the Pledge of Allegiance before a flag that event hosts said had been at Trump's "peaceful" rally on January 6, the day rioters stormed the U.S. Capitol to protest the certification of President Joe Biden's election victory.
Northam, a Democrat, held a press conference for the purpose of addressing what he described as the "truly disturbing political rally for Glenn Youngkin, his running mates and his far-right campaign."
Youngkin, a Republican, is running to become Virginia's next governor. He was not in attendance at Wednesday's rally. Trump first endorsed Youngkin in May and reiterated his support for Youngkin when he called in to the event Wednesday evening.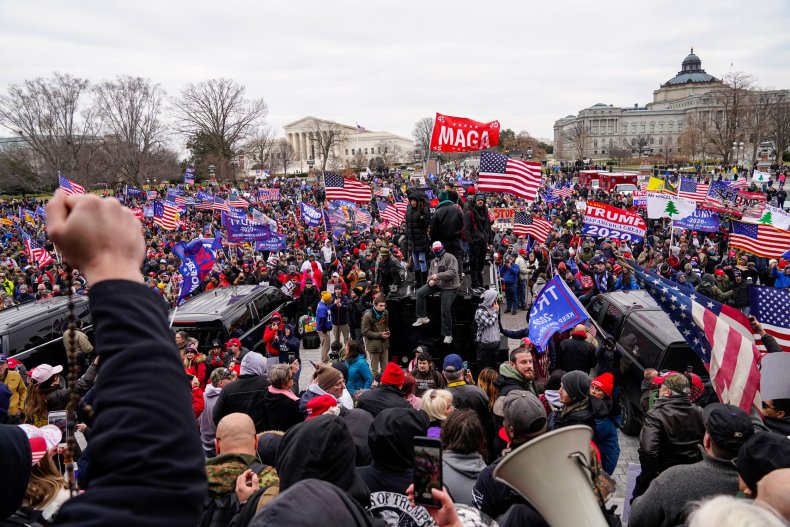 Northam played video footage from the Capitol riot on January 6 and said he had been holding a COVID-19 press briefing that day when he began receiving calls for help from House Speaker Nancy Pelosi and "multiple" U.S. senators. Northam objected to the "Take Back Virginia" organizers' description of Trump's January 6 rally as "peaceful": "If it was so peaceful, why did we need 200 state troopers and the National Guard to restore order and protect lives?"
Northam said while he "wanted to believe" the events on January 6 would put a stop to the "lies and the attempts to overthrow our democracy," he said that did not appear to be the case. "Instead, we increasingly see that January the 6th was not the end, but the beginning," he said.
"As a Virginian, as a veteran and as an American, I am truly stunned to see Glenn Youngkin and the statewide Republican ticket embrace these dangerous falsehoods," Northam said. "Last night's rally featured the same old lies about the 2020 election and that truly offensive celebration of an attempted coup."
The governor continued by addressing Youngkin's focus on election integrity throughout his campaign and his recent calls to audit the state's voting machines.
"All of these actions are meant to create doubt in our elections. They are meant to continue Donald Trump's attempts to undermine American democracy," Northam said. "But words have consequences. Inflammatory rhetoric is dangerous. This, Mr. Youngkin, is not a game. When political candidates purposely reject facts and the truth and fan the flames of conspiracy, all in pursuit of power, they are taking very, very dangerous steps."
Throughout the press conference, Northam stood behind a podium featuring a "Terry for Virginia" sign and in front of a backdrop featuring the Democratic Party of Virginia logo. Terry McAuliffe, the Democrat who is running against Youngkin in Virginia's November 2 gubernatorial election, condemned the Wednesday rally and earlier Thursday called upon Youngkin to denounce both the event and Trump's "dangerous lies."
Speaking with reporters on Thursday, Youngkin said, "I wasn't involved, and so I don't know" when pressed about the rally attendees who pledged allegiance to the flag that was at the January 6 rally.
"If that is the case, then we shouldn't pledge allegiance to that flag," Youngkin said. "And, by the way," he added, "I've been so clear: There is no place for violence—none, none—in America today."
Newsweek reached out to Youngkin's campaign for comment about the "Take Back Virginia" rally but did not receive a response in time for publication.