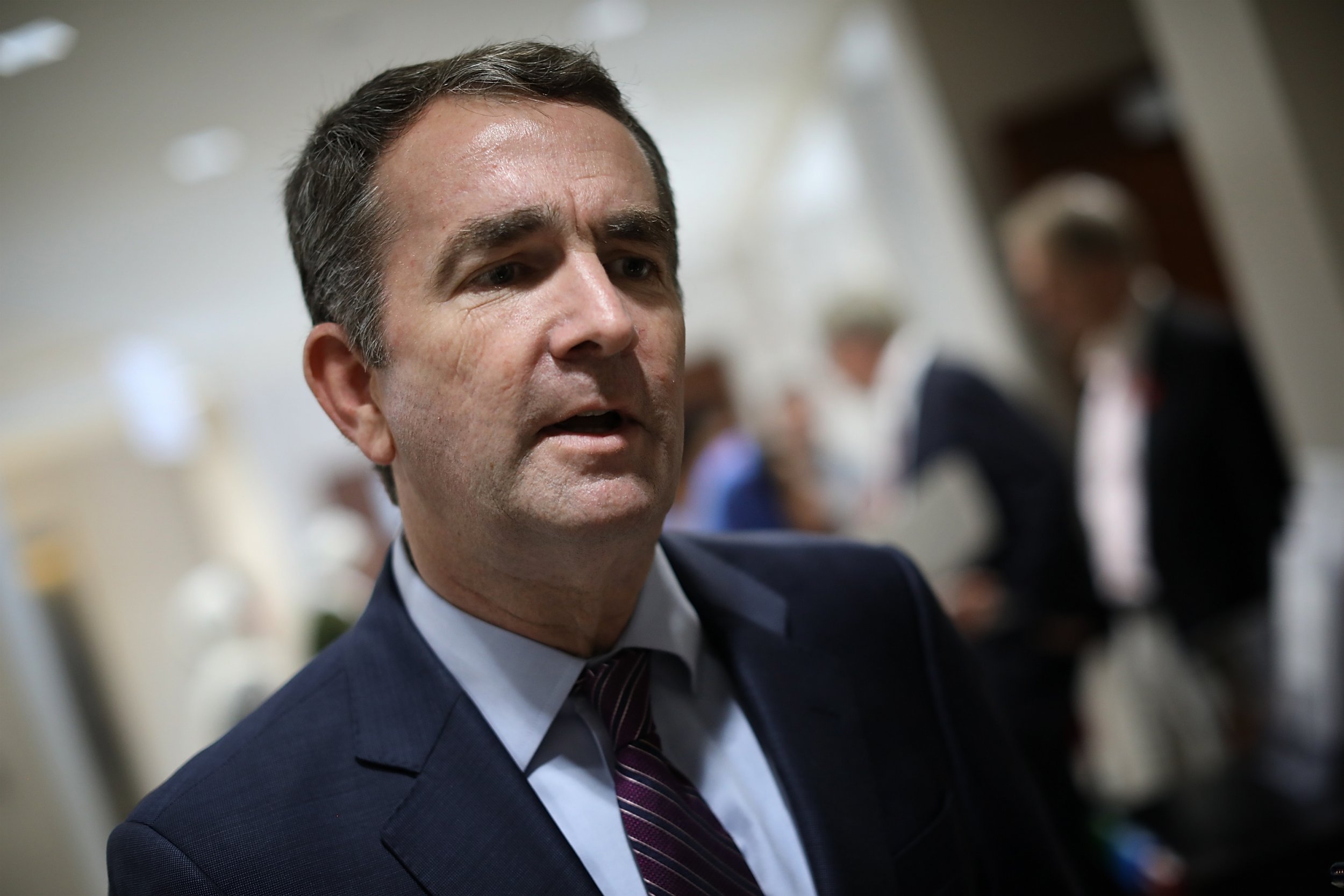 Democratic candidate Ralph Northam was dealt a blow just days before Virginia's election for governor, after a leading progressive group withdrew its support and slammed his campaign as "racist" and "morally debased."
Related: Donald Trump Is Toxic and Inspiring a Democratic Surge in Virginia Governor's Race
Northam has been leading Republican rival Ed Gillespie in the polls, with indications that he had been energizing key groups of voters opposed to President Donald Trump. However, he also has been facing backlash from the left after stating on Wednesday that he would sign a bill to ban sanctuary cities in the state.
Virginia currently has no sanctuary cities, but Gillespie made the issue a central part of a race that, as the first competitive statewide contest since the 2016 election, is seen as an early referendum on Trump's presidency. In particular, Gillespie highlighted a tie-breaking vote Northam cast in February that defeated a bill that banned sanctuary cities in Virginia. Throughout the campaign, Gillespie has repeatedly attacked Northam for the vote, notably in a wave of ads claiming that Northam was putting Virginians in danger by allowing the largely Latino MS-13 gang to "kill, rape, control."
Those ads led to fierce criticism of Gillespie, but Northam's comments Wednesday that he would ban sanctuary cities have turned the spotlight on the Democrat. Democracy for America announced Thursday that the comments were the final straw, and it could no longer support a candidate who had beaten out a more progressive challenger in his party's primary.
"Ralph Northam's gutless, politically senseless and morally debased decision yesterday to openly backtrack on his commitment to standing up for immigrant families is a picture-perfect example of why Democracy for America never endorsed him in the primary and focused the entirety of our efforts in Virginia on down-ticket races, like Justin Fairfax's campaign for Lieutenant Governor," DRA Executive Director Charles Chamberlain said in a statement. "It's also why, today, we're announcing that we will no longer do any work to directly aid Northam's gubernatorial efforts."
Responding to DRA's decision, Northam's campaign outlined his widespread appeal across Virginia.
"We have seen historic levels of volunteer activity, small donor donations and primary turnout. Dr. Northam, Justin Fairfax and Attorney General Herring are unified and fighting for good-paying jobs, affordable health care and quality education," Communications Director David Turner told Newsweek Friday. "We are confident going into Election Day because the Democratic ticket is resonating with Virginians."
Northam retains the support of the Latino Victory Project as well as the immigrant rights group CSA in Action. In a statement from Northam's campaign, Delegate Alfonso Lopez insisted that Northam remained an ally of immigrant communities.
"Lt. Governor Northam has always fought for the Commonwealth to have immigration policies that are fair and compassionate," Lopez said. "He opposes deputizing the State and local police to take on the duties of federal immigration agents. He opposed localities having to hold undocumented Virginians longer than prescribed by warrant, statute, or a judge's order. He has also consistently supported protecting undocumented immigrants so that they can report crimes and assist law enforcement without the fear of being interrogated about their immigration status.
"He understands that without such protections immigrant populations and the entire community would be less safe. More importantly, he knows the difference between real legislation and 'dog- whistle' policies crafted only to instill fear and create division. He hasn't changed his positions—he has always been consistent. And he has always been a consistent friend to the Latino and New American communities."
Northam's comments on sanctuary cities were not the only aspect of his campaign to attract criticism from progressive groups. Last month, his campaign released a version of a flyer that omitted his running mate, lieutenant governor nominee Justin Fairfax. The flyer without Fairfax, who is black, was created for a union that backed Northam but not Fairfax.
It was a move that Democracy for America also cited in its announcement Thursday.
"Following that racist action, we decided to remove Northam's name from the tens of thousands of volunteer Get-Out-the-Vote calls our members are making in Virginia, but, for the sake of Democratic comity, we refrained from publicly discussing that decision," Chamberlain said.
"However, after seeing Northam play directly into the hands of Republicans' racist anti-immigrant rhetoric on sanctuary cities, we refuse to be silent any longer and even remotely complicit in the disastrous, racist and voter-turnout-depressing campaign Ralph Northam appears intent on running."
The election for governor will take place on November 7, with Democrats desperate for a win after losing all five special elections since Trump took office.