Ram 1500 Pulling Santa in Macy's Thanksgiving Day Parade Was Built To Fight Pandemics
A Ram 1500 Limited (RAM) Red Edition truck, with its festive red exterior accents will be pulling Santa's sleigh at the 95th Macy's Thanksgiving Day Parade.
The truck is part of the partnership Ram's parent company Stellantis has entered into with the (RED) that supports the charitable organization's efforts to fund live-saving programs through contributions to the Global Fund.
The (RAM) Red Edition truck will be joined by a Ram 1500 Limited Night model with a custom-wrapped LEGO design and a Ram 2500 Power Wagon 25th Anniversary Edition truck, among other models. More than 60 trucks and some Ram ProMaster vans will be servicing the parade.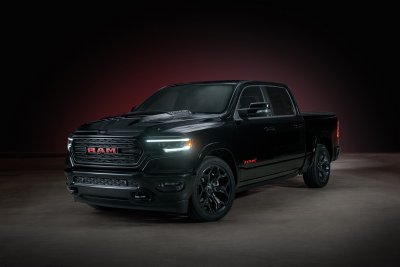 "As the brand that is 'Built to Serve,' the Ram Truck brand is honored to serve as the official truck of this iconic parade as our full portfolio of award-winning trucks pulls these floats down the streets of Manhattan," said Mike Koval Jr., Ram Brand CEO- Stellantis.
"We are thrilled to have people return to experience this magical event in person as we continue to take great pride in aligning our brand with an iconic American event like the 95th Macy's Thanksgiving Day Parade."
This year's parade will feature 15 giant character balloons, 28 floats, 36 novelty and heritage inflatables, 10 marching bands, nine performance groups, celebrities, over 800 clowns and the traditional event-concluding arrival of Santa Claus.
In addition to their work on the parade route, Ram's trucks will be moving other parade materials around including tool containers and costumers in the weeks and days leading up to the festivities.
U.S. dealerships will begin receiving (RED) branded Jeep and Ram models arrive on their lots later this year.
Stellantis has committed to a minimum of $4 million in donations to the campaign's efforts to combat the spread and effects of HIV, malaria, tuberculosis and COVID-19 through 2023.
The 95th Macy's Thanksgiving Day Parade airs November 25 on NBC beginning at 9 a.m. in all time zones.