The Ramadan Bash That Wasn't -- And What It Means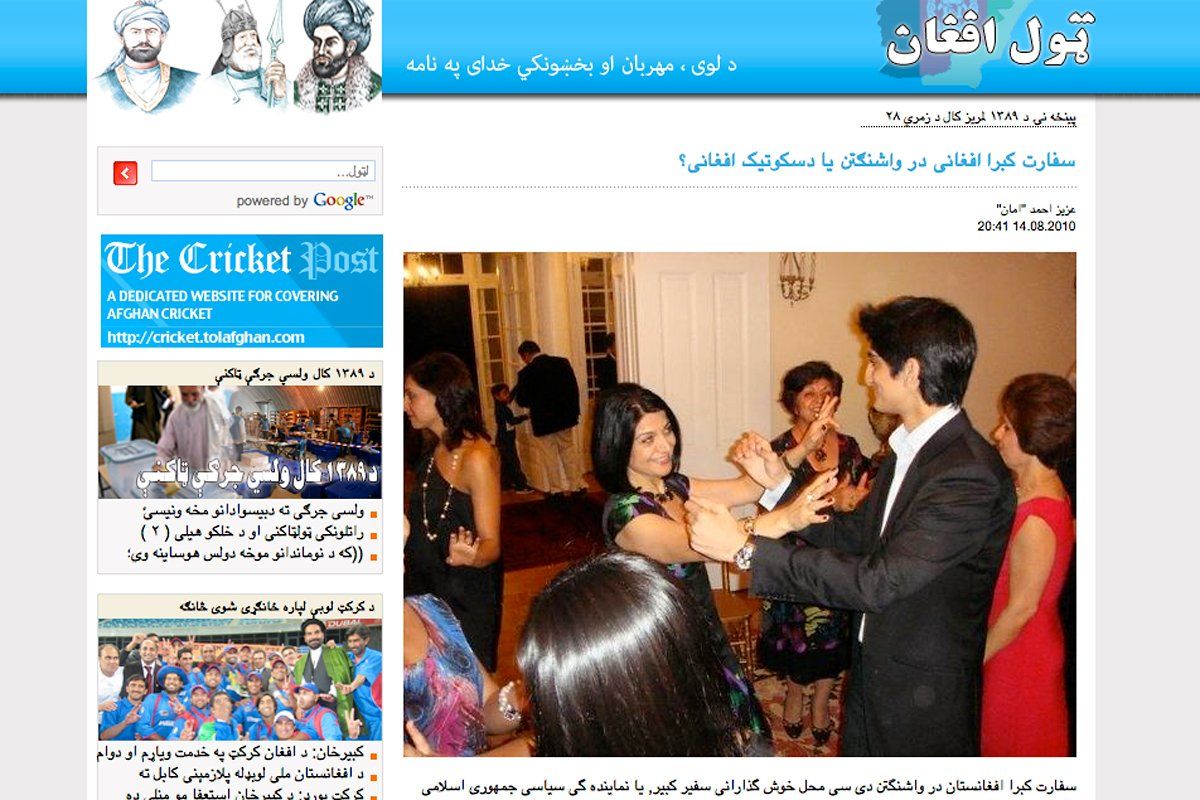 As a disinformation campaign, it was very effective.
Photos that were purportedly taken at an Afghan Embassy party in Washington, D.C.—which show behavior considered scandalous by Afghan standards—were posted to three Afghan Web sites this week (such as tolafghan.com), and later published by Kabul dailies. The stories and captions that accompanied the photos, which showed dancing and the apparent consumption of alcohol, claimed they were taken at recent party during the holy month of Ramadan.
To religiously conservative Afghan Muslims, which means most Afghans, the "leaked" photos were downright scandalous. While even traditional Afghans gaily celebrate Ramadan fast-breaking evenings with family and friends, the affairs are relatively sedate. Women wear traditional clothes covering their necks, arms, and legs; there is rarely, if ever, music, singing, or any dancing between the sexes; and alcohol is strictly forbidden. But one of the Web-site photos shows Afghan Ambassador Said Tayeb Jawad's son dancing with an Afghan woman who is wearing a sleeveless dress, surrounded by other women similarly dressed. Another snapshot shows the fetching, well-known Afghan entertainer, Mozhdah Jamalzadah, a peroxide blond, wearing a short, tight-fitting, bright red dress, belting out a song to the assembled guests who are sitting adoringly at her feet on a carpet. There's also one of Jawad, his wife, and his son standing at a bar, featuring well-stocked shelves of liquor in the background. Finally, the U.S. special envoy to Afghanistan and Pakistan, Richard Holbrooke, is pictured holding a glass of yellowish, clear liquid, which appears to be white wine. Web-site postings and comments by several well-known Afghans expressed outrage at the alleged display of un-Islamic behavior. "Mr. Ambassador [Jawad], you are dancing with wine and women while the Afghan people are dancing in blood and floods," says Abdul Sattar Khawasi, the deputy speaker of the lower house of the Afghan Parliament, who called for Jawad's immediate resignation.
What would have possessed the ambassador to have thrown such a potentially controversial bash during Ramadan while his staunchly Islamic country is mired in poverty and fighting a ruthless insurgency? Jawad's direct and simple explanation is that no such function took place at the embassy or anywhere else. "There was no party at the embassy during Ramadan," he told NEWSWEEK. Jawad says he wasn't even in Washington, but rather was on an official South American tour that began before the start of Ramadan just over one week ago; he returned to Washington this week, after the photos were posted.
The photos are either old or faked, he says. Some were taken at an Afghan Independence Day celebration a year ago that was attended by more than 600 people, he says. The photos of his son and others dancing were "either Photoshopped or stolen from a private album," he adds. Afghan officials are investigating what he called a "breach of security." As for Holbrooke's glass of wine, Jawad says only fruit juice and other nonalcoholic drinks are served at embassy receptions. A spokesperson for Holbrooke's office says, "Ambassador Holbrooke has not been to any parties at the Afghan Embassy in over a year. He observed Ramadan when he served in Morocco as Peace Corps director, 1970–1972, and ever since has made it a practice never to eat or drink anything in the presence of observant Muslims during the holy month."
Jawad has a point about the strange nature of the photo spread. For example, in the family photo at the bar, he, his wife, and his son are clearly wearing different clothes than those they are seen wearing at the so-called Ramadan party. Ambassador Holbrooke confirms that he wasn't at a recent gathering at the embassy. It seems clear that no party took place during Ramadan, and that someone is trying to smear Ambassador Jawad.
But while the D.C. party may have never happened during Ramadan, and the other photos may have been purloined or taken at other events, serious PR damage has been done. Many of the photos appear to be real, and they show the ambassador and his family in what conservative Muslims regard as a very un-Islamic context. For example, the photos—of the ambassador sitting on the carpet watching Jamalzadah onstage, of the son dancing, and of Jawad's wife wearing Western-style dresses that display her neck, arms, and legs from the knee down—provide the urbane ambassador's detractors and enemies with ammunition to attack him and other cosmopolitan Afghans. "Whether at Ramadan or not, this display is against Afghan values and culture," rages M.P. Khawasi, who comes from a conservative family and is an outspoken critic of the government. "No Afghan woman can be found wearing such a dress in Afghanistan." He goes even further, seeing Jawad's and his family's Western clothes and alleged foreign behavior as part of a Western plot against Afghan culture and values. "There are systematic efforts to bring all these evils to our society," Khawasi adds. "We should fight against this Westernization." Conservative Afghan writer Said Jawad even goes after democracy and Americans. "I was happy for democracy," he says. "But if bringing the neck of your wife in front of Americans is democracy, then I hate Americans."
Other commentators say the photos are a propaganda windfall for the Taliban. "Antigovernment elements will use this to discredit the government," says Khawasi. An Afghan blogger and writer named Abdul Basir first posted the photos and comments on the three Web sites under the headline "Islamic State of Afghanistan Embassy or Disco Club?" He wrote: "I do not now have any moral and Islamic justification to tell the Taliban not to fight such people and traitors to Afghan culture and customs."
Jawad says that the fallout from the photos will not make him change his approach to social events in Washington. He doesn't want to bow to Islamist pressure. "There would be no end to that," he says. "They can target the suit you wear, your tie, your haircut, your beard, or lack thereof. What is really important is what you do for your country."
The heated rhetoric seems to show how deep and wide the divide is growing between the Westernized Afghan elite that has returned to Afghanistan since the Taliban's overthrow nearly nine years ago and the more tradition-bound Afghans who have no roots abroad. The elite now exercises considerable influence inside President Hamid Karzai's administration, as well as in business, while conservative values prevail throughout the rest of society. This cultural gap is largely fueling an increasingly noisy and rancorous debate over maintaining and reinforcing traditional Islamic values versus rampant Westernization. Many Afghans believe that English-speaking, foreign-educated Afghans are favored by the U.S. and its allies for jobs and promotions. They also take a dim view of what they see as the lax moral behavior of many "Americanized" Afghans. Not surprisingly, there seems to be a similar divide in Iraq between the Westernized and pro-American exiles who returned with the U.S. invasion in 2003 and who now wield considerable political and economic power, and those Iraqis who remained behind and suffered under Saddam Hussein.
Karzai himself may be trying to buck the widespread view that he is too close to the United States and is even Washington's puppet. For example, he rather belatedly began calling for a marked reduction in American airstrikes in order to limit civilian casualties, a popular demand, and is now saying the Americans should be fighting the Taliban in their sanctuaries—by which he means Pakistan—and not in Afghan villages. The president seems to be trying to convince Afghans that he is no American stooge, is really in charge, and the Americans and NATO listen to and take orders from him. This mini-scandal in Washington may set back those efforts, however slightly.
Perhaps more than anything, the so-called embassy scandal shows that in today's more prosperous Afghanistan, with its lively press and open Internet access, it's almost impossible to maintain personal privacy or to keep a secret. What happens in Washington no longer stays in Washington, and may even be distorted and exaggerated as it is beamed back home.
—With Jeffrey Bartholet in Washington